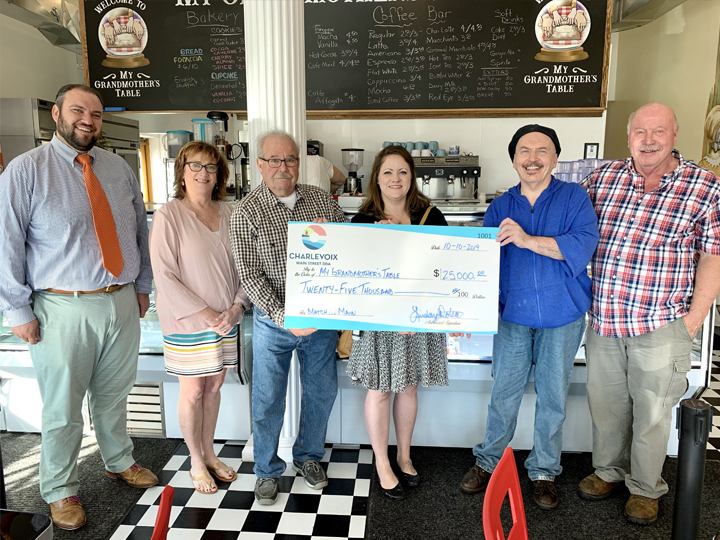 Charlevoix's popular new restaurant, My Grandmother's Table, started out as a stand at the Charlevoix and Boyne City farmers markets.
"People wanted to know where they could buy things during the week, so we started looking for a storefront," said Nick Easton, a former Ann Arbor nightclub owner who moved to the Northern Michigan resort town a few years ago.
His partner, Jozef Zebediah, is the cook. The bakery café and coffee bar is inspired by Zebediah's grandmother, who reveled in living in a culturally diverse community by learning to make the dishes from her neighbors' homelands.
Settling downtown allowed Easton and Zebediah to expand their menu selection of gluten-free, vegan and traditional dishes, such as Polish stuffed cabbage, Mexican chili, Brazilian buckwheat pancakes and Native American Three Sisters stew.
The downtown was eager to add the unique retailer to the mix because there was growing demand for an eatery that served vegan and gluten-free options, according to Charlevoix Main Street Director Lindsey Dotson.
The business was eligible to apply for a new kind of MEDC grant that directly supports small businesses.
Charlevoix is one of nine communities around Michigan that has been awarded more than $260,000 in grants aimed at supporting small local businesses, according to the Michigan Economic Development Corporation.
THE IMPORTANCE OF SMALL BUSINESSES
The program is part of the MEDC's commitment to support small business through programs like Match on Main.
"Small businesses drive the economies of our communities," said Michelle Parkkonen, Director of Community Development Technical Assistance Programs at the MEDC. "These grants will support local businesses, further strengthening the downtowns and commercial districts in these communities, while building unique places that are attractive to residents and visitors."
Introduced in March 2019, the Match on Main program provides grants of between $5,000 and $25,000 to downtowns that are part of the Michigan Main Street program. The grants can be used to fund eligible small businesses.
The cities of Niles and Saline were selected in March as the first two communities to pilot the program, which is now open to 24 Michigan Main Street communities.
There is a $500,000 budget for fiscal year 2020, which started in October. There are two funding rounds in 2020 — one in January and May.
Grants of up to $25,000 will be awarded, with recipients required to provide a 10% match. But that contribution can be in the form of an investment in the business. Participating businesses must also have worked with the Michigan Small Business Development Center on a business plan.
The grants are helping to lower the initial startup costs or to help with costs associated with growth, whether they are being used for equipment or to buy inventory. Projects can include interior building renovations, furniture and fixtures, permanent equipment, point-of-sale systems, marketing expenses and inventory.
DIFFERENT KIND OF GRANT
Traditionally, many of the tools provided by the MEDC for community development tend to support property owners or developers. What is unusual about the Match on Main program is that it is targeted for small business owners, explains Suzanne Perreault, MEDC's Small Business Program Manager for Community Development.
"We often hear from small businesses in our local main street communities that access to capital continues to be a challenge. We wanted to offer a new tool that would focus on helping small businesses with interior renovations or working capital in order to launch or grow," Perreault said.
My Grandmother's Table used its grant primarily for equipment, including a commercial-grade Hobart mixer for making bread.
The grant application took a few weeks to complete, said Easton, who estimated that he and Zebediah filled out about 40 pages of paperwork as part of My Grandmother's Table's business plan.
"The presentation you make on paper shows you have put some thought into a business plan," said Easton.
After getting a late start on the season with an October opening, the business plans to take a hiatus for the winter and reopen in May. Going forward, the business will be open year-round and create seven full-time year-round jobs and two additional part-time jobs.
"The impact will be substantial," Dotson said of the new business. "The private investment made in the project — and the building exterior, thanks to the property owner — will have a ripple effect as well."