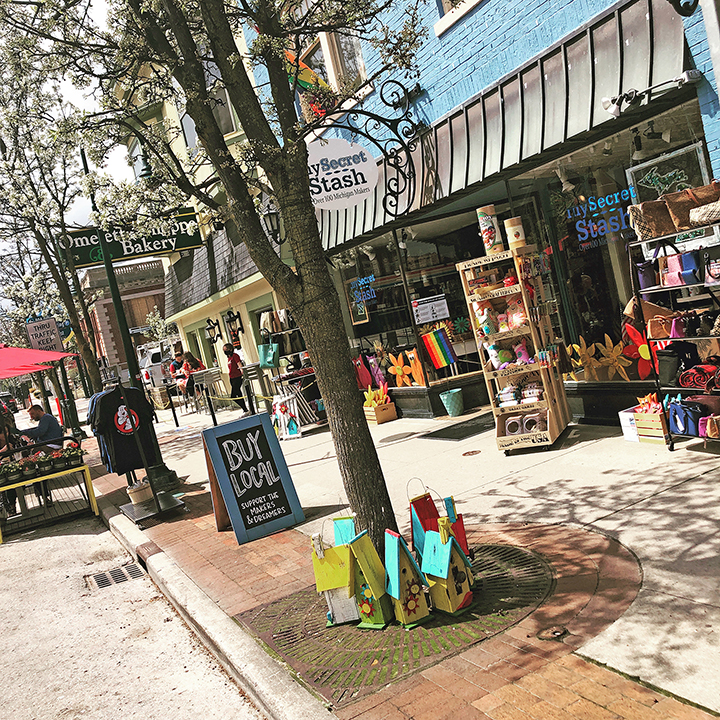 By SHANDRA MARTINEZ
Karen Hilt knows the power of color – and how to catch a potential shopper's eye.
As the owner of My Secret Stash, a gift shop located on a side street in downtown Traverse City, she recently had to get a little creative to pull in customers.
During the weeks when non-essential retailers could only do curbside or online sales, she bought little rolling enameled carts and loaded them with colorful merchandise, from wine and wristlet purses to pretty painted wooden items like little owls and birdhouses. Then, she set the carts outside.
"If people are walking by, they see some color and, literally, I would watch people U-turn and come to our spot to check it out because nobody was open," Hilt said. "I would either come outside and talk to them or we would talk through the window, or we would FaceTime."
With people feeling more comfortable dining and shopping outdoors, some savvy retailers are seeing the potential of extending their shops beyond the sales floor with displays and events during the slow reopening phase of the pandemic recovery. Their tips range from displaying eye-catching products and deterring thefts to creating unique events.
NO VEHICLES ALLOWED
Like many communities, Traverse City is shutting down part of its main street to cars this summer to give restaurants outside space to serve customers in a safer way and allow for social distancing.
"We have some added flexibility due to the situation, and things change and evolve daily. We have always kept a fun assortment outside, within our lease line, and I think this year, there may be a bit of relaxation to some of the rules," Hilt said.
Theft isn't a big issue, thanks to her location. The cafe next door has outdoor seating, so there are people always watching. The store also has huge windows and her staff love talking to people.
"Anytime somebody comes up to look at something, myself or staff people can absolutely see, and we just come out to chat with them," Hilt said.
'WELCOMING BODIES IN'
Bethany Shorb, who owns Well Done Goods just south of Detroit's Eastern Market, regularly puts products out on the sidewalk on Saturdays to draw attention to the store, which is located on a quiet block.
"We have had some issues with theft, like someone taking the T-shirt right off a mannequin, but it's generally very worth it to welcome bodies in," Shorb says. "We try to put only items out that we make in-house that have better margins — that wouldn't be the end of the world if they walked away."
PARKING LOT PLAYDATE
Patti Brock, owner of the Berkley boutique Annabelle's Couture for 26 years, was recently inspired to make use of parking in the back of her clothing shop.
She came up with the idea of a parking lot playdate.
She invited about 10 of her customers — selected through a secret lottery to avoid hurt feelings.
They were invited to back their vehicles in a row so everybody sat in their hatchback or chairs they brought.
"We had a great time. People just socialized," said Brock. "I had my right-hand gal with me. We took turns so that someone was always out socializing with the group, and we could bring everyone into the store, one by one."
The sales for the two-hour event were impressive. She figured she spent about $200 on pay for her assistant and the gourmet snacks provided each customer, and made tenfold in revenue.
"I think it was people wanting to shop and socialize with someone other than the people they have been quarantined with. It was so great, people had so much fun," Brock said.
Everybody wore masks when they went into the store but not outside.
After the event, she shared photos on Facebook. She heard from more than 40 people who wanted to come to the next one, including those who attended.
"We're humans, we need the connection. That's why I have a brick-and-mortar shop. I'm hanging on to the human connection with every fingernail I've got. I really feel like people needed to get out and feel some sense of normalcy and socialize in a way that was safe and legal," she said.
---
Sidewalk Sales Merchant Tips
For the past decade, Kara de Alvare has been coordinating Sidewalk Sales in Downtown Holland — and doing a lot of shopping. She's sharing some of her best sales tips and tricks she has gleaned from her experience.
Make pricing clear and visible. Don't make your customers do math. Cross out the regular price and write the discounted price right on the same sticker so customers can easily see how much of a discount they are getting.
Make paying easier. Allow cash customers to pay outside and take credit cards inside your store. This makes cash transactions quick and easy (which is why people carry cash), but forces credit card customers (who may be willing to spend more) to go inside your store, where they might explore your full-priced merchandise.
Don't forget the extras. Have extra staff, extra cash registers and extra changing rooms, if possible. Customers want to get as many deals as they can in a short amount of time, and they will not want to wait in long lines to receive service. This is especially true if it's too hot or a threat of rain.
Have a back-up plan. This is your one chance each year to clear out old merchandise and give your sales a boost to get you through until the holidays, so you don't want technology issues — a point-of-sale terminal goes down or your internet is spotty — to cost you sales.
Offer a sneak peek sale. Give your loyal customers or your email subscribers early access. It makes them feel valued because they have a chance to buy the best merchandise. Plus, you may be able to capture some sales at a smaller discount before having to make the huge price cuts expected at a sidewalk sale event.
Have a good inventory. People will pass by a booth that looks half empty because they'll think it's not worth their time. Likewise, people will be disappointed if all you are selling is damaged merchandise. Merchandise should be displayed as nicely as possible.
Be honest. If a piece is damaged, be sure to note the damage on the price sticker. Customers will feel cheated if they purchase a product thinking they are getting a great deal, only to find that it's been damaged and cannot be returned.
Don't forget your employees. Sidewalk Sales are a lot of work, so make it fun for your staff. Print matching T-shirts for them to wear (which also makes it easier for customers to identify employees), provide them with snacks and beverages, send someone out for a coffee run in the middle of the shift, thank them with a gift card at the end of the day, etc. If your staff feels appreciated, they will be more motivated to provide a better customer experience.