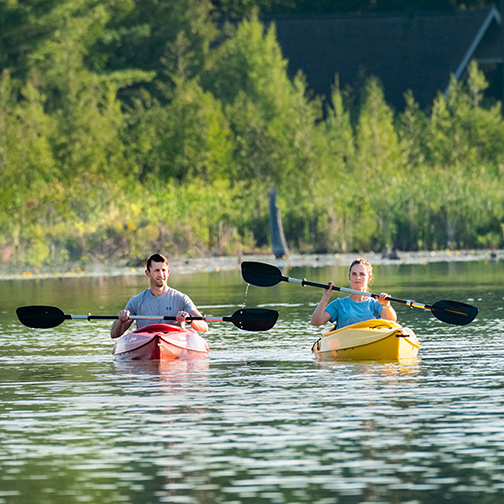 By SHANDRA MARTINEZ
Photos STEVE JESSMORE
The pandemic has fueled people's desire to get outside, whether kayaking, biking, hiking or just taking walks. That trend is proving a saving grace for some retailers who sell outdoor products.
Hunting and fishing license numbers are up overall, and sales have soared among first-time buyers, according to the state Department of Natural Resources. County and state parks are reporting increased attendance. Outdoor activity is a strong pull for people reluctant to gather in crowded spaces.
This renewed interest in the outdoors is a really big onboarding opportunity for the industry that caters to these activities, says Brad Garmon.
Garmon is director of the newly-created Michigan Office of Outdoor Recreation Industry. Michigan is one of 16 states with these offices, intended to turn people's love for wilderness and adventure into an economic engine. His job is to promote the recreational industry and boost demand for products, leading to increased jobs.
"People are buying their first bicycle in 20 years or their first pair of running shoes and trying to get outdoors because everything else is closed. They really want to get out and do it safely and do it in a low-density, low-crowds opportunity," Garmon said.
CLOSER TO HOME
Consumer behavior has changed since mid-March, when the World Health Organization declared the novel coronavirus a pandemic. People still want to vacation, but they are forgoing flying in favor of road trips.
A survey published by Travel Michigan and MLive Media Group showed 80% of Michigan residents polled were ready to take a vacation, and they were planning to find fun things to do outdoors to avoid crowded spaces. Of the nearly 4,300 people polled, more than 75% said they planned to do their vacationing in-state this year.
"Getting outdoors is a stress reliever," said Garmon. "People are looking for stuff for outdoor recreation as opposed to a vacation or a trip. These are the products that are integrated into a healthy lifestyle that people are trying to adopt."
At the start of this year, growth in the $887 billion outdoor industry was outpacing the nation's overall GDP growth, proving a major creator of jobs and tax revenue, and driving significant consumer spending. As in other sectors, nearly everything came to a halt in mid-March. The timing hurt. The industry's prime selling season has shrunk by more than a third, and the precipitous drop in travel-based tourism deeply impacted many destination-dependent aspects of the outdoor recreation industry.
But those lost months are being buffered to a degree by a recent sales surge in some categories, like bikes, kayaks and paddleboards.
SUPPLY RUNS LOW
South Lyon Cycles' supply of bikes pretty much sold out in May. In past years, the store kept several hundred bikes in stock on the showroom floor and in the warehouse for backup. This year, manufacturers' several months of stockpile sold out in a few weeks.
"They bought anything that remotely came close to what they were looking for," Mark Childs said of his customers.
Bike sales across the U.S. were up by triple digits this spring over 2019. Usually, bicycle stocks are replenished by suppliers when they are sold. This year, not only are bikes nearly impossible to find, so are racks, tires, tubes and other accessories.
When Childs' shop emptied of bikes, repairs took over. With only a handful of bikes left on the showroom floor, two-thirds of the space is closed and being used to do repairs. Normally, repairs can be done in a day or two, but now, the turnaround is closer to two to three weeks. People who haven't ridden their bikes in years are bringing them in for repairs.
To keep up with demand, the staff is working longer hours. But Childs won't take shortcuts on the repairs because he wants to maintain the store's reputation for quality that has drawn customers from across Southeast Michigan.
BACK-ORDERED BIKES
The 26-year-old store is a dealer for Trek, Giant and Electra bikes. Manufacturers are filling existing orders, and the shop has hundreds of bikes on back order. Instead of coming in truckloads, bikes arrive a few at a time with delivery through UPS versus a cheaper truck freight company. Factories aren't expected to catch up with demand until next spring.
The good news is that the retailer is doing well financially.
"We're on track to have a really good year," Childs said.
The industry has seen a boom in sales of entry-level bicycles, kids' bikes and BMX bikes. Plus, from the parts and accessories standpoint, there's been a spike in sales for products that indicate people have dusted off bikes that had been hanging around in garages for years, and wanted them tuned up and ready to ride, according to Jeff Buerman, a regional sales rep for Quality Bicycle Products, one of the largest distributors of bicycle products in the world.
"It's also clear that families are riding. One of the first categories to show explosive growth has been the trailers that attach to bikes for towing young kids. There has been year-over-year sales growth in most of the product categories, including many of the mid- and high-end products," Buerman said.
WATER RECREATION
Products that get people out on the water are also on the hard-to-find list.
"We ran out of paddles before we ran out of kayaks," said Tracy Mayer, owner of Backcountry North in Traverse City. "We do have one brand that was really terrific. They basically said, 'OK, we're not fulfilling any big orders, but when you sell a kayak and your customer needs a paddle, we will make it just for them and ship it to them.'"
The one downside of these paddles-on-demand is the store made much less money because shipping individual paddles is quite expensive. But at least it was able to sell a kayak and provide that customer a paddle.
After selling out of kayaks and paddleboards, Mayer decided to turn the demo products into a high-end rental fleet. Equipment is being rented out for a three-day minimum, and the store offers pickup and delivery.
She redeployed employees from her empty boat warehouse to staff the enterprise. Demand is so high, she hasn't needed to advertise.
"We've always wanted to do it, now we finally had the bandwidth this year to try it," Mayer said of the renting operation.
CLOSED, CURBSIDE, REOPENED
She bought the downtown Traverse City retailer, which opened in 1978, 20 years ago. A decade ago, she built a 10,000-square-foot second store nearby on U.S. 31. The retailer also added a double-door garage, where Thule and Yakima rack systems are installed for free with purchase. Demand has grown from twice a week last year to several times a day.
Earlier in the season, before stores were allowed to reopen, the store offered curbside shopping.
"We did a drive-thru garage, where you could shop and buy kayaks without even getting out of your car. It was kind of open-air shopping," Mayer said.
The innovation didn't last long because the store sold out of a year's worth of kayaks in six weeks. One shipment of 14, priced in the $1,000-$1,400 range, was gone in 48 hours.
Despite record sales for paddleboards and kayaks, this won't be a good year financially for the retailer.
"We were closed for two months. You can't make up those kinds of numbers," Mayer said.
She added that technical apparel is selling better than casual apparel. Customers can try on clothing, but there is a 48-hour period where items are not put back on the racks.
CHANGE IN BEHAVIOR
Karen Strough, a regional sales rep for Merrell Footwear and other outdoor brands, is hearing from her retail clients that shopping behavior has changed during COVID-19.
"People are coming in with a purpose. They're not coming in to browse, they're looking with a specific need to fill or for a specific piece of apparel or footwear or whatever," she said.
With gyms closed, more people are taking their exercise routines outdoors. Sales for athletic and light hiking shoes are up. Retailers are getting creative, dividing up floor space so there's room for people to move within the store. Footwear retailers have set up fitting stations — separated by chairs, tape on the floor or plexiglass.
Brands such as Merrell and Patagonia are also encouraging online customers to head to independent retailers for their purchases through sites like locally.com or by linking store locators to their e-commerce sites.
"They are recognizing the need to support our independent retailers because we want them all to be successful given the challenges they have faced," Strough said.