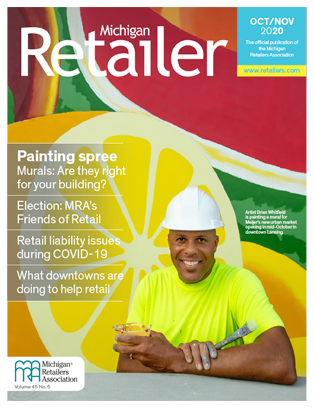 The October/November issue of the Michigan Retailer magazine is out!
Have you seen a lot of murals pop up around your town? Many stores are being graced by murals, so our cover story talks about what it takes to get a mural on your store wall.
In addition, find out MRA's Friends of Retail candidates running in the November election. We also have columns exploring liability issues that retailers may face during COVID-19.
Finally experts talk about where retail is headed, and how downtowns are supporting retail.
Check out the issue, and if you have any questions or comments, feel free to write Editor Meegan Holland at mholland@retailers.com.
Read it your preferred way – by PDF or on the issuu platform.