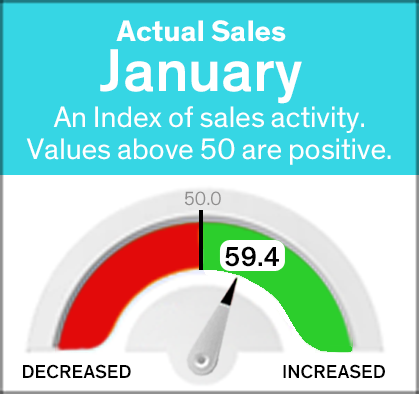 LANSING, Mich. – Michigan retailers reported an increase in January sales over December, now reporting two months of positive growth since sales were down in November.
The January Retail Index survey came in at 59.4, up from December's 54.7. Forthy-one percent of Michigan retailers reported an increase in sales over December, 52% reported a sales decline; and 7% reported no change. The seasonally adjusted performance index is conducted by Michigan Retailers Association (MRA) in cooperation with the Federal Reserve Bank of Chicago's Detroit branch.
The 100-point index provides a snapshot of the state's overall retail industry. Index values above 50 generally indicate positive activity; the higher the number, the stronger the activity.
Seventy-four percent of retailers predict their sales will continue to rise through April, but 17% said they expect a sales decline, and 9% don't think things will change. That results in a 70.7 Index rating, a strong indication for a nice Spring sales season.
"Michigan retailers are seeing back-to-back months of strong sales and are predicting highly positive growth in the next few months. It's a great sign that Michigan's economy continues to move in the right direction," said Bill Hallan, President and CEO of Michigan Retailers Association.
"Retailers have proven their strength and determination this past year and Michiganders continue to  demonstrate their support for neighborhood stores. We hope to see this relationship between store owners and consumers continue to blossom throughout the spring."
According to MRA's January 2021 credit card processing reports, home furnishing businesses across the state experienced the largest uptick in sales averaging 163% over 2020. The grocery store category also saw a nearly 26% increase over year. MRA operates a robust credit card program, processing approximately $1.4 billion in annual volume with accounts in all 50 states.
Michigan's unemployment rate has not yet been announced for January 2021. Last year, Michigan's unemployment rate was 3.8%. In January 2021, the national unemployment rate dropped to 6.3% compared to December's 6.7%.