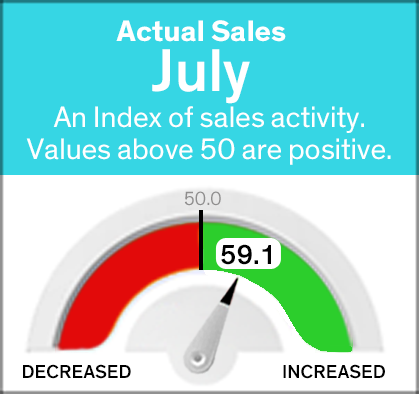 Labor shortage continues, MRA awaits back-to-school stats
LANSING, Mich. – Michigan Retailers Association today reports a decrease in retail sales in the month of July, over June.
The July Retail Index survey came in at 59.1, a decrease from June's 71.4. Fifty-nine percent (59%) of Michigan retailers reported an increase in sales over June, 23% reported a sales decline; and 18% reported no change. The industries seeing the largest gains are gift, apparel, accessories, shoe stores and restaurants.
The seasonally adjusted performance Index is conducted by Michigan Retailers Association (MRA) in cooperation with the Federal Reserve Bank of Chicago's Detroit branch.
The 100-point Index provides a snapshot of the state's overall retail industry. Index values above 50 generally indicate positive activity; the higher the number, the stronger the activity.
Fifty-three percent (53%) of retailers predict their sales will continue to rise through October, but 25% said they expect a sales decline.  Twenty-two percent (22%) anticipate no change. That results in a 61.1 Index rating, a drop from last month's Index rating of 75.0. The industries expecting to see the largest gains through October are gift and jewelry stores and automotive service shops.
"As the labor shortage continues, we see businesses having to limit their hours of operation to keep their existing employees from burning out which would impact the quality of service they provide to customers," said William J. Hallan, President and CEO of Michigan Retailers Association. "As we march towards Labor Day, business owners are optimistic that more workers will head back into the market as children head back to school. With the demand for daytime childcare receding, it is the hope that many parents will re-enter the labor pool."
According to MRA's July retail volume report, clothing and shoe stores' volumes are up more than 25%, a key indication that some families started shopping for school early. Department stores are also up 8%.
"Next month, we will have the back-to-school stats and many families across the state will take their last summer vacation during Labor Day weekend. We're hopeful these last big retail spans will lead to a strong sales month in August and September."
Michigan's unemployment rate in July 2021 preliminarily dropped to 4.8% from June's 5.0%. Last year, Michigan's unemployment rate was 9.0%. In July 2021, the national unemployment rate dropped to 5.4%, compared to June's 5.9%. 
Note: Paul Traub with the Federal Reserve Bank of Chicago, can be reached at 313.964.6297.