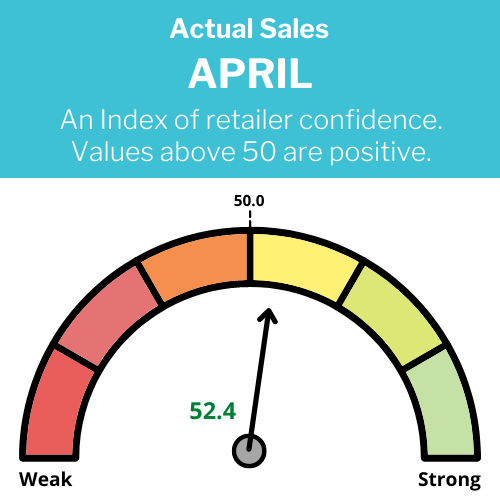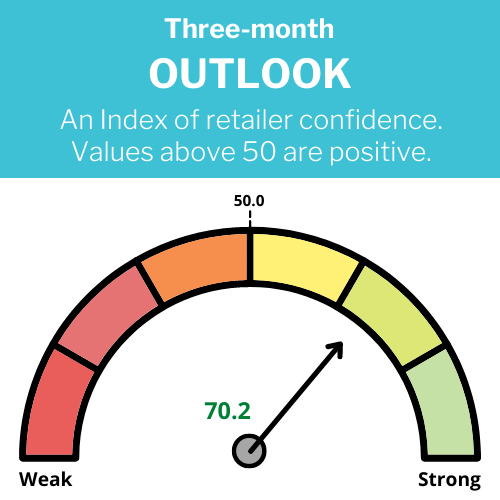 Positive outlook remains high among Michigan business owners
LANSING, Mich. – Michigan Retailers Association today reports that April 2022 sales slightly fell over March. Sales in Michigan have decreased, month-over-month, since a strong increase from February over January 2022.
The April Retail Index survey came in at 52.4, a small decrease over March's 53.5. Forty percent (40%) of Michigan retailers reported a sales increase over March; 34% noted a decrease, and 26% reported no change.
The seasonally adjusted performance Index is conducted by Michigan Retailers Association (MRA) in cooperation with the Federal Reserve Bank of Chicago's Detroit branch.
The 100-point Index provides a snapshot of the state's overall retail industry. Index values above 50 generally indicate positive activity; the higher the number, the stronger the activity.
"Retailers in Michigan are facing many obstacles right now, they are short-staffed and overworked.  Inflation and supply chain delays continue to impact their profit margins. Consumers can best support Michigan retailers by choosing to shop locally," said William J. Hallan, President and CEO of the Michigan Retailers Association.
Positive 3-Month Outlook Indicated
Sixty-three percent (63%) of retailers predict their sales will continue to rise through July, but 15% said they expect their sales to decline. Twenty-two percent (22%) anticipate no change. That results in a 70.2 Index rating, a slight decrease over last month's prediction Index rating of 70.8, still a solid indication for high sales activity in the next three months.
"The strong optimism for increased sales through July is encouraging to see. Summer tourism, even among high gas prices across the country, typically aids to the rise in sales. We're hopeful to see this seasonal swing over the next few months," said Hallan.
According to MRA's retail volume reports, the personal services industry performed the best in April 2022. Sales were up 16.23% over April 2021.
Michigan's unemployment rate in April preliminarily came in at 4.3%. In March, the unemployment rate in Michigan was 4.4%, down from February's 4.7%. In April 2021, Michigan's unemployment rate was 6.2%.
In April 2022, the national unemployment rate remained the same at 3.6% month-over-month. Last year, the national unemployment rate was 6.0%.