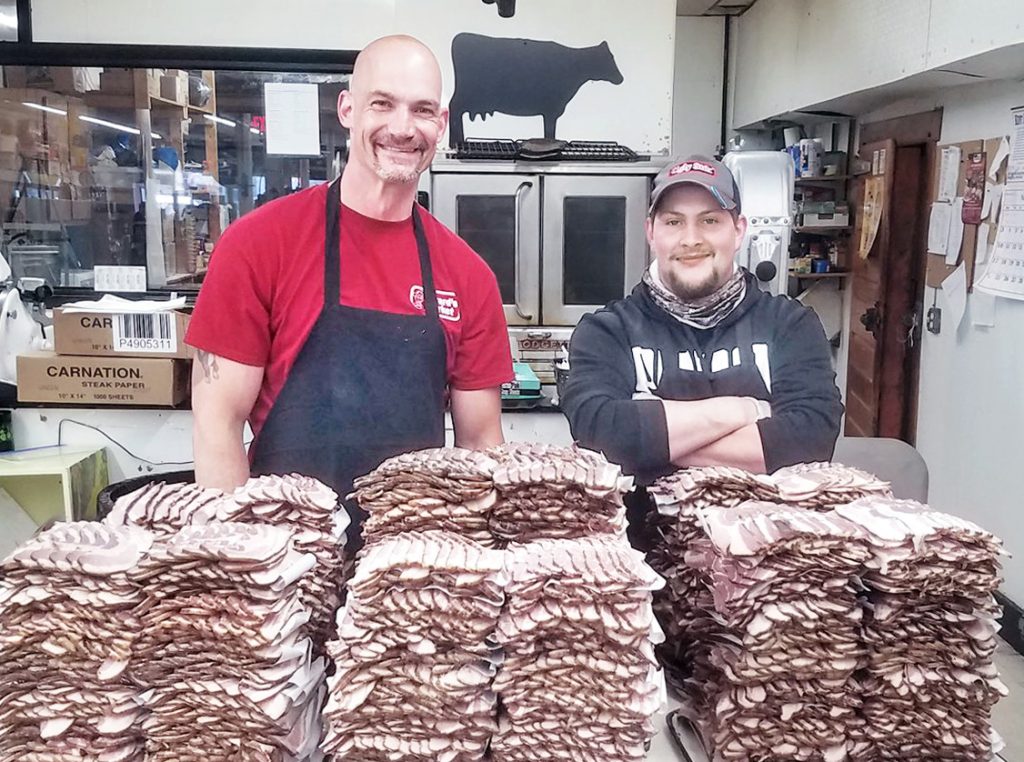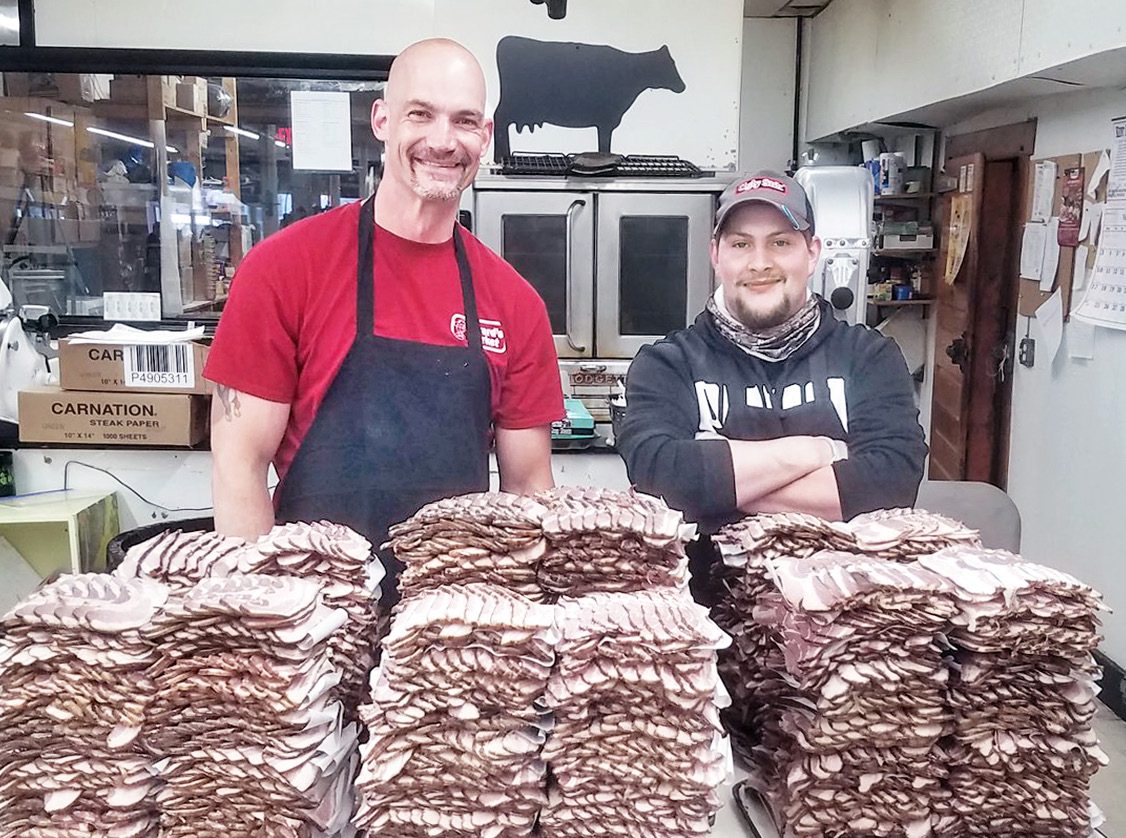 By: Lisa J. Reibsome
If you're looking to buy bacon 10 different ways, Alward's Market in Hale is your kind of place. The 15,000-square- foot market, about 25 miles northwest of Tawas City, makes and sells sliced bacon, sandwich bacon, Canadian bacon, bacon ends and pieces, smoked beef bacon, chocolate covered bacon, maple bacon jerky, bacon sausage, ground bacon burger, bacon brats and more.
"At the heart of our store is our bacon, along with our other home-cured meats," says owner Terry Bovee. "We are a one- stop shop built around that. So if someone comes in for thick- sliced bacon to throw on the grill, they can also pick up the veggies, chips, drinks and dessert they need for a cookout."
Makin' Bacon
When the store opened in the 1940s, its founder, Jerry Wyatt, developed his own recipes for curing and smoking bacon using an open wood fire. "His recipes and smoking method are what we use today," Terry says. "That's why we've got the best bacon in the state."
For the last three years, Taste of Home — a national media company that produces specialty publications and cook- books — has named Alward's bacon "The best in Michigan!"
Jerry also developed recipes for venison smoked sausage, bratwurst, mettwurst (a strongly flavored German sausage), breakfast sausage, snack sticks, home-cured ham and more. After perfecting his recipes, he partnered with local grocer Dale Johnson to open Johnson & Wyatt for Finest Foods, later renamed Wyatt's Friendly Market — in the same location that Alward's Market is in today.
In 1978, after 30 years of establishing a premier meat business, Jerry sold the store to his employee, Bob Alward, who he had carefully trained in all aspects of the business — including how to make Alward's signature bacon. Renaming the store Alward's Market, Bob and his wife, Kathy, continued to develop an outstanding reputation for making and selling unique, top-quality meats and other products.
When the Alwards retired in 2018, they sold the store to Terry, who owned a nearby café. "This store is such an essential part of the Hale community that I wanted to make sure it retained its essence," Terry says. "I didn't want someone from out of the area buying it and changing it."
Bringing Home the Bacon
Because the area is a popular vacation spot, the store is well- known throughout Flint, metro-Detroit and other Michigan cities. Vacationers have a long-standing tradition of stopping in on their way to their cabins and cottages. "People have always come to Hale because of the lakes. We have about 60 in the area," says Terry. "In the winter, we have about 3,000 residents, but that becomes 30,000 people every summer. May through October is when we make our money. And weekends are much busier than weekdays."
Terry reports that store sales triple in the summer. "We tailor the business to that cycle," he says. To help maintain a healthy bottom line when summer ends and provide a much-needed service during hunting season, Alward's processes approximately 500 to 600 deer into sausages, meat sticks or whatever custom-cuts a hunter requests.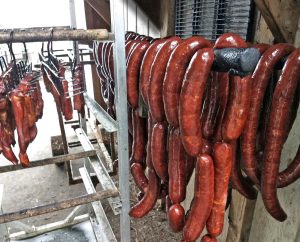 Masters of Meat
Terry and his team remain dedicated to maintaining Jerry and Bob's commitment to excellence. The original smokehouse was built in the 1940s and is still used today. "Most smokehouses nowadays are gas-fired, but we use an old-fashioned wood-fired smoke- house the way it was done 70 year's ago," Terry says. "Although we do use modern technology to make the process foolproof."
The team uses a computer to monitor humidity and temperature, with one smokehouse for bacon and sausage and two for their sought-after Smokie Stixs, which are beef and pork snacks with custom seasonings to create a variety of crave-worthy flavors such as Cajun, honey BBQ and teriyaki.
More Sizzle
For the most part, Terry's goal is to stick with what works. "We will celebrate the store's 75th anniversary next year, so I have no plans to change the many things that make this business great," he says. However, that doesn't mean he's complacent. "One significant project that's underway is that we are working to
get USDA approval to make our bacon available for wholesale," Terry says. "Right now, we can only sell it at retail, but we'd love for it to be in restaurants and other stores." They are hoping to receive USDA approval later this year.
Also new is the store's in-demand dry-aged rib-eye. Meat cutter Ryan Prescott worked at a meat market outside of Chicago while attending college in Northern Illinois. "He learned so many awesome skills and techniques, and we're so fortunate to have him on our team," Terry says. "It was his idea to make and sell dry-aged beef, which is known for having a richer flavor and more tender texture than its fresh-cut counterparts."
Alward's 35-day aged rib-eye is a huge success. "This past Memorial weekend, we had 40 pounds of it for sale," Ryan says. "It sold out in 45 minutes."
Terry adds, "We've put the next batch in for 4th of July. This time we're aging 120 pounds of rib-eye, so hopefully more of our customers will get a chance to try it."
The team is also in the process of renovating the back building to hold more pork belly. "We are very specific about the pork we buy for our bacon and other products," Terry says. "It's not always available, so when it is, we want to be able to purchase and store more."
Alward's has approximately 12 employees, and they work with local schools to hire teens for the summer. "We're running with a very thin crew right now," Terry says. "It's easier today to find workers than it was a year ago, but it's still difficult to find great workers."
Terry shortened the store hours as a way to deal with the labor shortage. "But we are still able to staff our full- service meat counter," he says. "Our customers can have their steaks cut to their specifications, just like they did generations ago."
More than "Meats" the Eye
Besides their famous meat products, Alward's makes a variety of other specialty items including the pickled garlic shown here next to their Honey BBQ Smokie Stix, which are a fan favorite. Beyond the in-house items, Terry is happy with the store's suppliers who include Lipari Foods, Great Lakes Foods, Williams Cheese and several local farms and artisans, such as milk from The Farmers' Creamery in Mio, about 40 miles away.
Alward's local connection extends to its support of the community. "We participate in all the local parades and festivals," Terry says. Alward's sponsors dozens of events in the area each year and supports local schools and fundraisers.
Go Big…And Go Home With Bacon
Terry soon hopes to announce that the store has come up with an unusual way for customers to get their Alward's fix 24/7. "People like to stop in on Sunday nights on their way back to the city. We are working on a non-labor- intensive way for those folks to get our products," he says. "I'd like to install a bacon vending machine in front of the store that would carry our jerky, Smokie Stix and other signature items. It would be extremely convenient for all our vacationers." While there are a few out East and one in Ohio, Terry thinks Alward's will be the only store in Michi- gan with a bacon vending machine.
"Some foods are simply iconic, and Alward's bacon is one of them, so I would never change the way we make it," Terry says. "Going forward, we'll continue to ensure that any changes or product line expansions make sense with our current products."
As the team looks forward to next year's 75th anniversary, Alward's Market remains a good example of how a business can succeed by knowing exactly who they are and excelling in what they do best.