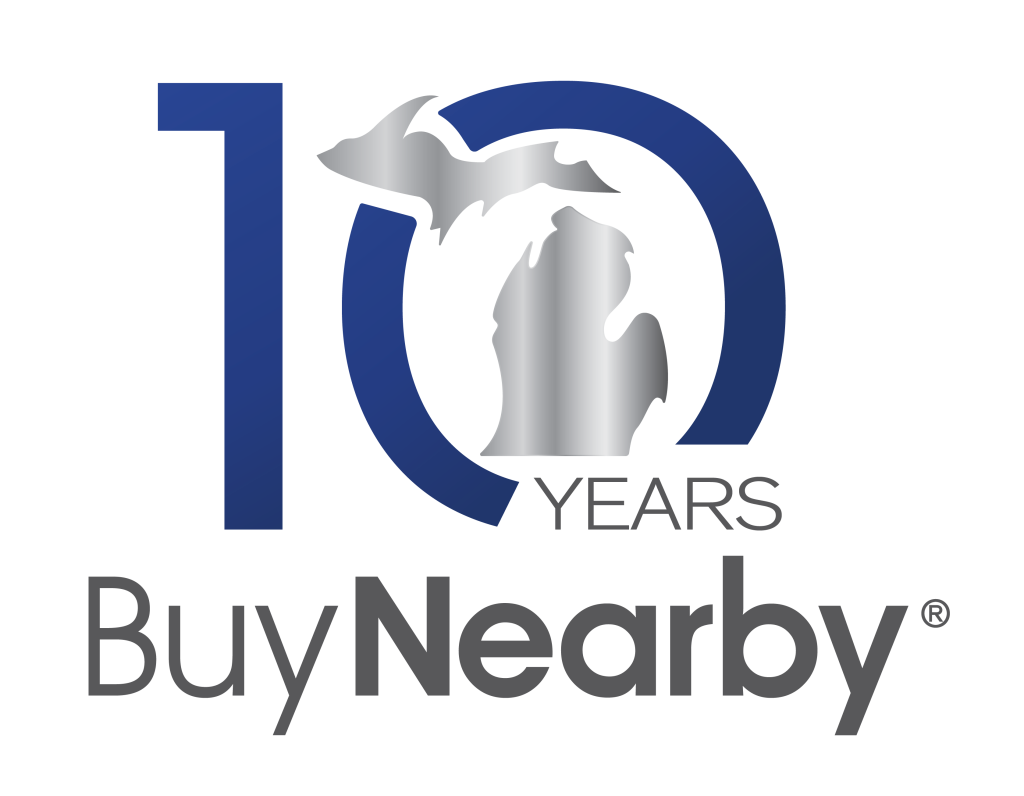 MRA campaign teaches consumers the economic benefits of shopping locally; if Michigan consumers redirected 10 percent of their out-of-state e-commerce spending to local retailers, it would add about $3 billion to the state's economy.
From Monroe to Marquette, and Muskegon to Port Huron, the Buy Nearby campaign has been a constant in promoting the need to shop local in Michigan's cities and small towns. 
"Our Buy Nearby campaign has connected broadly across Michigan and has increased traffic to Michigan's local retailers," said William J. Hallan, President and CEO of the Michigan Retailers Association (MRA). "We are proud to have a way to give back to our members, and research shows the importance of shopping in our downtowns and with local retailers." 
A recent analysis, based on 2021 spending data and completed by Public Sector Consultants, found that if Michigan consumers redirected 10 percent of their out-of-state e-commerce spending to local retailers, it would add about $3 billion to the state's economy. The impact of these additional dollars would have significant impact, including: 
Increase Michigan employment by more than 16,000 (compared to over 14,000 in 2021)

Boost labor income (salary and benefits) by about $660 million ($533 million in 2021)

Contribute $1.2 billion in value-added to the state's economy ($968 million in 2021)

Contribute $2.2 billion in gross economic output ($1.9 billion in 2021)
"When Michigan consumers make the choice to Buy Nearby, it truly changes the game for retailers. Individually, it looks like shopping at a few local stores rather than immediately turning to the internet to purchase from a distant seller, but the impact of a few choices is an incredible impact," said Hallan. 
Buy Nearby Programs
Buy Nearby Grants
2022 marked the first time grants were awarded to Michigan communities. Through a competitive process, Vassar, Ada, St. Johns, and Cadillac were awarded $7,500 in advertising and event strategic planning. This program was a partnership with NexStar media and reached more than 7 million people. 
A Memorable Mascot
Buy Nearby Guy, a mascot in the shape of Michigan and a shopping bag, is the face of the campaign. He travels to events across the state, promoting the need to Keep Your Money in Michigan©.
Buy Nearby Weekend
Annually, on the first full weekend in October, Buy Nearby Guy and retailers across the state celebrate Buy Nearby Weekend (Oct. 6-8, 2023). MRA provides members with free packets of materials, and offers an array of downloadable assets online. This year, MRA will host a birthday party for Buy Nearby Guy. More information will be available in the future at BuyNearbyMI.com.
Holiday Shopping Campaign
As Michigan residents set out to shop for holiday gifts, Buy Nearby was there to remind them to shop local. This effort included a television and digital ad campaign targeted across the state, as well as a Detroit metro campaign that ran across the Detroit News and Detroit Free Press websites. 
Media Partnership
Since 2016, Buy Nearby has partnered with MLive in the form of sponsored content and with MRA members featured on the Michigan's Best Podcast. 
This year, many small businesses and downtown associations were featured on the podcast, including: Wattsson & Wattsson Jewelers in Marquette, Rockford's Bridge Street Baby, Meauwataka General Store in Cadillac, Hilbert's Honey Co. in Traverse City, Ada Business Association and Ada Downtown Development Authority, Integrity Printing in Clare, Grand Rapids' Mieras Family Shoes, Golden Shoes in Traverse City, Little Forks Outfitters in Midland, Cadillac Area Visitors Bureau, Alpena Campus Closet, Das Gift Haus with location across the Upper Peninsula, and Hush Intimate Apparel in Brighton.