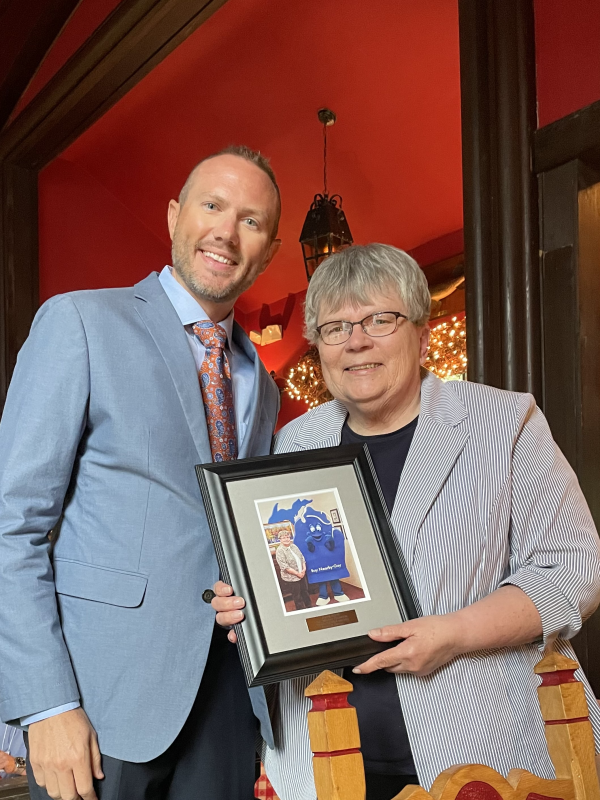 During the early 2010's, retail was feeling the brunt of the Great Recession. Sales were down and Main Streets were hurting. Michigan retailers, as a whole, are creative and gifted marketers, finding unique ways to promote their own businesses during all the highs and lows that the economy creates. But a little help from a friend never hurts. 
In swooped our Champion of Buy Nearby, Barb Stein, ready to help MRA promote Michigan's downtowns. As the Chair of the inaugural Buy Nearby Committee, Barb led the charge to make the Buy Nearby campaign and mascot Buy Nearby Guy a reality. 
Stein owned and operated Rockford's Great Northern Trading Co. for 43 years, learning the ins and outs of finding just a few more customers to keep a business open and thriving. 
MRA was proud to acknowledge Stein's incredible contribution to the Buy Nearby campaign at the most recent Board meeting, officially being named MRA's Buy Nearby Champion.  
"Ten years ago when Buy Nearby was created, I remember that our goal was to make MRA more visible in their support of small businesses across the state and I believe that continues to be the ultimate goal today," Stein said via email. "I was totally surprised to receive the award and very flattered, but I was only the chairman of the committee whose members ALL contributed to Buy Nearby's success."
Stein recommends small business owners get involved in their local communities. 
"Get to know your local officials and state government officials and volunteer to serve on your local DDA or Economic Development Committee and most importantly, get to know your local neighborhood business owners. You all can help each other so much." 
To learn more about how you can play a role in Buy Nearby, visit BuyNearbyMI.com.