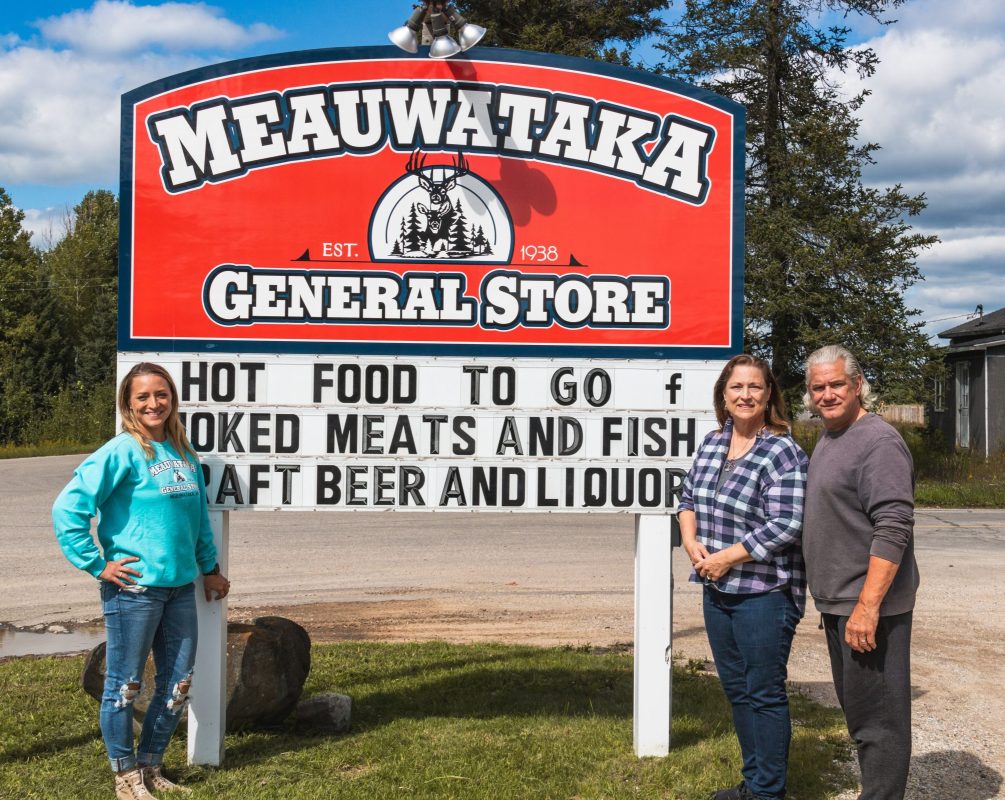 A leisurely drive through the forest led to ownership of a rural general store.
Ken and Pam Sandy owned a cabin in Cadillac and they wanted to move up, full-time, from downstate near the Michigan-Indiana border. Ken, a wanderer at heart, loves to drive around and take in the beauty of the forest. While out and about, they stumbled upon a general store.
They stopped because of advertised smoked fish. The couple met the owners, loved the store, bought the smoked fish, left, and couldn't find it again. The name escaped them, as did the specific location in the forest.
Fast forward a few years, the two had made a trip north to look at a farm they hoped to purchase. The car pulled up to a stop sign, and the pair looked to the right and there was the Meauwataka General Store.
Ken yelled, "There's the store! And it's for sale!"
"We're not buying it! We're buying a farm," Pam responded.
Months later, as the Sandy's were moving into their new farm, their daughter and son-in-law made the trip up north to help. 
"My daughter called me and told us about a really cool store nearby, and again I had to tell her we are not buying it!"
"They loved the area, and also wanted to move up near us, and next thing you know, they joined us and we bought the Meauwataka General Store."
"We wanted to downsize and simplify our life. We went the other direction." said Ken.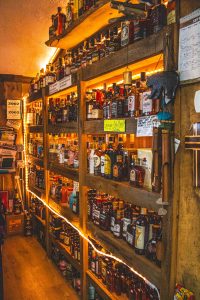 Background in Business
The Sandys had experience in running a business, however, it takes a different type of business plan to own a general store, compared to barber shops, powder coating, and steel fabrication like they'd operated in the past.
"My daughter, Cort, is a very important piece to the store and helped us get our feet moving. She had managed and worked in the restaurant business, and brought her expertise to the MGS. We put all of our unique experiences together and as one group, we have all the skills we need."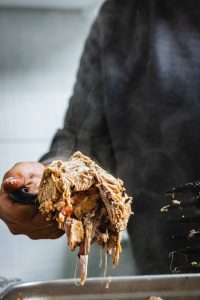 Hot Dishes All Day, Every Day
The Meauwataka General Store isn't surrounded by many other nearby restaurants. If someone local was looking for a place to grab a bite to eat, they'd have to drive 20 minutes into downtown Cadillac. Pam wanted to try having hot dishes to go a few days a week to see what kind of traffic it would bring. 
It worked. Locals would call ahead every day and ask what was for lunch and dinner. A few days a week turned into seven days a week.
But that led to making some bigger, much-needed repairs to an 85-year-old business. Walk-in coolers, ice cream freezers, outdoor freezers had to be replaced, and quickly. A new picnic area and carport was recently added, along with propane heaters to increase seating space. The area trails  bring many ORV, snowmobilers, and side-by-side riders year-round.
Local Favorites
The repertoire of dishes evolved as local patrons made requests. More smoked meats, pizzas, and sandwiches were added to the menu. 
"Ken makes the best barbecue you will ever eat," Pam proudly added about her husband's additions to the menu.
Products Sourced Locally
"We do everything we can to source our goods in Michigan and keep it local. We're proud to be able to tell our customers where our products come from."
Brinks Family Creamery and Donuts, Fenner Farms Beef, Owl Eye Coffee, Underground Cheesecake, Iron Fish Distillery, Little Town Jerky products from Ebel's, Great Lakes Potato Chip Co, local produce, candles, jewelry, apparel, and gift items, as well as Michigan-made liquor and craft beers all have a presence in the store. 
Meant to Be
The family laughs about how everything had to fall into place at the right time and owning the store was truly meant to be. Since moving in and taking over the general store, the family has found loads of local history in the farm's attic.
"There's one specific old letter from a Grandma Dorie, that tells the tales of her family frequenting the Meauwataka General Store and buying things on credit during hard times," said Cort. "How special and lucky are we to witness this legacy in such a beautiful place in Michigan."
Pam put it plainly, "Don't go looking for a farm, because you might end up with a general store."