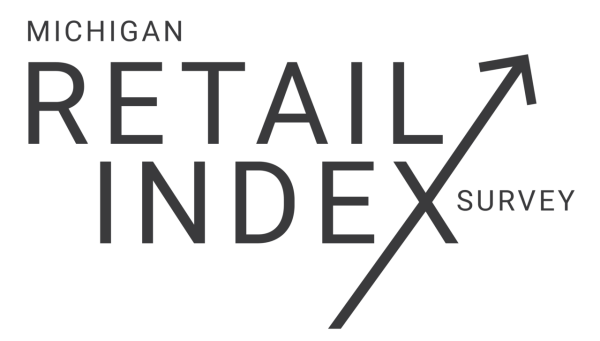 Retailers' 3-month outlook optimism grows as owners look toward 2024.
Michigan Retailers Association today reports that October 2023 sales fell from September, landing at 43.1 on the 100-point Retail Index, a drop from September's 47.6. Last October, the Retail Index came in at 48.9, which had also dropped from a strong 61.5 in September 2022, ahead of the holiday season.
Forty-four percent (44%) noted an increase over September sales, fifty-three percent (53%) of Michigan retailers surveyed reported a sales decrease and 3% reported no change.
The 100-point Index provides a snapshot of the state's overall retail industry. Index values above 50 generally indicate positive activity, the higher the number, the stronger the activity. The seasonally adjusted performance Index is conducted by Michigan Retailers Association (MRA) in cooperation with the Federal Reserve Bank of Chicago's Detroit branch.
"A decrease in sales leading up to the holidays can go one of two ways. We hope November and December go the more positive route with consumers spending their dollars on gifts at local retailers," said William J. Hallan, President and CEO of the Michigan Retailers Association. "We encourage Michigan shoppers to focus their spending at Michigan stores during this important shopping week and through the December holidays. Each purchase at a local business keeps those shopping dollars here, where they matter most."
Three-Month Optimism Rises
On a more positive note, fifty-four percent (54%) of retailers predict their sales will continue to rise through January, and 34% said they expect their sales to decline. Twelve percent (12%) anticipate no change. That results in a 62.7 Index rating, a hefty increase from last month's prediction Index rating of 53.3, but a year-over-year drop from 65.0 in 2022.
NRF Predicts Record Holiday Spending
The National Retail Federation announced their anticipated holiday season shopping data, with an expected increase by 3- to 4% year-over-year. Total spending in November and December is expected to reach somewhere between $957.3 billion and $966.6 billion.
Unemployment Rates
The national unemployment rate rose slightly to 3.9% over September's 3.8%. Last year, the national unemployment rate was 3.7%. The unemployment rate for Michigan preliminarily came in at 4.1% for October. Last year, the unemployment rate was 4.4%. Consumers celebrating the holidays will spend $875 on average for gifts, decor, food, and other winter holiday items. That number is up from $833 in 2022.