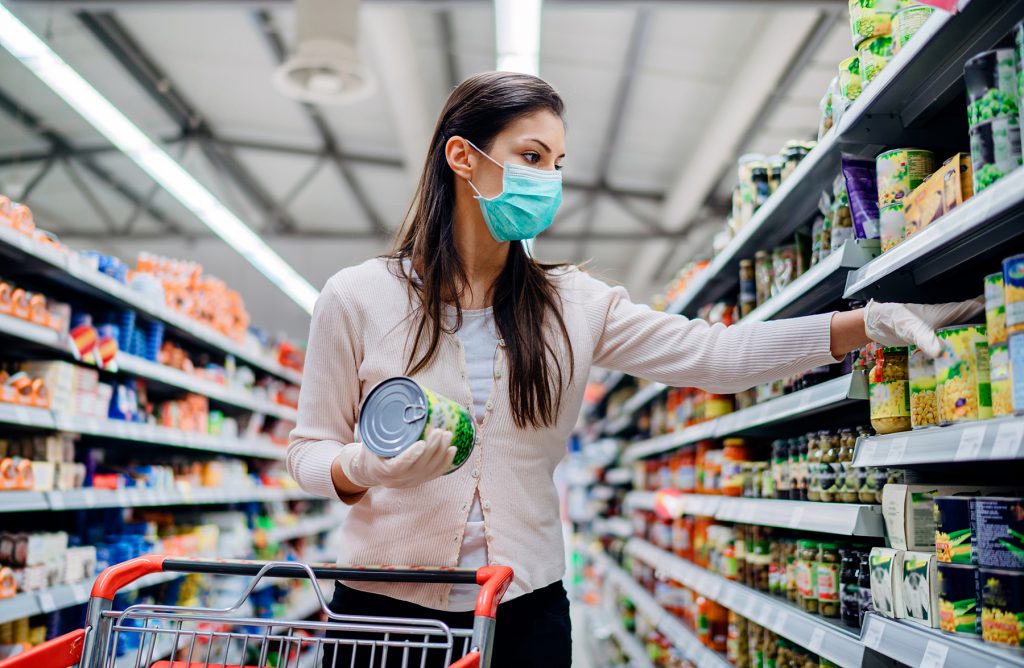 By LISA J. REIBSOME
Which COVID-19 pandemic behaviors will have a lasting impact? Michigan Food News asked three industry experts to weigh in. Retail Food Industry Consultant Michael Sansolo, FMI President & CEO Leslie Sarasin and NGA Senior VP of Communications & External Affairs Laura Strange share their insights and predictions to help you prepare for the post-pandemic world.

1. During the pandemic, online grocery shopping increased —

with some trying it for the first time and others using it more often. Will this continue as the crisis subsides?
Sansolo: None of us can actually know what will happen next, so making predictions is always dicey. However, the current situation goes many steps beyond that. Frankly, we are in truly uncharted waters thanks to the incredible combination of COVID-19, the panicked shopping that preceded widespread lockdowns and the looming prospect of a deep recession or worse. With that in mind, here's my shot at what might happen next.
I've heard the quote that Amazon usually thinks and plans four quarters ahead, but the COVID crisis has accelerated the growth of e-commerce by many times that amount for Amazon, for traditional retailers and, of course, for many shoppers. So it's difficult to plan.
In many ways, it is highly likely that a portion of shoppers, having now tried online grocery shopping, will continue this behavior. However, many other shoppers are missing the human interaction of in-store shopping and the ability to wander around a store and make choices. If retailers can build on the positive parts of the in-store shopping experience, it is possible that this very strange period could lead to a new appreciation of in-store shopping. However, it's way more likely that convenience will win out, and a substantial portion of sales will move permanently online.
Sarasin: The novelty of the circumstances surrounding the COVID-19 crisis makes it very difficult to predict whether — or to what extent — the shopper behaviors we've identified during this time will continue. Much depends on the degree of control we have over the virus spread and the extent to which we can safely re-establish life as we used to know it. At this time, that remains uncertain.
That said, there are past situations where consumers were compelled to assume a different shopping pattern that might be instructive now. For instance, for years private brands struggled to establish a significant foothold in the marketplace. Then the recession happened a decade ago and more customers turned to private brands as a viable option. As we emerged from the recession, we saw things revert a bit; but private brand sales remained at a higher level than they were pre-recession. It appeared some folks just needed the push to try private brands.
In this same regard, during this emergency we are tracking the quantum jump that's motivating online grocery shopping. The pandemic may have provided the push for some to try it, but it remains to be seen if it sticks at this level in the long term.
Pre-coronavirus, FMI recognized that the food industry was at an inflection point regarding online grocery shopping. In January 2020, we projected that online food and beverage sales would equate to $143 billion by 2025, representing about 18% of an expected overall $800 billion in combined online and in-store spending for food and beverage at home. But then the COVID-19 factors hit; and almost overnight, the number of online shoppers more than doubled. Each year we work with Nielsen to adjust our predictions; but clearly, this situation is going to dramatically change those numbers.
During the height of the pandemic demand, many stores redeployed existing teams to the online shopping space, and some have remained there. Of course, all this happened while stores were also trying to manage both the product demand surge and locally imposed sanctions on store operations. Indications are that not everyone will continue ordering online at the depth they were; but many now have online in their shopping repertoire and are continuing to use it more than they did pre-crisis.
Our industry is responding with additional online staff, and some stores are piloting pick-up-only store formats.
2. During the pandemic, stocking up has become more common among all ages; but in particular, younger generations — who are used to getting things immediately — are learning the importance of bulk buying. To what degree will this behavior continue?
Sansolo: There is a major economic issue here. Many shoppers cannot afford to stock up, so the behaviors they showed during the pandemic might melt away quickly. In addition, after major storms we all make plans to be better prepared, but regular habits return quickly. I don't think, long term, we will see a major move by shoppers to stock up in preparation for future problems.
Sarasin: When I began my FMI tenure in late 2008, we commonly used terms like 'stock-up trip' and 'fill-in function.' Then the convergence of several trends — the dramatic expansion in the number of channels shopped and the rise of shared shopping within households — began to challenge that vocabulary because shoppers were shifting to a more constant cycle of filling in. It appeared that the traditional stock-up trip was headed toward becoming an entry in the history books.
Then COVID-19 made households rethink their shopping patterns; such that we've seen a return to limiting the number of shopping trips, restricting who in the household does the shopping and scrambling to find the stores where they get the most from the fewest outings. Suddenly, stocking up is back in fashion and bulk buying has moved beyond club stores to become the grocery-buying norm.
Some experiences become a defining moment for a generation and forever color the way people think and react. Those who lived through the Great Depression had their economic psyches shaped by its impact on their lives. With COVID-19, some Americans experienced massive out-of-stocks for the first time; some had the novel experience of having to wait in line to enter a grocery store; and others had to conform to never-before-seen restrictions within the grocery store — one-way aisles, mask requirements and purchase limits. It remains to be seen how deeply these experiences will affect grocery shopping; but in the short term, the industry is preparing for a return to fewer household trips, a narrowed store selection and a resurgence of the stock-up approach to grocery buying.
3. What changes will we see in supply chain operations?
Sansolo: The industry has moved heavily in the past two decades toward a leaner supply chain, and I can't imagine that will change going forward. The costs of maintaining large, non-moving inventories of cleaning supplies and household goods is simply too high. However, I do expect many retailers to examine their product assortment. The mad rush to stock up clearly showed which products need more facings and which are over-represented on the shelves. There might be incredible pressure coming to eliminate me-too items and endless line extensions.
Sarasin: I think dissertations will be written on what COVID-19 taught us about supply chain operations. We have learned that the supply chain is resilient, and that we can make necessary adjustments to accommodate a sudden shift in demand, but we need to become nimbler and quicker on our feet to do so.
FMI has been saying for years that better communication is needed up and down the supply chain, and we've been busy creating opportunities for that increased conversation and collaboration. Overall, we adjusted to the emergency pretty well, but it took us a while to get the pacing practices in place — both at the supplier and retail levels — that enabled us to better manage panic-buying. Also, when restaurants and foodservice were restricted, it took us a while to figure out how to divert the supply stream to the retail outlets where it was needed to address unprecedented demand. We eventually got there, but there were some bumps and bruises along the way.
Clearly toilet paper, paper towels and cleaning products were in high demand, and we must look at the steps we should have in place to be ready when demand shifts in those categories. But honestly, there likely isn't a grocery category that doesn't have some COVID learnings. We saw commodity after commodity go through its particular crisis — from questions about price to supply problems. Much of the learning has been in the realm of communication efforts and what it took to keep shoppers calm and trusting in the resiliency of the supply chain.
4. Will shoppers maintain a heightened concern over cleanliness/sanitation? If so, what will this impact?
Sansolo: This is a fascinating question because behaviors and awareness have shifted so much. Sampling will be back, but it will be far more controlled than in the past. I don't think we will see the return of 'help-yourself' displays. We might also see more acceptance of safe behaviors such as shoppers more carefully selecting produce to avoid touching too many products with bare hands. And hand sanitizer stations are here to stay.
Strange: Heightened concern over cleanliness will remain as we continue to recover. It will take a while for customers to gravitate back to in-store mainstays like salad bars, hot bars and self-service pastry cases. Those features could be replaced by more grab-and-go prepared food offerings and other contactless experiences. Pre-sliced meats and cheeses, which have been increasing in popularity, could remain the exclusive stand-in for service deli counters, at least in the short-term.
5. What safety precautions will grocers continue to take as the crisis subsides?
Sarasin: COVID-19 has served as a rather harsh teacher, forcing us all to learn lessons in personal hygiene and social interaction practices. As cornerstones of their communities, grocery stores will be vigilant in retaining current practices, even creating new protocols to keep customers safe and healthy. I think hand-washing, masks, maintaining healthy distances and a number of other pandemic precautions are going to be with us for a while.
Strange: Grocers will continue to work with federal, state and local health officials to ensure the health and safety of their store associates and customers. According to an April survey by digital marketing firm First Insight, during the pandemic, shoppers feel safer in supermarkets than in other retail venues: 54% said they felt 'safe' or 'very safe' from COVID-19 at grocery stores. That said, there's plenty that grocers can do to ensure confidence post-pandemic and establish best practices in the event of any future outbreaks. This includes maintaining high cleanliness and sanitation standards, as well as continuing established social distancing and personal protection equipment practices.
6. Prior to the crisis, shoppers clamored for fresh and organic products. During the crisis, processed food sales increased. Will process foods continue to make a comeback?
Sansolo: This is another fascinating question. There's no doubt that some shoppers will instantly return to previous habits and buy more natural and organic products. However, many were forced to make unexpected choices and may have been satisfied with the frozen and refrigerated items they had been avoiding. The quality of these products has significantly improved, and they make great options for shoppers. Those looking to stock up may turn to these types of items more than they did pre-pandemic.
Sarasin: The pandemic certainly validated the reality of Maslow's hierarchy of needs: As supply options became more restricted, consumers became less demanding about where and how their food was produced. Many of their more esoteric values — ecological considerations, fair labor concerns, production values — took a temporary backseat to just being able to procure food for their families.
However, consumers still hold those values; and as the panic continues to abate, demand for organic, sustainably raised or ethically sourced products will return. The wild card in this is the possible return to a bulk buying/stock-up pattern of shopping. Many shoppers who stockpiled canned and frozen items learned about their nutrition, sustainability and value in reducing food waste. They may now prefer those items based on those values. A byproduct of the COVID-19 experience may be some consumers diving deeper into what 'processed' means, because all foods are processed in some way. This may drive them to get greater clarity about which processes are actually more aligned with their values.
7. During the pandemic, more people are eating home-cooked meals. Will this trend continue?
Sansolo: For years, the grocery industry dreamed of finding ways to get consumers back to the kitchen table, spending more on food at home. The pandemic made it happen; and hopefully, people are enjoying cooking and the nutritional benefits of food prepared at home. So perhaps a small percentage of people will make this a permanent change.
However, we have to imagine there are pent up desires to get out of the house, let someone else do the work and simply return to normal. So overall, I expect eating habits will return to pre-pandemic ways. As stay-home restrictions continue to relax, busy households will again be pressed for time and people will have less time to cook.
Sarasin: FMI is a strong advocate for eating family meals at home. My hunch is that during the stress of the last several months, more people experienced the health and connection-building benefits of the family meal. They discovered not only that they could manage making meals, but also that there are definite advantages to doing so — and they will seek to sustain the practice.
My heart goes out to those for whom the pandemic caused increased isolation and separation from their families. They, more than most, may be looking forward to a family meal.
8. The pandemic brought improved employee wages and benefits. Will they stay that way?
Sarasin: This pandemic put the food industry squarely in the limelight at the center of almost every pandemic-related conversation. Consequently, it demonstrated to the world something we've always known — that in a crisis, the grocery store is an essential player. Grocery workers have been embraced as true heroes in the public battle to withstand the dangers of this virus and have been venerated for bravely serving the greater common good.
The performance of our member companies during this national crisis brought a new level of respect and appreciation to the industry. It also alerted the public to the complexities of the supply chain and how readily we took its flawless performance for granted.
Not to be glib, but I think some people saw that the best way you can tangibly change the world, feed a nation and serve the greater good is to work in the food retail industry. That kind of industry enhancement was earned and all the rewards it receives are deserved.
Strange: America's independent grocers and their store associates have demonstrated tremendous dedication by continuing to work during these difficult times. They are heroes, serving on the front lines during this public health crisis, ensuring their fellow Americans have access to nutritious and essential products on an ongoing basis.
NGA is working to pass legislation, the Assistance and Gratitude for Coronavirus Heroes in Agribusiness who are Invaluable to the Nation, or the AG CHAIN Act, to provide front-line workers with well-deserved tax relief for their commitment to serving their communities during this pandemic. This proposal provides a federal tax holiday and a payroll tax exemption for all essential employees in the food and agriculture industry defined as critical infrastructure by the Department of Homeland Security. To ask Congress to support the act, see
http://takeaction.nationalgrocers.org/landing-pages/cosponsoragchainact
.
9. Any additional thoughts or insights to help grocers prepare for the future?
Sansolo: As always, don't get complacent. This crisis made clear how important supermarkets are to shoppers and communities, but you can't live on that for long. Retailers still need to offer compelling experiences and points of differentiation to keep shoppers in the store and away from e-commerce. When normal returns, and it will somehow, Welcome shoppers back as if it's the grandest re-opening event of all time. Celebrate the wide variety of choice and product availability that your stores have always offered and look for ways to make the in-store experience even greater. Best of luck!
Sarasin: Our industry is strong at forecasting, but we never had to consider more than 90 days outside of inventory projections. The intensity of this national emergency forces us to think differently about how we navigate the supply chain and create more opportunities to plan for crises. We must look further down the highway and simultaneously check our dashboard more carefully to ensure our machine is functioning in a way that will deliver us where the road is taking us and beyond.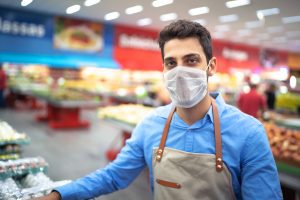 Strange: Moving forward, consumer engagement will be more important than ever. Stores must proactively build relationships with shoppers through personalized interactions on multiple channels. Staying abreast of changing needs and helping shoppers maintain confidence in your stores is vital. It's up to grocers to create that sense of community that will help put folks at ease. I think we'll see independents continue to do what they do best: focus on serving their communities.
Editor's note: Some responses were edited for length and clarity.