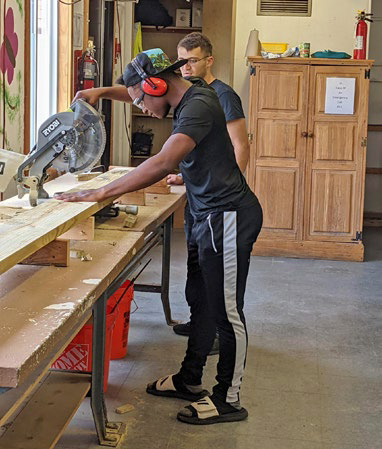 When the tough gets going and encounters a pandemic, the tough change course. How VIP mapped a new course for the future.
By JENNIFER ROOK
Photos VIP
There has been much focus on how small business owners have adjusted, "pivoted" and managed to do everything they could to keep their businesses afloat during and after the pandemic. Yet, what happens when your business is a not-for-profit that not only lost its corporate support but the community it supports too? This is exactly what happened to MRA member Vocational Independence Program, Inc.
Based in Flint, MI, Vocational Independence Program, or "VIP" as it's known in the area, started in 1953 as a day program for children with disabilities known at the time to be the Genesee County Association for Retarded Citizens (GCARC).
Through the years, the organization honed its mission to focus primarily on adults 18+ with disabilities or other barriers to employment by offering job skills training and employment opportunities in the community. In 2010, GCARC changed its name to Vocational Independence Program, Inc. (VIP).
For years, VIP partnered with a variety of businesses to produce goods such as its own Clean Puff, a nylon mesh dish and pot scrubber that sold in Meijer and VG's Food & Pharmacy. VIP clients also provided valuable services such as cleaning and sanitizing safety goggles for General Motors. They also cleaned and repackaged damaged or leaking pop cans for Dr Pepper/7UP in Mt. Morris Township and 7UP of Detroit in Redford.
"We forged relationships with a number of manufacturers and local-area businesses and created a successful work hub," said Rene´ Sherwood, executive director for VIP. "From soup kitchens to packaging products, our workforce appreciated the opportunity and felt empowered through work and volunteering. Our partners value the service VIP provides."
2020: A SCREECHING HALT
In March of 2020, funding support came to a halt virtually overnight. Pandemic restrictions, combined with working with a vulnerable population, led VIP to put a temporary halt on its manufacturing and daily operations.
"We went from being an assortment of activity to a standstill virtually overnight," said Sherwood. "Every aspect of VIP was impacted. We realized quickly that we were facing a new reality."
This required the organization to do some quick deep reflection to determine how VIP could operate moving forward.
"We took inventory and assessed everything agreeing that nothing was off the table," said Sherwood. "We realized we could build on two areas of expertise: vocational training and job coaching." Sherwood, who joined VIP in 2017, saw those strengths as something that would benefit the larger community and began working on a plan.
"After many conversations and virtual meetings, we knew one thing for certain – we needed to extend our services to everyone in the community beyond people with disabilities," said Sherwood. "It was our way of being inclusive."
BECOMING A VIRTUAL GLIMMER OF HOPE
VIP created a six-to-12-month plan focused on identifying services that fit the community's needs, embracing the reality of being virtual. The organization started by partnering with local health and wellness counselors to offer virtual counseling and wellness classes like yoga. Soon, VIP joined forces with other community partners and quickly expanded its curriculum to include popular activities such as online cooking classes, meditation sessions, and "starting a business" course.
"Knowing we had what it takes to help VIP adapt to the changing business climate, federal mandates, and industry modifications, we applied this thinking to the new services we were adding," said Sherwood. "Instead of concentrating on job training alone, we started looking at what services we could offer that would benefit 'the whole person.'"
According to Sherwood, the effort has been well received in the community and inspired new services that are bringing the surrounding community together for the greater good.
"If we can create more inclusive interactions through activities like art therapy, community living skills, training, resources, and counseling for starting a business, then we create a better community of understanding," said Sherwood.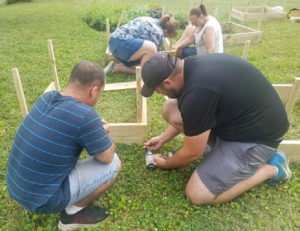 VIP 2.0
As the pandemic continues to wane, VIP continues to transition itself into a community center with in-person activities like art therapy, behavioral health group sessions, and health and nutrition courses.
VIP is also exploring a new apprenticeship program with Michigan Works! in the areas of community living and staff support. The organization is also exploring more job shadowing opportunities and helping adults with disabilities and other barriers to start, grow, and maintain their own businesses.
In addition to producing Clean Puffs, VIP builds bat and birdhouses and looks to expand in the areas of landscaping and hosting a community garden.
"In our research, we learned that our building once had an apple orchard on the property," said Sherwood. "So, we literally went back to our roots and began exploring putting in a community garden and secured a grant to launch a HOOP House, which we hope to open in 2022."
VIP's business partners are slowly coming back to the table and the organization is looking to attract new partnerships, especially considering the new services VIP has extended to the community.
"It's been a tough, yet insightful year that pushed us in a new direction that ended up being in our own backyard," said Sherwood.
If you are interested in partnering with VIP on a future project, visit viprogram.org.