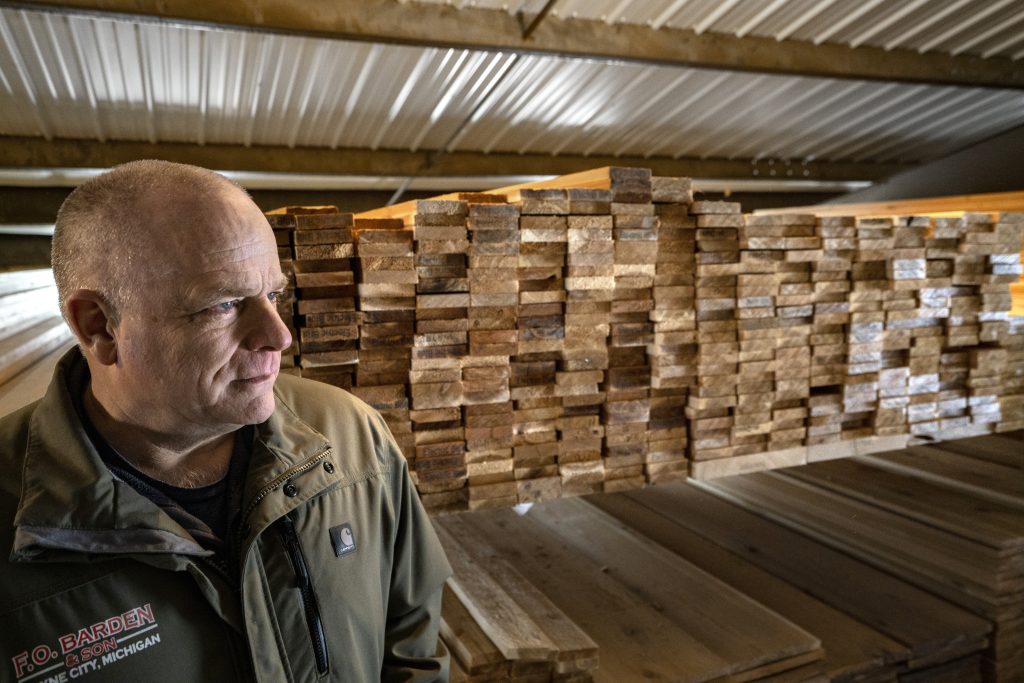 BY: SHANDRA MARTINEZ
Barden Lumber, located in Boyne City, is marking its centennial. They're grateful to the Northern Michigan community for supporting their business throughout the years. Barden Lumber's upcoming celebration has been 5 generations in the making.
"We definitely don't want to make it about us but about the whole community. We're a brick-and-mortar store, and without the entire community's support over the last 100 years, we wouldn't be here," said Asuka Barden, whose great-great-grandfather F.O. Barden started the Boyne City business, located at 205 S. East Street.
In addition to elevating the annual May event for builders, commemorative plans for the centennial celebration included a showroom facelift and promotional calendar featuring historical photos of the family-owned business through the decades. For years, the Barden family has been discussing ways to commemorate this rare milestone.
"It has definitely been challenging, but our company has been through the Great Depression, the Great Recession and several fires," Asuka said. "We pride ourselves on being able to say that when the going gets tough, Barden Lumber buckles down and gets it done."
Family-run from the start
Barden Lumber was founded by F.O. Barden, who was sent to Boyne City by the Michigan Trust Co. to reorganize the failing City Lumber Co. and Railroad. By 1922, his family joined him in Boyne City. He and his oldest son, Russell, decided to open their own retail lumber operation, F.O. Barden, and Son. Several years later, F.O. went East to work other mills, leaving Russell to run the operation. F.O.'s youngest son, Aldwyn "Al" Barden, also joined the company. Over time Russell too left the business, eventually leaving Al in charge. Al Barden — Asuka's great-grandfather had a degree in business from Michigan State University. He modernized the lumberyard with a more accurate accounting method and cutting-edge marketing. "He was very involved in the community and civics," said Asuka.
Her grandfather Ed joined in 1959, working his way up the ladder and retiring in 2016, passing ownership to Asuka's dad, Paul, who is now company president. Paul Barden spent much of his childhood helping at the lumberyard. "My dad would call up the school and ask for me, saying, 'I got a semi down here, can you come down and help unload it?' Back then, it's just the way things went," Paul said. When he graduated from high school in 1981, he opted to join the U.S. Air Force. "I just didn't like the idea of a job being handed right to me," Paul said. "I'm glad that I went that route, because getting in the service allowed me to grow up a lot and basically see the world. I decided there is no place like home."
During his four years of service in Japan, he met his wife, Yumi, who is Japanese. "When we came home, there was no guarantee that I was coming to work here," Paul said. "It just worked out there was an opening. I started here in 1986 and have been here ever since. Obviously, with a family business, there's extreme highs and extreme lows. You just can't escape and get away from your job. It's tough, but the rewards are good."
New generation comes home
Like her dad, Asuka left Michigan after high school. She attended the University of Miami, where she studied music engineering, then settled into sunny South Florida as a music producer. She came back in 2013 to fill an urgency in the family business.
"I rushed home to see what I could do to help, and before I knew it, I was sitting at a desk, trying to learn accounting, which was not my expertise," Asuka said. Paul said it was a relief both professionally and personally to have his daughter back in Boyne City. "She really brought the energy and the smarts regarding computers, and everything needed to take the business to the next level, because as of 2015 we were still handwriting tickets," Paul said.
Since returning to the family business, Asuka has focused on using technology to streamline operations. Still, there was a little worry about how the staff and customers would react to the much-needed modernization she was initiating. "I can remember the anxiety those days, but right now it's just unbelievable how efficient we are compared to the way we were doing things," Paul said. "The old school customers have transitioned, and now they like it too. And of course, all the new customers, it's what they expect. "She really brought it to a different level. She does stuff that I never cared about doing, as far as the advertising and getting involved with social media and all that stuff, which has been a blessing."
With the leadership of her father, Asuka and the team navigated the pandemic, which created both a boom in home improvement projects and snarled the global supply chain, dramatically increasing prices of lumber and other products. Two months before the pandemic, Asuka saw chatter from China, so Paul decided to stockpile N95 masks. Ultimately, Paul gave them away to a local retirement home to protect the health of the community's eldest residents. Others were donated to healthcare workers at Munson Medical Center, where his other daughter, Kyle Cameron, works.
"We just prepare, and we're prepared for anything, really," Asuka said. "So, when the pandemic hit, we got creative, and always tried to make sure we're looking at all streams of information, not just one, so that we can make the best assessment." She attributes much of Barden's continuing success to a loyal workforce that numbers about a dozen, some longtime employees, who know customers by name.
Serving a 'unique market'
Northern Michigan's picturesque beaches and lakes made the region into a tourism magnet with many second homes. That gave Barden an opportunity to expand its market. "We have a lot of second homeowners that we don't see in the winter, but as soon as they walk in the store in June, they're happy to see us and be back in their small town where they spend their summers and everybody knows their name," said Asuka. "We have a unique market for that reason, and customers expect value regardless of their budgets.
"We've tried to really keep our formula of how we price things the same way we've done for decades," Asuka said. "We don't go high on margins. People know that they can come here and get a good, fair price on a lot of things without having to drive far." Customers online lauded the business as a "hometown lumber store with hometown values," for having "knowledgeable, helpful staff," and "great quality products (and) the best wood in Northern Michigan."
Andy Poineau, an iconic home builder and long-time customer who is now retired, worked with four generations of the family, beginning with Al Barden in the 1970s. He says the Barden family has earned the support of area builders. "They're hard workers.
They want to keep everybody happy," he said. "I have several friends who are builders who are still going to Barden almost exclusively." But to Poineau, the Barden family has been more than just a trusted supplier.
"They just supported me for a long, long time, a lot of times when I couldn't pay my bills, and it just created a loyalty," said Poineau, who used Barden as a supplier on the roughly 70 houses he built around Lake Charlevoix. "They were responsive, they had good materials. They supported me when I had a material issue. They are just good folks."