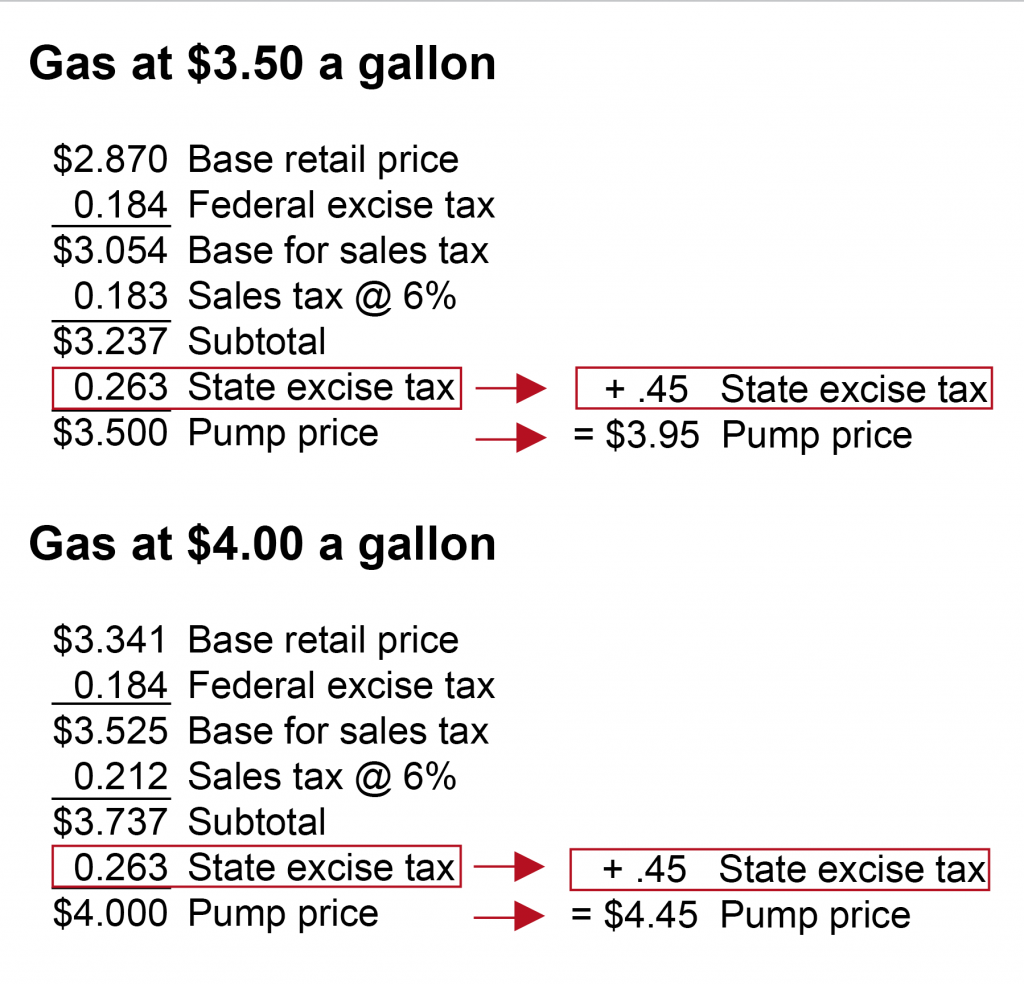 Whitmer's first budget is a tax and shift plan
On Tuesday, Gov. Whitmer released her first state budget, a $60 billion plan that adds nearly $4 billion in new funding. The budget attempts to address some of her key campaign promises to fix the roads, increase education funding and focus on water quality issues. It also shifts funding sources in a way that the administration believes is more straightforward (e.g. education dollars going only to K-12 schools). To fund her priorities there are two proposed tax increases that may impact retailers: a 45-cent gas tax increase and an increase in the income tax rate for businesses filing as S-corps and LLCs.
First, the governor's budget includes a substantially higher gas tax – an increase of 45 cents, phased in 15 cents at a time over a year and a half time span. These new funds would generate $2.5 billion and be used to fund critical road and infrastructure repairs each year. It's important to note that state taxes aren't the only tax Michiganders pay at the pump. Michigan residents also pay an 18.4 cent per gallon federal tax as well as the state's six percent sales tax. The sales tax is levied on top of the retail price of gas and the federal 18.4 cent per gallon tax but not on the state's 26.3 cent per gallon gas tax (see examples of the price breakdown to the left). Also important is that the new funds would be subject to a different distribution formula, less regionally-focused and more priority-based, than the current 26.3 cent per gallon Michigan fuel tax revenue.
Second, the budget attempts to tax all businesses, including pass through businesses like S-Corporations and LLCs the same rate, at six percent. This new revenue would be used to offset the removal of the "pension tax" on public pensions.  S-corporations and LLCs are currently taxed through the income reported on an individual's income tax at the 4.25 percent Michigan Income Tax. An increase to six percent would be a 41 percent increase in the tax rate on mostly the small businesses who utilize the S-corporation and LLC structures.
While it doesn't sound like a huge increase, this would be the fourth tax structure for small businesses to comply with in the last 10 years (Michigan Business Tax/MBT, Single Business Tax/SBT, Corporate Income Tax/CIT). That's a lot of uncertainty and change for employers to handle on top of the increases in wage and benefits imposed by the state and required to retain and attract talent.
Both of these proposals and the entire budget were met with skepticism from the legislature which now will get to work preparing its own budget. Ultimately, expect a lot of compromise in these budget areas on both sides and remember that the governor shared some alternatives for raising the $2.5 billion needed for roads that may be less attractive to businesses and residents. These alternatives include a 7.4 percent sales tax rate (an increase of 1.4 percentage points) or a 19 percent personal income tax rate.
Legislature asks Supreme Court to address min. wage and paid leave changes
Following a state senator's request for an attorney general opinion, the Michigan legislature passed resolutions HR 25 and SR 16. These resolutions formally asked the Michigan Supreme Court to weigh in on the legality of adopting then amending initiated laws raising the minimum wage and creating medical leave benefits. The legislature took this action since it was likely this question would ultimately fall to the courts to make a final determination. With the legislation slated to take effect in late March (March 29) employers need certainty on what new regulations they will be asked to comply with. Employers should note that laws passed by the legislature are presumed to be constitutional and should assume the changes will go into effect as planned. That said, it would be wise to wait to implement any changes to employee payroll or benefits until March 29 and keep an eye out for updates.
Data breach bill back for discussion
Legislation MRA was active on last year that would change the notification requirements when an entity is the victim of a data breach was reintroduced as HB 4186–4187. MRA testified before the House Financial Services Committee last week on the reasonable amendments retailers need added to the bill in order to be supportive. These amendments include language ensuring third party vendors are held equally accountable by clarifying who must notify and pay for notification if a breach occurs, allowing flexibility in investigation requirements and ensuring only the state can regulate notification requirements. It sounds like changes will be made to the bill but it is uncertain whether those changes will be made in the original committee or in the House Ways and Means Committee. The bill will likely be reported to Ways and Means next week. Next steps: House Financial Services Committee vote. MRA Position: Opposed as introduced, seeking amendments.
Legislation requiring e-prescribing introduced
MRA priority legislation to require all prescriptions be sent electronically to the pharmacy directly by the prescriber was introduced as HB 4217. This legislation will help reduce fraud and errors, improve workflow, and create a better system to track whether a patient has picked up their medication or not as well as potential interactions between various medications. The bill would require prescriptions be sent electronically to pharmacy in most circumstances and includes a hardship waiver for prescribers who cannot reasonably meet the requirements. Other states that have implemented electronic prescription requirements have seen reductions in the amount of fraud particularly related to controlled substance prescriptions like opioids. MRA is meeting with committee members and working to secure a hearing for the bill this spring. Next steps: House Health Policy Committee. MRA Position: Support.
DOL publishes final overtime rule for comment
Last week, the Department of Labor (DOL) published its final proposed overtime rule for comments. The proposed rule can be found here and a fact sheet here. This rule impacts which employees are eligible for overtime and which are exempt. Covered employees must be paid time and a half for any hours worked more than 40 in a workweek. Employees who meet the salary threshold (currently $23,660 or $455/week) and whose job duties also primarily involve executive, administrative or professional duties as defined by the regulations are exempt from overtime pay. [Read more]
MRA members may recall that under the Obama administration the DOL attempted to increase this threshold to $47,476 annually or $913/week but the rule was struck down in court ahead of Pres. Trump taking office. The new proposed changes follow 2004 methodology to update the standard salary level threshold to $35,308 annually or $679/week. There will be a 60-day comment period and the estimated effective date is January 2020. The DOL encourages any interested members of the public to submit comments about the proposed rule electronically at www.regulations.gov, in the rulemaking docket RIN 1235-AA20.
Legislative round-up: