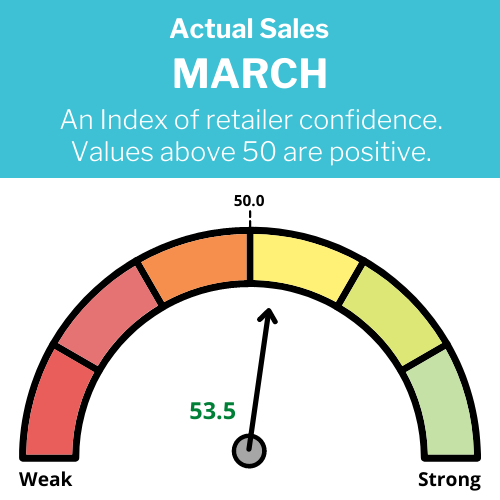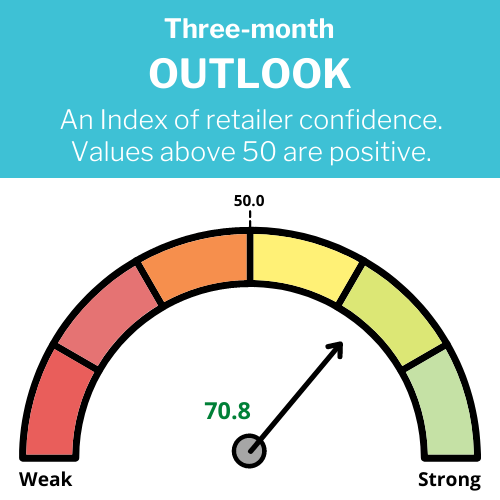 Retailers attribute sales decline to higher prices
Michigan Retailers Association today reports March 2022 sales fall over a robust February. The March Retail Index survey came in at 53.5, a sharp decrease over February's 74.1. January's Retail Index came in at 58.3. Forty-nine percent (49%) of Michigan retailers reported a sales increase over February; 38% noted a decrease, and 13% reported no change.
The seasonally adjusted performance Index is conducted by Michigan Retailers Association (MRA) in cooperation with the Federal Reserve Bank of Chicago's Detroit branch.
The 100-point Index provides a snapshot of the state's overall retail industry. Index values above 50 generally indicate positive activity; the higher the number, the stronger the activity.
3-Month Outlook Remains Positive
Seventy-three percent (73%) of retailers predict their sales will continue to rise through June, but 13% said they expect their sales to decline. Fourteen percent (14%) anticipate no change. That results in a 70.8 Index rating, a slight increase over last month's prediction Index rating of 70.1, an indication for high sales activity in the next three months.
"Retailers are seeing a rollercoaster effect with their sales in 2022. One slow month followed by a strong month. After this slow month, and with warmer temperatures nearing, retailers remain optimistic that sales will begin to pick up again," said William J. Hallan, President and CEO of the Michigan Retailers Association.
State-wide sales tax receipts in March were up 17.4% over last year, totaling $13.3 million above the forecasted amount.
Concern over pricing
Retailers noted some concern over price increases and inflation affecting their March sales. Feeling the pressures of continuing supply chain issues and increases in costs of goods sold, many retailers have passed price increases onto the customers. One owner noted, "Inflation is starting to affect consumer discretionary spending."
Michigan's unemployment rate in March preliminarily came in at 4.4%. In February, the unemployment rate in Michigan was 4.7%, down from January's 4.9%. In March 2021, Michigan's unemployment rate was 6.2%. In March 2022, the national unemployment rate dropped to 3.6%, compared to February's 3.8%. Last year, the national unemployment rate was 6.0%.