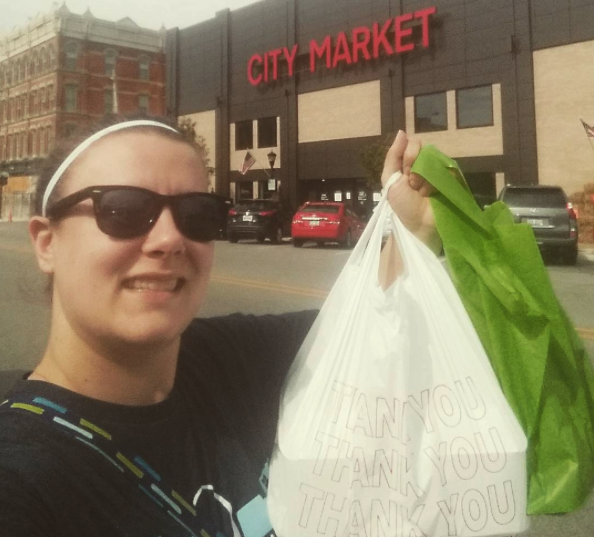 Michigan Retailers Association awards prize in #buynearbymi photo contest.
Megan Yagiela's trip to the City Market over Buy Nearby Weekend went from routine to rewarding after she shared a selfie of her foodie favorites and won a $500 gift card from the Michigan Retailers Association (MRA) for buying nearby.
A lifelong Essexville resident, Yagiela said she was raised to understand the importance of supporting local business owners and has personal relationships with many in her community.
"I would much rather support our friends, our neighbors and our community, because I know that my support allows them to buy groceries, pay bills, and give back to others," Yagiela said.
Retailers across the state celebrated Buy Nearby Weekend this past Saturday and Sunday by providing special offers for customers who made a point to buy nearby. This event is part of a year-round campaign that encourages shoppers to support local communities and the state economy by purchasing products from Michigan retailers.
To enter the photo contest, shoppers used social media and the hashtag #buynearbymi to post shopping selfies or photos of their purchases. The winner was selected in a random drawing.
Yagiela's winning Instagram post boasted her City Market finds, which included a meal from "That Guys BBQ" and a container of pickles from "Mr. Chips," that she wrote to followers made her a "HAPPY girl!"   
"There's something special about downtown Bay City, which is why, when my husband and I talked about where we saw our future, we knew there was no place we would rather be," Yagiela said.
The City Market opened its doors on June 7, 2017, welcoming hundreds of shoppers who came to explore the vendors and buy nearby. Originally an open-air market from the mid 1800s until 1906, today the indoor market has spaces for up to 45 local farmers, vendors and restaurants, and aims to address the lack of food shopping options in Downtown Bay City, offering multiple food assistance benefits and programs.
 "We work endlessly to provide our community with the freshest, local Michigan-made products that we can." said Ruthy Shemanski, market manager for City Market. "We're trying to make sure our local economy here in Bay County as well as the state of Michigan is boosted exponentially by getting people to shop differently."
The Buy Nearby campaign is a program of the Michigan Retailers Association, which provides free promotional materials to participating stores leading up to the weekend. Buy Nearby Guy, a mascot who depicts a shopping bag in the shape of the state of Michigan, greeted shoppers in several commercial districts across the southern tier of Michigan during the weekend.
DTE Energy and Retailers Insurance Company are major sponsors of the campaign.
"It's truly something special to see communities unite in this shared mission. In Lansing's Old Town, for example, stores had a map to all the participating retailers, who offered perks to customers," said James P. Hallan, president and CEO of Michigan Retailers Association.
Independent research found that Michigan's economy would grow by more than $9 billion and create nearly 75,000 new jobs if residents chose to make all their purchases from Michigan retailers.
Additional information is available at BuyNearbyMI.com and Facebook.com/BuyNearbyMI.