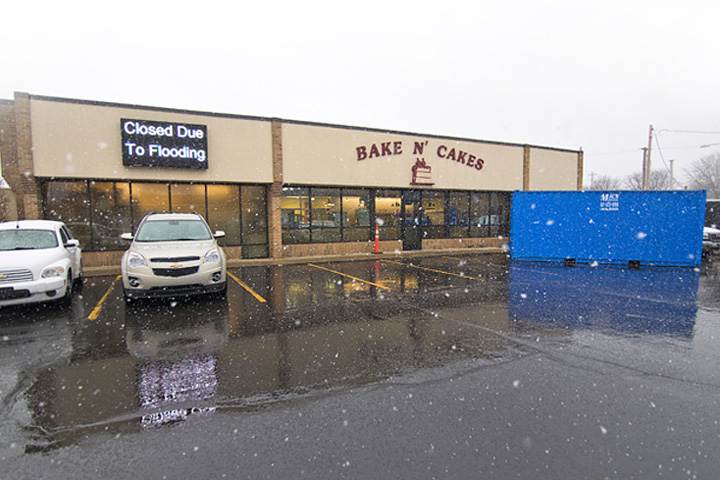 By John Schneider
Jeff Johnson was in Marquette on Feb. 21, watching his grandson compete in a ski race, when he got word that disaster was about to strike his business back home in Lansing.
Bake N' Cakes was in the direct path of water rushing into low-lying areas from the swollen Red Cedar River. Rapidly melting snow combined with nearly 3 inches of rain in 24 hours pushed rivers throughout lower Michigan well beyond their banks, causing massive flooding.
From Marquette, Johnson, co-owner of the full-line bakery on Lansing's east side, anxiously monitored the catastrophe in real time on his cell phone connected to a Bake N' Cakes surveillance camera trained on the street in front of the business
"When I saw a dumpster go floating by, I knew we were in trouble," Johnson said.
By the time Johnson got back to Lansing, 7 inches of floodwater had inundated Bake N' Cakes, ruining thousands of dollars worth of baked goods and destroying supplies and equipment.
His immediate reaction?
"Despair," Johnson said. "The damage was one thing, but having to close the business down (for nine days, as it turned out) and disappoint our customers was even worse. We had orders we couldn't fill and we couldn't even get access to our records so we could call people."
On top of that, Bake N' Cakes' cash flow – the lifeblood of any retail business – had come to a sudden halt.
"Talk about a nightmare," Johnson said.
DISASTER DECLARATION
It was a nightmare shared in other counties affected by flooding. Gov. Rick Snyder declared a state of disaster on March 12 for Allegan, Arenac, Barry, Berrien, Cass, Clare, Eaton, Ingham, Ionia, Kalamazoo, Kent, Mecosta, Newaygo, Ogemaw, Oscoda, Ottawa and St. Joseph, as well as the cities of Grand Rapids and Lansing. He also requested the U.S. Small Business Administration (SBA) conduct damage assessments in hopes of providing additional financial assistance in the form of low-interest loans to those and neighboring counties. In other similar situations, qualifying businesses needed to prove that they suffered at least 40 percent uninsured losses. (See below on how to apply)
Owners of retail shops along Lansing's hard-hit East Kalamazoo Street Corridor saw some of the worst of it. About 5 inches of water swamped Oades Big Ten Party Store. Under state Liquor Control Commission rules, all canned or bottled merchandise touched by water had to be discarded. Jim Anderson, part owner of the business, said the store will stay in business, but that he'll have to "dump a lot of money" into that effort. For example, his flood insurance, Anderson said, comes with a $10,000 deductible on the building and a $10,000 deductible on the contents.
"We'll survive this," Anderson said, "but it will be very expensive."
Green Dot Stables, a new restaurant south of Bake 'N' Cakes and Oades, also suffered serious flooding, with silt covering its new fixtures and furniture. As a way to help the 80 employees temporarily laid off due to the closure, the restaurant produced a pop-up dinner restaurant on a Saturday in a nearby community center. Hundreds of people turned out to support the cause, raising almost $5,000 to help the employees.
ADVICE FROM THE INSURANCE INSTITUTE
There's a lot that insurance doesn't cover, so a cash cushion is vital to the survival of a business struck by catastrophe and should be part of a general strategy.
"The key to recovery after a disaster is to plan ahead," said Lori Conarton communications director of the Insurance Institute of Michigan. Such a plan, Conarton said, "will help alleviate the losses and downtime after a business suffers a loss."
It should include:
– Establishing an emergency response team drawn from employees and other members of your organization.
– Becoming familiar with your local emergency management people and working with them on an emergency response plan.
– Making sure your data and files are secure and stored in a safe location.
– Working with your insurance agent to avoid unpleasant surprises regarding what's covered and what isn't.
Conarton said a business policy generally covers theft, fire, wind, falling objects and lightning, but advised business owners to read their policies carefully "to understand which specific perils are covered."
Flooding, she added, is not covered by a typical business policy. It's available from the federal government's National Flood Insurance Program and can be bought through local insurance agents. Earthquake damage also requires separate policy.
The federal government requires businesses in "high-risk" areas on FEMA (Federal Emergency Management Agency) maps to buy flood insurance. Lenders can also require businesses to buy flood insurance as a condition of their loan.
Regarding deductibles, business owners can choose the plan that suits them. As with car or homeowners insurance, a higher deductible means a lower premium. A lender, Conarton added, may limit the size of a deductible.
Both Bake N' Cakes and Oades Big Ten Party Store are back in business. Johnson said the immediate future of his bakery is made a little brighter by employees willing to rise to the occasion as well as a loyal customer base.
Asked what advice he might offer to other retailers, Oades proprietor Jim Anderson said they should prepare for the fact that, in the event of a disaster, insurance will make them less than whole. Chuckling, he added one more piece of advice: "Build up out of the flood plain."
Small Business Administration disaster assistance is available to Michiganders affected by February floods.