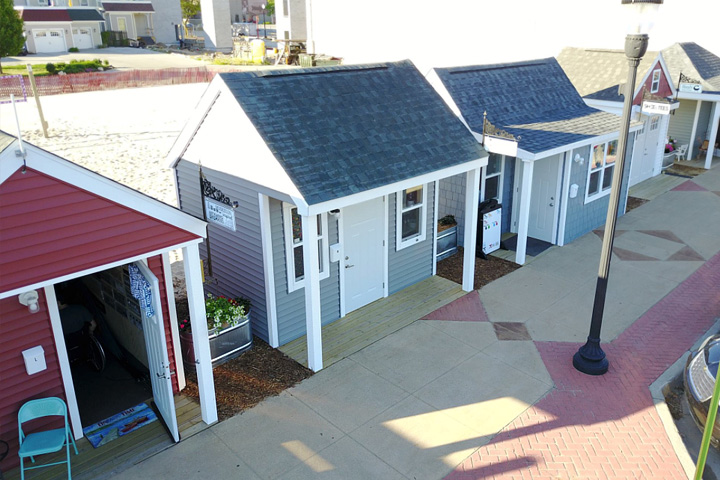 By Rick Haglund
Downtown Muskegon was slowly revitalizing, years after the failed Muskegon Mall was demolished. But a crucial commercial element was missing.
"Retail wasn't coming downtown as fast as we'd like," City Clerk Ann Meisch said. "We had plenty of restaurants and breweries, but what we were lacking was retail space. We asked ourselves, what could we do before waiting for a developer to come in?"
The answer was pop-up shops, a dozen small buildings where budding retail entrepreneurs could establish temporary businesses that might grow into permanent locations downtown.
Last year the city built 12 "chalets," ranging in size from 90 to 150 square feet on vacant land downtown and leased all of them to a range of businesses, including jewelry, clothing, gift and food shops.
Western Market, as the project is known, is open from May to December. Seasonal rents range from $1,325 to $2,125. Meisch, who manages the property, said that 11 of the initial 12 retailers are returning this year and five more chalets have been built and rented.
Pop-up shops are becoming increasingly popular, used as a marketing and sales strategy by entities ranging from giant retailers like Amazon and Target to start-ups.
A national survey in March by the National Retail Federation and research firm Forrester found that 24 percent of retailers have opened a pop-up. Annual sales from pop-ups have grown from virtually nothing 15 years ago to about $10 billion, according to PopUp Republic, a marketing support firm.
Rachel Lutz, who owns four brick-and-mortar retail stores in Detroit and is one of the most talked-about independent retailers in the city, got her start with a pop-up dress shop in 2011.
"Finding a lease wa s intimidating because I had no capital," she said.
Lutz started opening short-term pop-ups in the vacant space of brick-and-mortar retailers she knew in Detroit. That eventually led to her opening the Peacock Room, a vintage-themed women's clothing store in Midtown Detroit.
Since then, she has opened three more shops in Detroit, including a second, "flagship" Peacock Room in the lobby of the iconic Fisher Building.
Lutz said starting as a pop-up was a low-risk way for her to find what kind of merchandise would sell, fine-tune price points and learn customer demographics.
"It validated what I thought customers wanted," she said. "It gave me real feedback on merchandise mix and prices. And you learn about your neighborhoods very intimately."
TechTown, a Detroit business incubator and accelerator, offers several assistance programs for pop-ups as well as space for new pop-ups.
An eight-week "retail boot camp" prepares entrepreneurs to start pop-ups and move to brick-and-mortar stores by teaching them a variety of business basics, including permitting, merchandising, managing cash flow and marketing.
At the end of the program, five successful graduates are awarded a package of business services worth $5,000. The package usually includes rent subsidies, a point-of-sale system, and design, marketing, financial and social media services.
Of the 75 entrepreneurs who have graduated from the program, half have opened permanent stores or started pop-ups, according to Sarah Donnelly, director of retail services at TechTown.
Face-to-face contact with customers in pop-ups also can lead to new opportunities for business owners, she said.
"You can meet people through pop-ups that might result in getting long-term contracts, or bulk and custom orders," she said. "It's about driving revenue in a different way."
Donnelly said retailing has become an "omnichannel" business that increasingly requires retailers to sell through a variety of channels, including online, brick-and-mortar and pop-up to succeed.
Kristi Tyler, owner of Tulips Little Pop Up Shop in Kalamazoo, agrees. A former corporate event sales manager, Tyler was looking for a new career when she signed a six-month lease for her pop-up women's clothing shop in 2014.
It has since become a permanent location. Tyler also operates seasonal pop-ups at Walloon Lake, the Bay Harbor resort near Petoskey and several cities in Florida.
"It's about building a brand no matter where you are," she said.
Lutz also continues to operate pop-ups at events to promote and expand her brick-and-mortar shops. Among them are a pop-up selling princess-themed gifts for girls at recent showings of "Cinderella" at the Fisher Theater in Detroit.
"The pop-up allowed us to test the type of merchandise we want to carry in our stores for young girls and generate excitement for our businesses," she said.