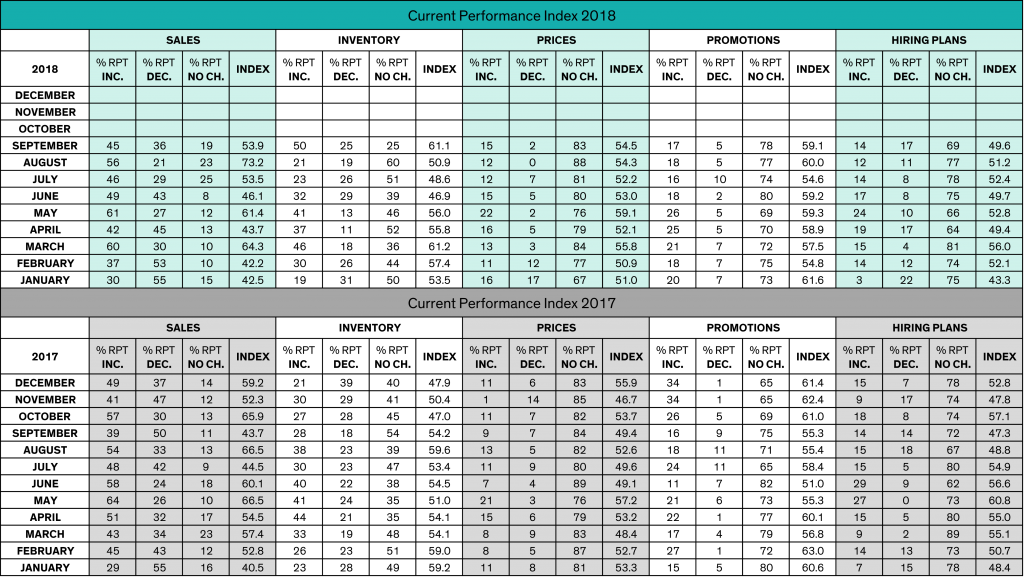 As the temperatures cooled, September retail sales dipped a bit as well, but the picture is still positive year-over-year, according to the monthly Retail Index survey that Michigan Retailers Association (MRA) conducts in cooperation with the Federal Reserve Bank of Chicago's Detroit branch.
The seasonally adjusted performance index of 53.9 – while a significant dip from August's 73.2 – still shows positive growth. A year ago, the Retail Index was 43.7.
The 100-point index provides a snapshot of the state's overall retail industry. Index values above 50 generally indicate positive activity; the higher the number, the stronger the activity.
The survey showed that 45 percent of respondents reported sales increases over August. Thirty-six percent of retailers recorded declines in September and 19 percent reported no change.
The Retail Index shows that 61 percent of Michigan retailers expect strong sales through December, while 5 percent predict a decrease and 34 percent expect no change. That results in an adjusted outlook index of 78.7 – a good sign as retailers head into the busy holiday season.
Last year, October saw a big spike in sales, thanks to Halloween but also early Christmas shoppers.
"We'll see if that trend holds this year," said James P. Hallan, MRA President and CEO. "Consumer confidence is still high, so we think retailers will have their hands full in a good way this holiday season."
According to the National Retail Federation, consumers will spend 4.1 percent more during the holidays in 2018 – an average of $1,007.24 compared to $967.13 last year.
Michigan's jobless rate fell one tenth of a percentage from August to September, standing at 4.0 percent. The national rate is 3.7 percent. A year ago in Michigan, it was 4.7 percent.
According to the Senate Fiscal Agency, September 2018 sales tax receipts totaled $694.0 million, down 0.7 percent over last year. Tax receipts were $31.9 million above the forecast for the month of September.
Note: William Strauss, senior economist and economic advisor with the Federal Reserve Bank of Chicago, can be reached at 312.322.8151.