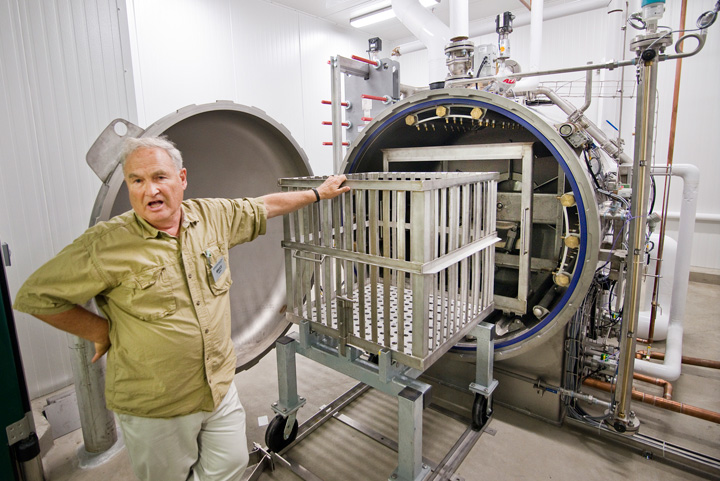 By MEEGAN HOLLAND
OKEMOS – A Michigan State University accelerator for taking new food products to market could be a game changer for businesses ranging from Slows Bar BQ in Detroit to a Michigan startup called Burgers Unlimited in Fenton.
MSU's Food Processing and Innovation Center (FPIC) recently opened and is ready to help existing food businesses and larger-scale startups with commercial food development and beyond.
Several mid-size and large businesses are eyeing it as a way to save money on capital expenditures while testing the creation and packaging of products before they go to market.
Brian Perrone was checking out the facility along during an August open house. Slows' co-founder and executive chef is trying to decide if the business should expand its BBQ sauce line.
"We have two sauces we serve at Ford Field, and we're making it all in our kitchen," Perrone said. "We would love to do a larger batch to sell. There's a lot to look at and see if it makes sense for us."
Clients will rent the facility, and then produce, process and package their products here, said Bruce Harte, former director of MSU's School of Packaging. Harte and Matt Birbeck FPIC Director are members of the team that developed the concept and then took it to a commercial small-scale processing facility.
"Instead of spending several hundred thousand dollars, you may only have to spend $20,000 – and you may even make some back because you can sell what you make here," since the facility is certified by both federal and state agencies that deal with food safety, Harte said. The fee is about $3,000/day.
The FPIC provides all the equipment a client may need – from a spiral freezer to an equipment sanitizer to a gigantic pressure cooker, a high-speed/high-capacity dicer, not to mention massive refrigeration and freezer space. The packaging is there as well – ranging from vacuum packers to pallet wrappers.
At first, Harte and FPIC Director Matt Birbeck thought mostly mid-level companies would be interested in using the facility, believing that larger companies would have their own facilities. But the industry is moving so fast nowadays, that one of the FPIC's first clients will be a large company that wants to remain anonymous.
In fact, many companies want confidentiality, so the FPIC likely will have only one client at a time using the facility for a three-week maximum stay. Because of the limited time, a lot of planning has to go into the product before the client even starts using the facility.
Cleanliness is key. A high-pressure steam cleaner will be in use often for equipment "that may be used only for a half hour, but takes two hours to clean," Harte said.
In addition to Harte and Birbeck, Jason Hofman, FPIC Facilities and Operations Manager, is onsite to help companies understand what equipment is needed to get food products processed and onto the consumer's table.
At the recent open house, Don Ballein could be seen showing off the multi-purpose slicer and dicer, which he sells across the nation. He was one of many vendors who wanted to be part of this project.
"This is one of the best I've ever been in. It has good equipment and a little bit of everything," said Ballein, owner of the Los Angeles-based CES/Foodlogistik.
Marcus Redmond, executive chef and COO for Burgers Unlimited, said his company has been developing a frozen burger product in the FPIC – the first client who helped work out any bugs. "I was doing it in my restaurant and beta testing. It really helped to figure out how to go from making the burgers by hand to automating it while maintaining the quality that we want. Now we know what we need if we go to a co-packer." He hopes the burgers end up at stores like Gordons Food Market, Costco and even online.