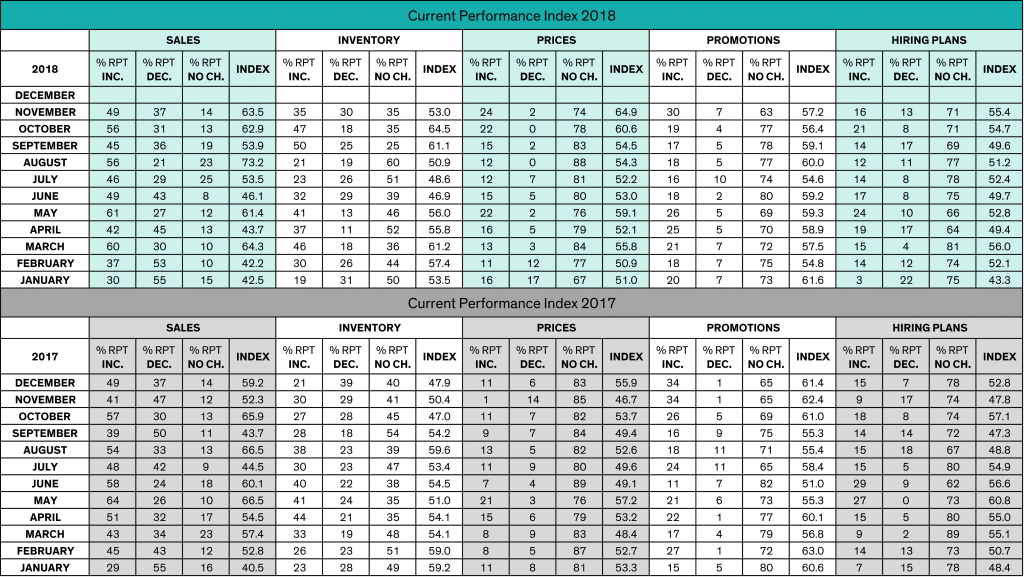 November continued the positive sales trend for Michigan retailers, according to the monthly Retail Index survey that Michigan Retailers Association (MRA) conducts in cooperation with the Federal Reserve Bank of Chicago's Detroit branch.
The seasonally adjusted performance index of 63.5, grew from October's 62.9, continuing the positive growth as consumers shopped during the biggest November shopping weeks of the holiday season. A year ago, the Retail Index was 52.3.
The 100-point index provides a snapshot of the state's overall retail industry. Index values above 50 generally indicate positive activity; the higher the number, the stronger the activity.
According to the National Retail Federation, an estimated 165.8 million consumers shopped between Thanksgiving Day and Cyber Monday, spending an average of $313.29 per person.
"Numbers were positive as shoppers hit the stores during the largest week in holiday shopping in November," said James P. Hallan, MRA President and CEO. "We expect Super Saturday, the last Saturday before Christmas, to close out a strong year in retail."
The November survey showed that 49 percent of respondents reported sales increases over October. Thirty-seven percent of retailers recorded declines in November and 14 percent reported no change.
The Retail Index shows that 38 percent of Michigan retailers expect strong sales through February, while 21 percent predict a decrease and 41 percent expect no change. That results in an adjusted outlook index of 68.4 – a confident number as consumers finish their last-minute shopping for the holidays and close out the year.
According to the National Retail Federation, retail jobs increased by 18,600 in October, which accounted for 12 percent of the nationwide growth in jobs.
Michigan's jobless remained at 3.9 percent in November, the same as in October. The national rate remains at 3.7 percent. A year ago in Michigan, it was 4.7 percent.
According to the Senate Fiscal Agency, November 2018 sales tax receipts totaled $664.0 million, up 4.0 percent over November 2017.
Note: William Strauss, senior economist and economic advisor with the Federal Reserve Bank of Chicago, can be reached at 312.322.8151.