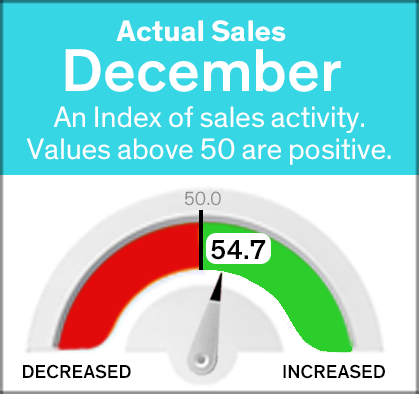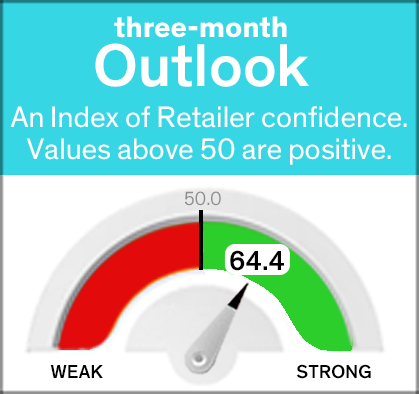 Michigan retailers reported an increase in their December sales over November, thanks in part to last-minute holiday shopping.
The December Retail Index survey came in at 54.7, a nice jump from November's 46.3. Forty-seven percent of Michigan retailers reported an increase in sales over November, 39% reported a sales decline and 14% reported no change. The seasonally adjusted performance index is conducted by Michigan Retailers Association (MRA) in cooperation with the Federal Reserve Bank of Chicago's Detroit branch.
The 100-point index provides a snapshot of the state's overall retail industry. Index values above 50 generally indicate positive activity; the higher the number, the stronger the activity.
Forty-two percent of retailers predict their sales will continue to rise through March, but 41% said they expect a sales decline, and 17% don't think things will change. That results in a 64.4 Index rating.
"Michiganders know how vital it is to support local and they proved that by showing up for retailers this holiday season" said Bill Hallan, President and CEO of Michigan Retailers Association.
"This nice boost over November sales will give retailers more hope and help financially during the first quarter of 2021."
According to the National Retail Federation, holiday sales were up 8.3% over the same holiday shopping season in 2019. They totaled $789.4 billion, exceeding the NRF's holiday forecast. "Despite unprecedented challenges, consumers and retailers demonstrated incredible resilience this holiday season," NRF President and CEO Matthew Shay said.
Sales tax revenue in December 2020 was up 6.3% from the December 2019 level, but $8.5 million below the expected level based on the August 2020 consensus estimates. On a fiscal year-to-date basis, sales tax collections were down 3.3% from 2019, and $101.1 million below the expected level.
Michigan's December 2020 unemployment rate has not yet been announced. In November 2020 Michigan's unemployment rate came in at 6.9%. Last year, the national unemployment rate was 3.6%. In December 2020, the national unemployment rate remained at 6.7% over November 2020.