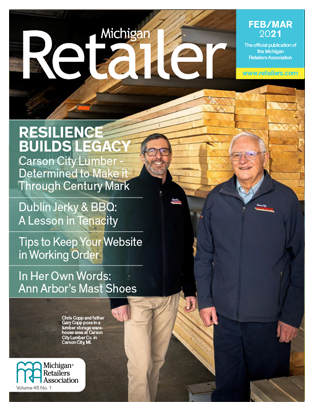 The February/March issue of the Michigan Retailer is now available!
This issue is all about the resiliency of Michigan Retailers. Our feature story on Carson City Lumber highlights the Copp's family legacy, their keen focus on customer service, and the family's determination to hit the century mark.
We also highlight the tenacity of Troy Fischer, the purveyor of Grandville's Dublin Jerky & BBQ, and his mission to carry the torch of the family business as his family's flagship story in Manistee rebuilds after a devastating fire in 2019.
The In Her Own Words (IHOW) section features Owner Molly Mast-Moss of Ann Arbor's Mast Shoes and her approach to keep the area's beloved shoe store thriving.
We also feature some great insights from MRA President Bill Hallan, Chief Counsel Thomas Clement, and big legislative gains in our Government Affairs section.
Lastly, we have some great "how-to" to help your business, including Tips on Updating Your Website and a Customer Service Corner, that offers credit card processing tips.
Hope you enjoy this issue. If you have any questions, comments, or ideas for future stories, contact Jennifer Rook, at jrook@retailers.com.
Read it your preferred way – by PDF or on the issuu platform.