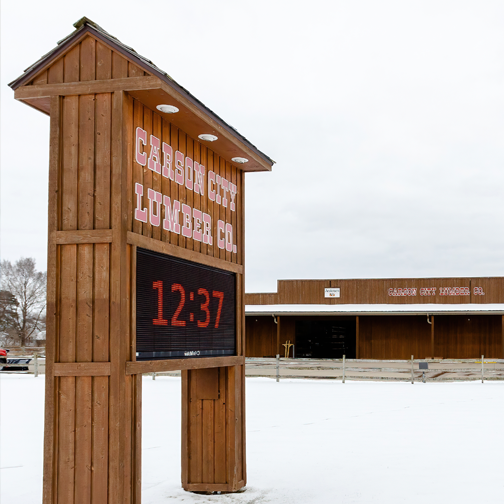 Carson City Lumber opened in 1928. The family-owned business' longevity is due to its ability to adapt as time goes by and a continued focus on customer service.
By SHANDRA MARTINEZ
Photos STEVE JESSMORE
Before the end of the decade, Carson City Lumber will mark a century in business. This milestone will represent not only decades of hard work that built a company, but loads of lumber that built area homes, expanded local farms and supplied just the item someone needed to finish that do-it-yourself project in their homes.
The secret to the company's longevity has been the ability of the Copp family to adapt to the changing times while always serving the community.
"Just to be fourth-generation is awesome and scary at the same time, because you know that the groundwork has been laid out for almost 100 years. I will get to carry us through the century mark eight years from now, and I don't take that lightly," said Chris Copp, who now leads the business' day-to-day operations.
Located 50 miles northwest of Lansing, Carson City Lumber doesn't compete much with big-box retailers because the nearest store is at least a 30-minute drive away. But it has set the bar high when it comes to customer service and community involvement.
"We just have to hang our hat on service. That has to be at the center of every transaction," Chris said. "People remember how well you took care of them on something small."
KNOWING CUSTOMERS BY NAME
The lumberyard, with a 9,000-square-foot showroom at 10660 E. Carson City Road/M-57, has a staff of 11. The customer base is about 65% contractors doing residential work or serving area farmers. The other 35% is walk-in trade.
For Chris, having a small-town business means knowing his customers by name and being in the store nearly every day to answer their questions.
"We put a lot of money into organizations and charities in this area, not because we feel like we have to but because it makes a difference in the community," Chris said.
His dad, Gary, has been honored — along with Chris' mom, Kathleen — as Carson City Citizens of the Year for volunteerism and philanthropy. Gary served on many community boards, including the hospital board for more than 20 years. Now, his son does.
FOCUS ON LUMBER
In the 1920s, Chris' great-grandfather and his brother bought a grain elevator along a train track. By 1928, they bought an adjoining lumberyard.
In 1970, Chris' grandfather sold the Carson City Elevator to focus on lumber and building materials. Gary moved the business to the other end of Carson City, on M-57 in 2003.
After high school, Chris followed in his older brother Tony's footsteps, heading to the University of Detroit Mercy to study engineering. Halfway through, he realized an engineering career would require working for a big corporation in a big city. Chris felt he was better suited for small-town living.
He told his dad he wanted to join the lumberyard and switched his major to business. Chris, now 38, and his wife, Samantha, have a 3-year-old daughter.
"I will try to do the same thing my dad did, just promote, 'Hey, chase your dream, and we'll figure out what to do with the lumberyard if you don't want to come back,'" he said.
JOINING THE MRA
Gary credits the Michigan Retailer Association's Pat Harrington for convincing him to join the board of the Michigan Hardware Association. Harrington encouraged him to give MHA's Workers' comp. program a try after he was dissatisfied with his policy from another group. The only catch was that he had to join the MHA to qualify. He was on the MHA board when the group became a division of Michigan Retailers Association in 2016.
Over the past three years, Gary has stepped away from day-to-day responsibilities.
Now his son depends on the MRA for everything from insurance to marketing inspiration. Chris says he is grateful for Jodi Barber, MRA's Benefits Administrator, who handles the business' insurance.
"That is a huge service to me," said Chris, who appreciates how much Barber helps him figure out the best options for his business and employees.
During the pandemic, Chris has been on the MRA website daily, finding tips to deal with COVID-19-related issues. He also pays attention to other MRA members' marketing tactics.
"Even though our lumber industry is never going to be on the cutting edge of technology, we can always get ideas from retailers," said Chris.
He has found more success building customer loyalty by sponsoring local events rather than spending money on commercials and billboards. He also makes it a practice of writing checks to local schools and charities, and including a personal note.
Chris tries to connect with customers through Facebook. One success was a Veterans Day video, highlighting plans to bring in a food truck for the day and offer free meals for veterans.
MILITARY CONNECTION
His store's connection to veterans is a natural one. His dad, a helicopter pilot, did two tours of Vietnam, and later served 17 years in the Army National Guard. Like Chris, Gary didn't plan to join the family business. But, when he decided to leave active service after eight years, he approached his dad, who was looking to retire.
"After I showed him my Army check, he said, 'Well, it might take a 60% cut in pay if you can stand that.' My wife and I were expecting our first child so it was a leap of faith," he said.
Gary says the discipline he learned in the military proved an asset. His military experience also taught him resource and personnel management, but he lacked a finance background. One of the first things he did was begin taking business and accounting classes at a community college. He eventually used his GI bill to earn his MBA.
His father had taught him to do the daily books, saying finances were the most important to learn, followed by purchasing. Sales are the easy part of the business, Gary's dad said.
"There's still a core of people that don't necessarily want to shop online or go 20 miles to the nearest big box," Gary said. "They want some personal attention and they want to be able to speak to the same person in five years or 10 years that they bought that window or door from. There are enough people that still like that. To me, that's the basis of existing as a small family business."
RISK AND REWARD
When Gary decided to relocate the store, he mortgaged his house. Fortunately, he was helped by timing. He sold the lumberyard quickly and the new owner let him rent it while he built the new location. He also lucked out because the construction material costs were low at the time.
The business moved from the north end of town to a location on the major highway. The higher traffic resulted in sales climbing by nearly 20% in the first year.
It was a great decision, but risky. The move was necessary because he had run out of space.
"I had to decide either to close it and retire and let my people find jobs, or take the risk, buy a new yard and see if I can sell this old bad location because, next to the elevator, it was dirty."
When the original business was built, it depended on the railroad tracks to deliver supplies. By the '70s, when Gary came to the business, he switched over to trucks because he could buy in smaller quantities that arrived quicker.
Gary said the secret to his success has been his willingness to listen and study. He attends seminars and reads trade journals to pick up other people's insights.
OPEN TO NEW IDEAS
Chris says his dad is old-school but has always understood the important balance of that with new ideas. One way he exposes himself to new ideas is with an annual "roundtable" with some trusted lumber dealers. It has become an important and useful resource for both father and son.
"I've always felt it was so good to use them as a resource. The basis of it is we share what we thought we did well, and what we screwed up on every year, not just financially," Gary said.
Before he built his new lumberyard, he took the plans to the roundtable for advice. Members suggested getting a standby generator and including employee lockers. He incorporated both ideas into the plans.
Gary remembers in 1999 when a wealthy man building the largest house in Michigan decided he would only work with local, independent businesses. His store was tapped to supply materials for the 17,000-square-foot home.
"They didn't even talk to any of the chain yards," Gary said. "It was just super. They wanted value and reliability — and I said, we can do that. It was significant because they bought top-of-the-line stuff."
Gary had the same policy when he built the lumberyard's current location. He gave the business to locals.
"I thought that's the most important thing I could do," he said.