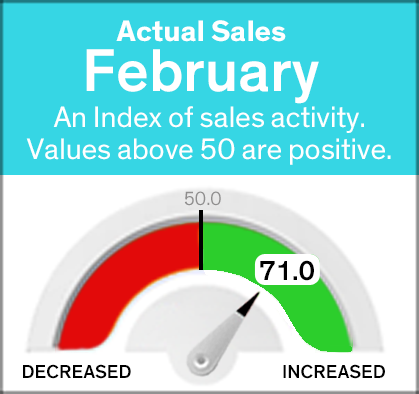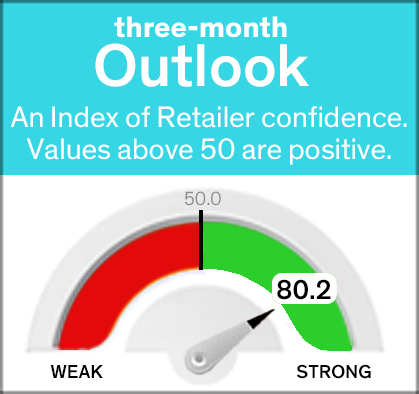 Michigan retailers reported a large jump in February sales over January, now reporting three months of positive growth since slower sales in November.
The February Retail Index survey came in at 71.0, a large jump from January's 59.4. Forty-six percent of Michigan retailers reported an increase in sales over January, 26% reported a sales decline; and 28% reported no change. The seasonally adjusted performance Index is conducted by Michigan Retailers Association (MRA) in cooperation with the Federal Reserve Bank of Chicago's Detroit branch.
The 100-point Index provides a snapshot of the state's overall retail industry. Index values above 50 generally indicate positive activity; the higher the number, the stronger the activity.
Eighty-five percent of retailers predict their sales will continue to rise through May, but 2% said they expect a sales decline, and 13% anticipate no change. That results in an 80.2 Index rating, another strong indication for a positive start to Spring sales. Last month, retailers anticipated sales through April at an Index rating of 70.7.
"Retailers continue to build on positive sales months. Now reporting three months in a row of positive sales growth, we feel confident those businesses are coming out of the pandemic strong," said Bill Hallan, President and CEO of Michigan Retailers Association.
"Last February, sales were up, and retailers were eager for Spring. Once the pandemic hit, many doors were closed and employees were laid off. A year later, we're back on track to pre-pandemic numbers and gaining strength."
According to the National Retail Federation, consumers are preparing to celebrate Easter and the arrival of Spring. Consumers plan to spend an average of $179.70 on Easter- and Spring-related goods, the highest the survey has seen. The NRF predicts a total spend of $21.6 billion, down slightly from 2020's pre-pandemic estimate of $21.7 billion.
"With the arrival of stimulus checks to many consumers this month, retailers are hopeful shoppers will be spending the additional money locally. We hope to see evidence of that when the results of the March Retail Index come in next month," said Hallan.
Michigan's unemployment rate in February 2021 is 5.2%. Last year, Michigan's unemployment rate was 3.7%. In February 2021, the national unemployment rate dropped a tick to 6.2% compared to January's 6.3%.
Note: Paul Traub with the Federal Reserve Bank of Chicago, can be reached at 313.964.6297.