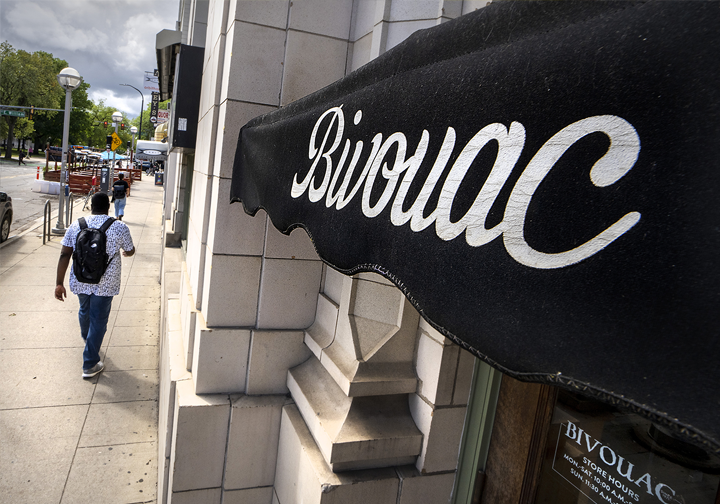 In a city known for its world-class institutions, the Ann Arbor retailer
is a destination that has served generations of customers.
By SHANDRA MARTINEZ
Photos STEVE JESSMORE
In a Michigan city known for its world-class educational institutions, Ann Arbor retailer Ed Davidson is a bit of a retail institution that has served generations of customers.
He started a half-century ago when he began selling U.S. Army surplus from his second-floor apartment off State Street. He had noticed that, in 1971, Vietnam War protesters and students wanted to look like military grunts. But there was nowhere to buy Army fatigues in Ann Arbor.
"Most people have heard stories about merchants who lived above the store; I lived in the store," said Davidson. "I converted my apartment into an Army surplus store and had a sign on the street. There was a little kitchenette and I had a mattress in the closet. I worked out of there till I had enough money to rent a storefront."
Within a year, Davidson was able to move his store, Bivouac, into the Maynard House and, a few years later, to a corner spot in Nickels Arcade, the first of what are now four adjoining storefronts.
As Bivouac celebrates its 50th anniversary Oct. 4-9, with an annual sale, the store will donate 10% of sales on Oct. 9 to the Huron River Watershed Council. The council has been providing education, technical assistance and science programs to the Huron River Watershed community since 1965.
Davidson says the secret of the clothing store's longevity: an evolving product line that kept up with the times and connecting with customers, one conversation at a time.
Over the decades, he transitioned from selling Army surplus tents and field jackets to outdoor gear from brands such as Patagonia, North Face, Canada Goose and Arc'teryx.
"What the students are wearing, that's what we carried, and the whole industry certainly followed suit. Now, we have a women's boutique," said Davidson.
CONNECTING THROUGH 'CHITCHAT'
The blue jean craze drove sales through many incarnations.
"We sold used blue jeans for $5. It was very successful. Then we transition to new, but soon manufacturers started making jeans that looked worn and faded. Now, we sell some that are ripped for 20 times the price," Davidson said.
The store's name is a military term meaning campsite when used as a noun, and to rest or assemble in such an area as a verb.
"You wouldn't believe the spelling we would get in the mail, or on checks. It was hysterical. It is such an odd name. It's an American word of French origin; that's why the vowels," Davidson said.
One of his secrets for connecting with customers is old-fashioned chitchat. He thinks it's key to making the shopping experience fun.
"I love talking to people," said Davidson, sharing how he recently waited on a family only to learn the dad was a customer when he was a student at the University of Michigan. He and his wife had come in search of a coat for their son, now a student.
"He said, 'You kept me warm. I'm going have you keep my son warm,'" said Davidson, adding the man, who now owns an auto parts manufacturing company in Dubai, gave him his card along with an invitation to visit him.
"I have customers that have been shopping in my store literally for decades. I don't know their last name but I know their faces," he said.
There are also customers who don't want to talk, he acknowledges.
"You just have to know and sense that, but the easiest approach is, 'What brings you in today?' or 'Is there something you're looking for?' That's a way to start, always," Davidson said.
He also uses humor as a way to connect. It's a little harder to pull off with a mask because people can't see his smile.
NO PLANS TO RETIRE
Davidson joined the Michigan Retailers Association decades ago for a variety of reasons, but primarily because MRA lobbies the state on behalf of small businesses like his.
"I think it's important that retailers have representation in Lansing. My voice is heard as a result of MRA," he said.
At 72, Davidson has turned much of his day-to-day operations over to his son, A.J., who does all of the stuff he doesn't like: hiring, scheduling and buying.
A.J., in his mid-30s, took the lead four years ago. He was instrumental in putting the store online nearly a decade ago. The decision saved the business in the past 18 months, when the store was forced to close because of pandemic restrictions.
Davidson ended up in Ann Arbor after graduating from the University of Iowa with a history degree because he took up some friends, who were Michigan students, on their offer to live with them. But they moved away to pursue graduate degrees and careers before he could join them.
"I still kid them about luring me to Ann Arbor and leaving me. We're still very close friends."
He works his store's busiest days, Friday and Saturday, when he is more likely to see customers returning for the Michigan games.
"I love working football Saturdays. There are people who come into town that I haven't seen for years. After 50 years, there are so many great stories of the relationship with people you don't really know," Davidson said. "My son keeps saying, 'Retire, give me the keys.' 'No,' I say, 'I'm going to be working the weekends until they bury me.'"