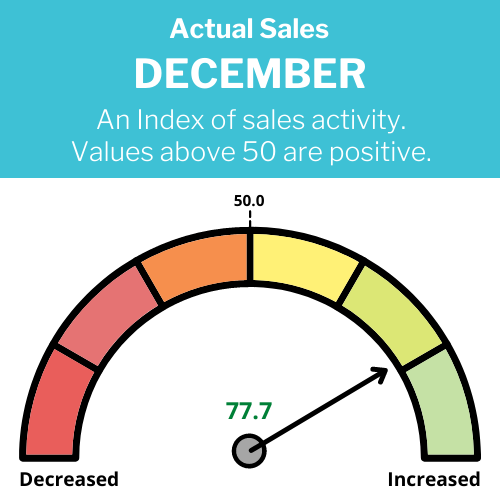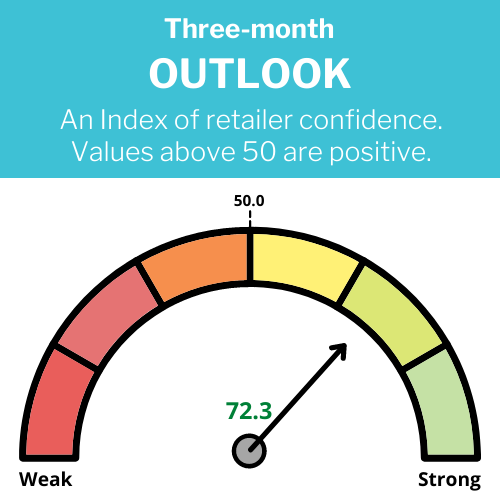 Retailers report strong rise in sales over November
and year-over-year
LANSING, Mich. – Michigan Retailers Association today reports December saw another strong month for retail sales over November and over December 2020.
The December Retail Index survey came in at 77.7, a sizeable rise from November's 69.1. Seventy-eight percent (78%) of Michigan retailers reported a sales increase over November; 17% noted a decrease, and 5% reported no change.
The seasonally adjusted performance Index is conducted by Michigan Retailers Association (MRA) in cooperation with the Federal Reserve Bank of Chicago's Detroit branch.
The 100-point Index provides a snapshot of the state's overall retail industry. Index values above 50 generally indicate positive activity; the higher the number, the stronger the activity.
Optimistic Outlook Continues
Thirty-eight percent (38%) of retailers predict their sales will continue to rise through March, but 26% said they expect their sales to decline. Thirty-six percent (36%) anticipate no change. That results in a 72.3 Index rating, a decrease over last month's prediction Index rating of 78.5, but still a strong indication of positive activity.
Record Holiday Season
The National Retail Federation (NRF) recently announced that November-December holiday sales grew 14.1% over 2020 to $886.7 billion, a new record and well above the initial forecast. In October, the NRF estimated holiday sales to rise between 8.5 and 10.5 percent over 2020. 
"Retailers saw a lot of growth in 2021, despite the ongoing challenges of labor shortages and supply chain delays," said William J. Hallan, President and CEO of the Michigan Retailers Association. "As noted in the survey, many retailers are experiencing record-level years, even pre-pandemic."
Concern Over Covid-19
Some survey respondents worry the current surge of Covid-19 cases and new variants will slow sales into the new year. One retailer predicts a prolonged impact for six months following the holidays. Another respondent estimates the supply chain could be affected through 2024.
"It's no shock that Covid-19 continues to impact the retail industry and Michigan business owners. We've witnessed overwhelming amounts of grit, flexibility, and resiliency from our retailers for almost two full years since the pandemic began. Although we're experiencing another surge, their optimism for continued months of growth remains high," said Hallan.
Michigan's unemployment rate in December has yet to be announced. In November 2021, the unemployment rate in Michigan preliminarily came in at 5.9%, down from October's 6.1%. In December 2020, Michigan's unemployment rate was 8.2%. In December 2021, the national unemployment rate dropped to 3.9%, compared to November's 4.2%. Last year, the national unemployment rate was 6.7%.