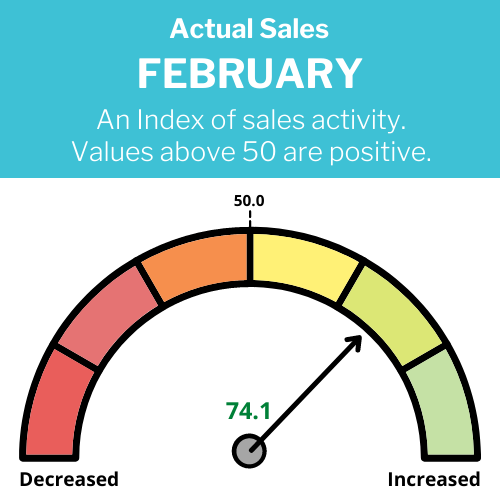 Retailers report a sales rebound after a slow start to 2022
Michigan Retailers Association today reports February 2022 sales rise over a slow January.
Monthly sales rise
The February Retail Index survey came in at 74.1, a large increase over January's 58.3. Fifty-nine percent (59%) of Michigan retailers reported a sales increase over January; 31% noted a decrease, and 10% reported no change.
The seasonally adjusted performance Index is conducted by Michigan Retailers Association (MRA) in cooperation with the Federal Reserve Bank of Chicago's Detroit branch.
The 100-point Index provides a snapshot of the state's overall retail industry. Index values above 50 generally indicate positive activity; the higher the number, the stronger the activity.
3-Month Outlook Prediction Rises
Seventy-seven percent (77%) of retailers predict their sales will continue to rise through May, but 10% said they expect their sales to decline. Thirteen percent (13%) anticipate no change. That results in a 70.1 Index rating, an increase over last month's prediction Index rating of 64.8, and a strong indication for high sales activity in the next three months.
"With a slower start to 2022 than preferred, it's nice to see this rebound take place before spring. With the upcoming warmth and seasonal change, we hope to see Michigan shoppers come out of hibernation and visit local retailers," said William J. Hallan, President and CEO of the Michigan Retailers Association.
"This early bounce-back could be an indication for a strong spring season in whole."
State-wide sales tax receipts in February were up 8.5% over last year, totaling $81.8 million above the forecasted amount. According to MRA members' retained credit card volume reports in February 2022, total credit card volume was up 1.84% over February 2021.
Michigan's unemployment rate in February preliminarily came in at 4.7%. In January, the unemployment rate in Michigan was 4.9%, down from December's 5.1%. In January 2021, Michigan's unemployment rate was 6.4%. In February 2022, the national unemployment rate dropped to 3.8%, compared to January's 4.0%. Last year, the national unemployment rate was 6.2%.