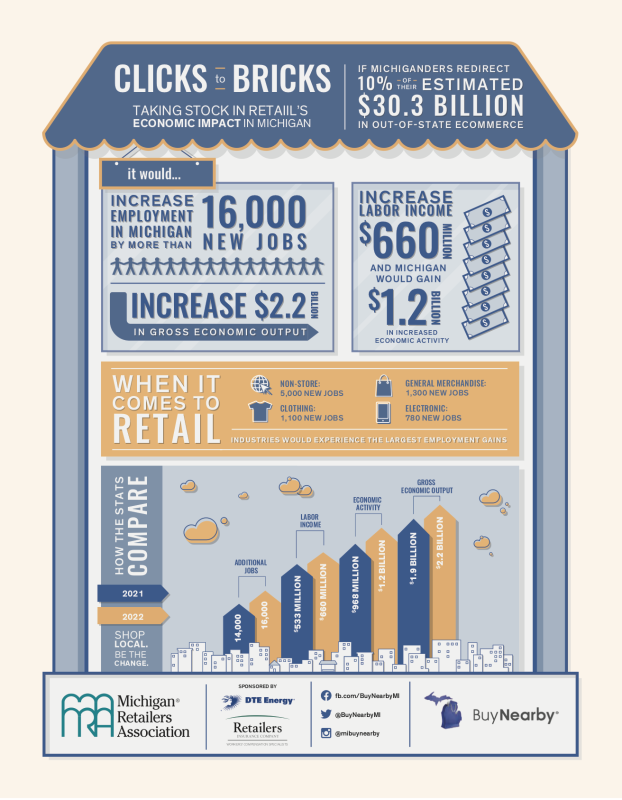 2022 Buy Nearby analysis estimates significant economic benefits to Michigan if consumers switch to more local purchases
The Michigan Retailers Association (MRA) released its annual Buy Nearby economic analysis on the impact of consumers switching 10 percent of their spending from out-of-state retailers to Michigan-based retailers.
This analysis, based on year-to-date spending in 2022 and completed by Public Sector Consulting (PSC), found that if Michigan consumers redirected 10 percent of their estimated $30.3 billion in out-of-state ecommerce and remote sales, equivalent to about $3 billion, it would have the following impact:
Increase Michigan employment by more than 16,000 (compared to over 14,000 in 2021)
Boost labor income (salary and benefits) by about $660 million ($533 million in 2021)
Contribute $1.2 billion in value-added to the state's economy ($968 million in 2021)
Contribute $2.2 billion in gross economic output ($1.9 billion in 2021)
"On a large scale, this could be an additional $3 billion in revenue added to Michigan's economy, and that's just the beginning. Individually, this shift looks like shopping at a few stores in your downtown, rather than ordering everything from an out of state retailer," said William J. Hallan, President and CEO of Michigan Retailers Association. "As Michigan's small businesses recover from the pandemic, face inflation head on, and continue to evolve their businesses, the least any of us can do is buy local."
MRA created the Buy Nearby campaign in 2013 to promote shopping local in Michigan. The campaign includes promoting local businesses and economic studies of the impact of shopping in Michigan.
Beyond Retail
The largest employment gains from a 10 percent shift in spending would accrue in retail industries, with the greatest benefits occurring in the non-store, general merchandise, clothing, and electronic retail sectors.
In addition to the retail sector, adjacent industries and services would also feel a positive economic impact. Real estate, owner-occupied dwellings, warehousing and storage, management of companies and enterprises, and hospital sectors would benefit from the increase in dollars flowing into the local economy.
"Retail business are an economic driver, bringing other businesses into their area, creating more and more opportunity for both more retail and other businesses to take shape and grow," said Hallan. "The simple step of planning to Buy Nearby will increase revenue for our Michigan-based businesses and help grow our economy."