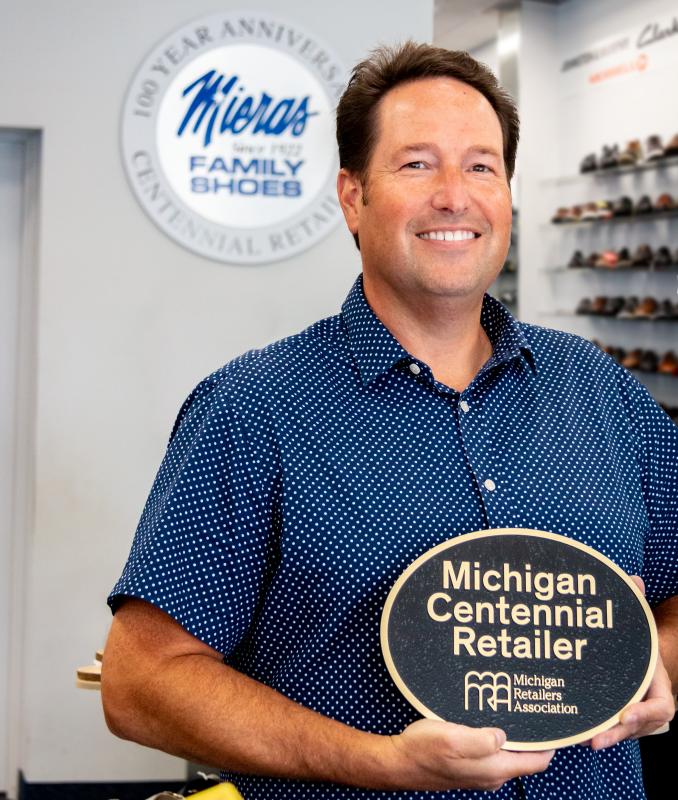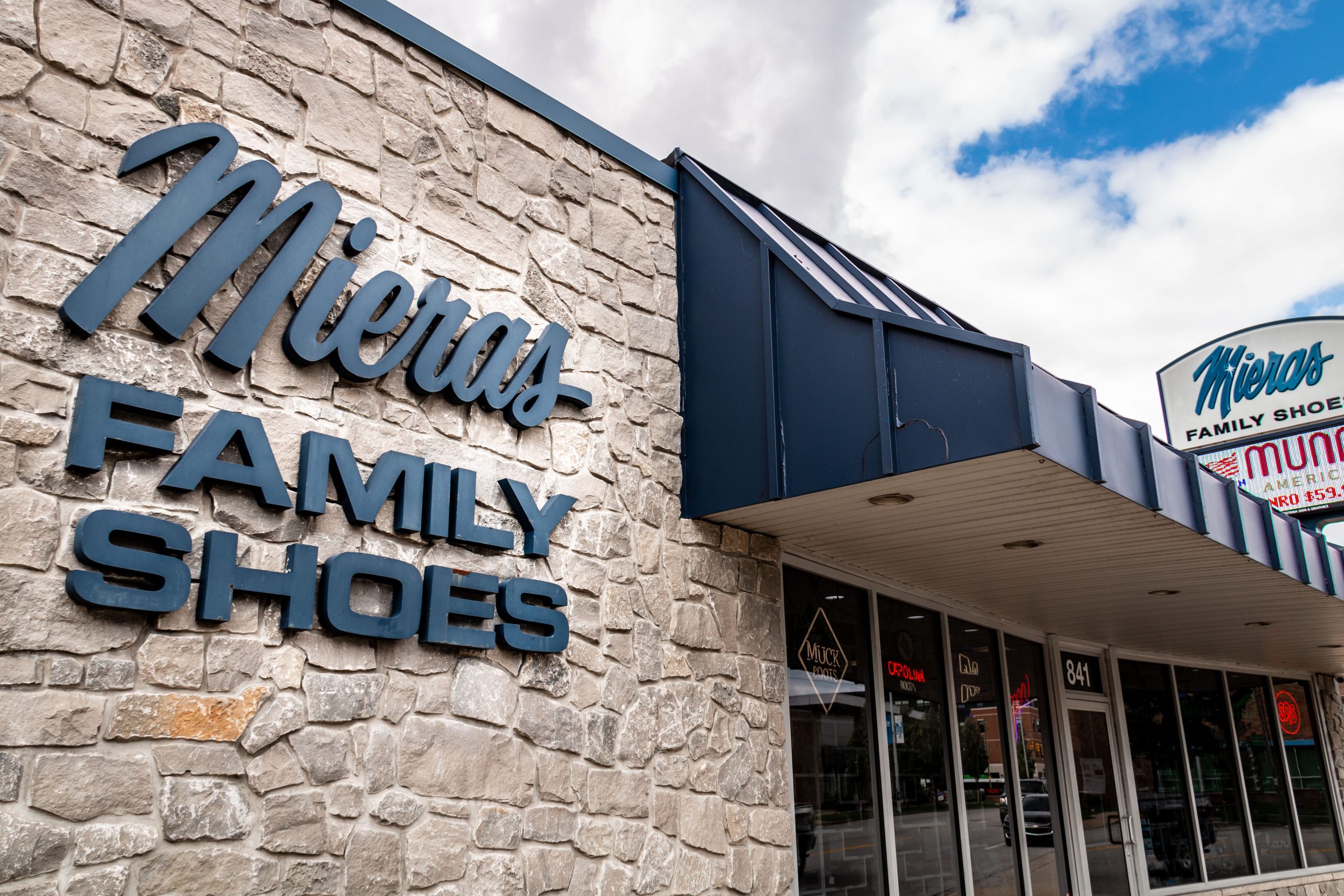 By: Shandra Martinez
Photos By: Josh Delany
Neil Mieras took over his parents' shoe business on Oct. 16, 1929, a day after his father, John, suffered a debilitating stroke and a week before the Wall Street crash, triggering the beginning of the Great Depression that lasted more than a decade.
He was 19. 
Mieras kept the family business alive during the 12 years of the devastating economic downturn by taking care of customers.
"They sold shoes for a quarter a pair, and most of their sales went on house charge so people could pay when they could, because, of course, food came first," said Jeff Joyce, the grandson of Neil Mieras and the business' current president and co-owner.
That customer base has remained loyal. Many of the store's current customers are grandchildren and great-grandchildren of those first customers. As Mieras celebrates its centennial, the family business' original store, at 841 Leonard St. NW on Grand Rapids' West Side, has become an institution. One reason for its survival is how the business has adapted to meet the needs of its growing customer base.
Rooted in history, but still evolving
What began as a small shoe repair business has evolved into West Michigan's largest family shoe and work shoe retailer. Over the decades, the Mieras family has remained committed to providing customers with quality, comfortable shoes at competitive prices. The retailer still offers professional fitting at three locations and more than 50 brands for the entire family, with extreme sizes and widths at no additional charge.
"We had to be fluid and pivot when needed," said Joyce, noting the business discontinued its shoe repair service a few years ago. "We sell more work boots and connect with industry and major manufacturers all across West Michigan. That gives us extra volume to carry more family styles and fun things that other smaller stores can't carry."
The retailer sells steel-toe work boots to major manufacturers, such as furniture, pharmaceutical and automotive suppliers.
Neil began selling work boots to Steelcase and General Motors, and Joyce's parents, Mike and Sue, built on that relationship by developing a direct order catalog for employers. Joyce started using trucks as mobile stores to take the best styles of safety boots from 25 quality brands to manufacturing plants across West Michigan. In addition to four mobile stores, the Mieras name graces two in-plant stores in major manufacturers, and second and third brick-and-mortar locations, at 409 44th St. SW in Wyoming and 3130 Plainfield Ave. NE in Grand Rapids. 
Mieras continues to emphasize serving its youngest customers. Employees are trained to properly measure children's feet to make sure shoes fit properly.
"Most other stores have given up on children's shoes because it's not a very lucrative business," Joyce said. "But we feel that it's important and true to our heritage. It also brings the young families in, and then the mom and dad see that we have good hiking boots from Merrell or Keen, great running shoes from Brooks, New Balance and Hoka, and then we become the family's one-stop shopping because we try to have something for everybody." 
Ties to local industries
Mieras benefits from being in the backyard of Rockford-based shoe company Wolverine Worldwide and carries many of its brands, from Merrell to Sperry. 
"When they launched their work shoe division, we were in from the very beginning and on product review. We were one of the first stores in the country to get the Merrell work product that was specifically designed with safety toes for work," Joyce said. 
Mieras will celebrate the business' centennial with advertising and promotions, as well as some product giveaways.
Looking to the future, Mieras is committed to expanding its work boot connections to industries, which strengthens its walk-in business because it can afford to carry more inventory, more styles, more brands, and more selection.
Joyce credits the store's longevity to the support it has received from the Michigan Retailers Association over the decades. Joyce has been an active board member and is currently serving as past chair on the Retailers Insurance Company board.
"It's helped us from the start with the workers' comp insurance. A lot of these small businesses don't have a lot of buying power, but collectively, the Michigan Retailer Association can help," said Joyce. "MRA expanded to help with credit card processing, point-of-sale systems, and full lines of insurance."
Aside from the cost savings, MRA's advocacy has been crucial. 
"It's also been a voice for retailers in the Michigan Legislature by lobbying for the retailer's rights," Joyce said. 
He also thinks Mieras was blessed to start off on Grand Rapids' West Side. The working-class neighborhoods there have been extremely loyal. Many of its neighbors are multi-generational, family-owned businesses and have supported each other. In recent years, the neighborhood has undergone a building boom as developers have discovered the potential of the corridor that brings people into and out of Grand Rapids.
"We have a great district for food and shopping. It definitely brought in new customers each year," Joyce said. 
Customer-friendly from the start
The shoe store has been in the neighborhood for more than a century. It was a shoe store when John Mieras bought it in 1922. He and his wife, Flora, lived in residential quarters attached to the back. Being on-site around the clock made it easier for customers to find them during off hours when an emergency shoe repair was needed. But the couple also couldn't afford to buy a house and a business, so living in the business was a necessity. 
Joyce remembers working with his grandfather, Neil, as a teen. He learned from his grandfather how to take care of customers so they came back.
In time, Mike Joyce's grandparents settled on Fremont Street — across the street from the shoe store. He met his future wife, Neil's daughter, Sue, while shopping at the store. Together, they became the third generation to run the store. 
"He was just the kindest man, and customer-oriented," Joyce said of his grandfather. "He would rather be on the sales floor than in the office doing paperwork. He was a real people person. We worked together for a few years. People just showed up to chat and have coffee. It was like an extended family."
Longtime customer Buss Kunst, 80, was brought to the store as a youngster to buy his shoes. Later, he brought in his four sons, and now, one of his sons brings in his children. The store even featured a photo of four generations of Kunsts — including Buss' father — 25 years ago in the business' 75th-anniversary flyer. 
Kunst remembers the original location as an old, rickety store cluttered with shoes until Neil's son-in-law, Mike Joyce, brought order to the business and gave the shop an update.
"There were shoes everywhere. Neil always knew everything about every shoe, so it was really interesting because he had a handle on it all. It was a really unique store back then," Kunst said. 
"He always had that little special discount for you. He would always give your first shoes free to get you to come back and back."
Joyce's dad, Mike, and wife Sue, one of Neil's two daughters, took over the store when Mieras retired. He died in 1990.  
Now, Jeff Joyce is training his son, Tyler, 29, to do the same.
Tyler says he was never pressured to join the business, but he always felt there was something special about being part of the family legacy.
"It's just a really cool opportunity. How many people can say that they're working at a 100-year-old business that their great-great-grandfather started?" he said. "There's a lot of pride in the fact that the spot that I'm sitting in is the exact same place my great-great-grandfather sold and fixed shoes. There are very few businesses like ours that have been successfully handed down from generation to generation."