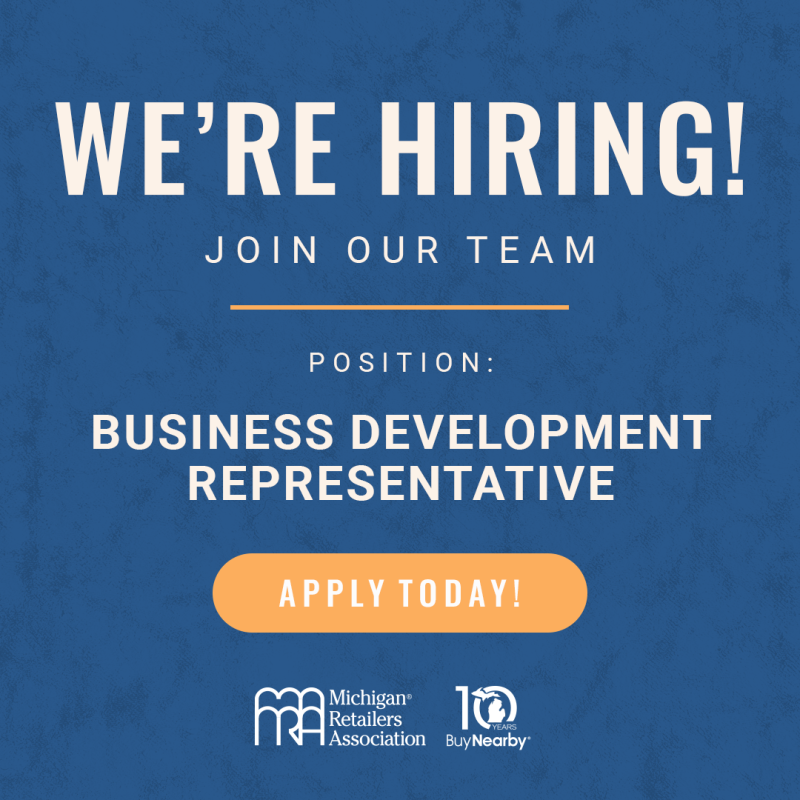 Michigan Retailers Association seeks an ambitious, outgoing and confident individual to serve as a Business Development Representative in the Traverse City area. Our Business Development Representatives promote the benefits of membership with Michigan Retailers Association ("MRA") and sell our key services – primarily credit card processing. This position requires working closely with our referral partners, as well as exploring and developing new business channels and product offerings to enhance the value of membership. The individual selected must be organized, self-motivated and have a creative, entrepreneurial skill set. The Business Development Representative will work closely with our network of Independent Insurance Agents to develop leads for Michigan Retailers Association.
Location:
This position is based in the Traverse City area with a territory covering Northern Michigan. Michigan Retailers Association is based in Lansing, Michigan. Periodic visits to our headquarters will be required.
Position Responsibilities:
Develops strategies needed to identify, attract and retain potential referral partners, merchant accounts, and members.
Responsible for building and maintaining relationships with local business leaders and organizations.
Able to prepare and deliver accurate and timely reports as requested by management.
Responsible for installation of payment processing equipment at the business or merchant location and training of appropriate personnel.
Promotes the MRA brand and image in the assigned territory to support association membership.
This position requires travel throughout Northern Michigan and occasional travel outside the region to MRA offices in Lansing or to sales conferences and trade shows across the country. The applicant must have a good driving record and a valid drivers license.
Qualifications:
This position requires a combination of sales experience and education showing self motivation and the ability to work without on-site supervision.
Experience in association sales, financial services or insurance preferred.
Skills/Knowledge/Abilities Required:
Demonstrated expertise in business-to-business sales.
Excellent verbal and written communication and presentation skills.
Ability to manage competing demands and priorities in a fast-paced, high growth environment.
Strong leadership, managerial and interpersonal skills.
Strong negotiating skills.
Proficiency in Microsoft Outlook, Excel, Word. Experience working with a lead tracking system is preferred.
Compensation:
This position includes a base salary, commission schedule, company car, health insurance, and various other competitive benefits.
Resumes and cover letters can be sent to ajolley@retailers.com or mailed to:
Attn. Amy Jolley
Director of Human Resources
Michigan Retailers Association
603 S. Washington Avenue
Lansing, Michigan 48933
Deadline to apply: Sept. 20. 2023