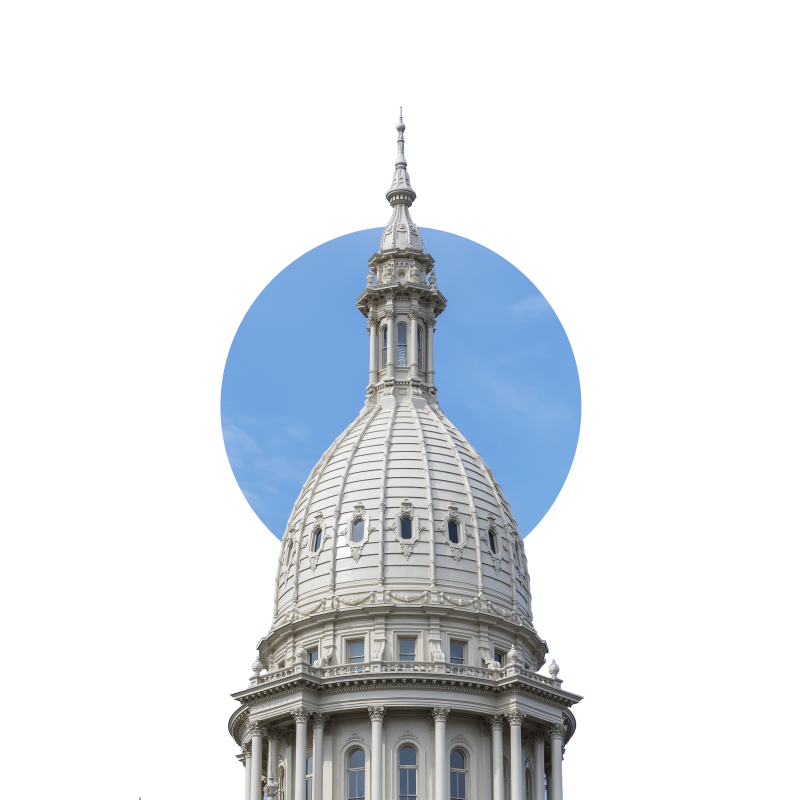 Regulations Affecting Your Business
Gov. Whitmer signs PREP Act into law
Gov. Whitmer signed SB 219 into law on July 18 as Public Act 97 of 2023, codifying the Federal PREP Act allowances granting pharmacists independent authority to order and administer vaccines, as well as delegate that administration to pharmacy technicians. The new law also grants the ability to independently order and administer tests for COVID, flu, or a respiratory infection. 
Pharmacists must now report all vaccinations administered for all ages to the Michigan Care Improvement Registry (MCIR) and let patients know about potential qualification under the Vaccines for Children Program for vaccines administered to patients under the age of 19. The law does not impact existing or future collaborative practice agreements or the services and care provided under those agreements. Pharmacists and pharmacy technicians who wish to administer vaccines and testing under independent authority must follow board-approved training but may continue to provide those services until rules are finalized.
New Pharmacy Continuing Education
rules were effective as of June 26, 2023.
The new rules:
Adds continuing education credit for attending a Board of Pharmacy meeting or subcommittee meeting.

Limits the continuing education credit to 2 hours each license cycle for presenting an approved continuing education program that is not a part of the licensee's regular job description.

Minimizes the continuing education review standards.

Requires a course related to health care services, pharmacy operations, or the advancement of the licensee's pharmacy education.

Clarifies the continuing education requirements, including the requirement for 1 hour of continuing education in pharmacy ethics and pharmacy law.
View the full revised Pharmacy Continuing Education Rules.
WIC Formula Update: ENFAMIL AR
Enfamil AR availability is expected to ebb and flow throughout the remainder of the year. With reported outages of the 12.9 oz size throughout the state, Michigan WIC has temporarily reactivated the 19.5 oz size of Enfamil AR for redemption when the 12.9 oz size is unavailable. WIC families assigned an ENFAMIL AR 12.9 OZ PWD food package can redeem either:
Enfamil AR 12.9 oz (counts as 1 can)
UPC: 300870201423

Enfamil AR 19.5 oz (counts as 1.5 cans)
UPC:

300870201652
Successful redemption of the Enfamil AR in the 19.5 oz can is contingent upon the vendor having downloaded the latest Approved Product List (APL). 
To receive the latest version of the APL, you may follow the instructions below based on your store's point-of-sale (POS) system:
Integrated POS system:

You may update your POS system by contacting your point-of-sale (POS) provider. 

FIS-issued stand beside WIC POS device:

Your machine should automatically receive the update. 
---
Deadlines & Reminders
Sept.-Oct. 2023:
Oct. 1 – Michigan Annual Report for Nonprofit Corporations with LARA due

Oct. 1-Dec. 14 – Michigan WIC Northern Region Vendor Contract Renewal (rolling 3-year renewal period by region)
Oct. 31 – Nursery Dealer and Growers Licenses expire
Monthly reminders:
Sales & Use Tax – Monthly & EFT – On or before the 20th day of the following month.
Withholding Tax – Monthly & EFT – On or before the 20th day of the following month.
Retailer's Prepaid Wireless 911 Surcharge – Within 30 days of the close of each month. Receipt of a complete Form 5012 is required regardless of payment method.
Quarterly reminders:
Corporate Income Tax (CIT) Estimated Returns and Payments (Jan. 15, April 15, July 15, Oct. 15).
Sales & Use Tax – Quarterly & EFT – On or before the 20th day of the month following the quarter (Jan. 20, April 20, July 20, Oct. 20).
Withholding Tax – Quarterly – On or before the 20th day of the month following the quarter (Jan. 20, April 20, July 20, Oct. 20).
Unemployment Employer's Quarterly Wage/Tax Reports (Jan. 25, April 25, July 25, Oct. 25).