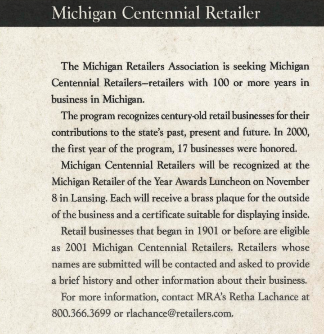 Every now and then we stumble upon gems from our archives.

Michigan Retailer
July/August 2001
Vol. 26, No. 6
Many, many, many years from now, MRA employees will look back at the Michigan Retailer publications in 2023 and think, "it must've been the year of the Centennial Retailer."
Five out of the last seven issues of the magazine include at least one (or many – Feb./March 2023) Michigan Centennial Retailer, an honor given to 100-year-old businesses that have lasted the test of time. 
To our past, present, and future Michigan Centennial Retailers, we commend your grit! We're honored to highlight your history, contributions to your downtowns, and celebrate your legacy.