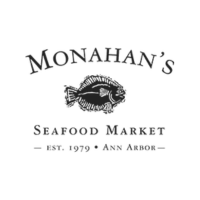 After 44 years, Mike Monahan, owner of Monahan's Seafood in Kerrytown, is passing the business on to his nephew, Tommy Lammers. Tommy has worked at the restaurant since 2018.
"I am thrilled to take the helm as the new owner of Monahan's Seafood in Ann Arbor. We look forward to continuing to provide our community with excellent service and the freshest seafood in town," said Lammers.
Monahan's Seafood Market opened in 1979 and specializes in fresh fish daily, lunch-time gourmet meals, and your-choice filets.