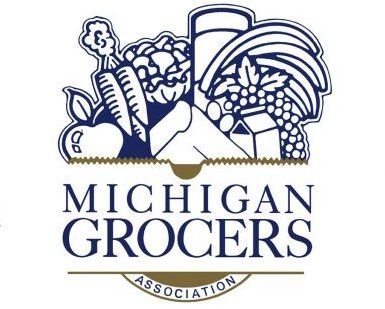 The Grocers Division of the Michigan Retailers Association (MRA) is pleased to announce that Busch's Fresh Food Market and H.T. Hackney are the 2019 Al Kessel Outstanding Achievement Award winners. Launched in 2013, the award memorializes former Michigan Grocers Association Director Albert "Al" Kessel, Jr., who founded the Flint-based Kessel Food Market chain. To reflect his generous spirit, one Outstanding Retailer and one Outstanding Business Partner receive the award each year.
The winners were honored during the opening night of the annual Food Retailers Summit on Sept. 25 at Crystal Mountain Resort. The summit, sponsored by the Grocers Division of MRA, continues a 121-year tradition of bringing retailers and suppliers together to benefit Michigan and the retail food industry.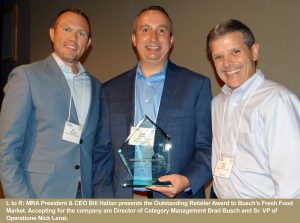 2019 Outstanding Retailer: Busch's Fresh Food Market
With 16 family-owned, independent locations throughout southeast Michigan, Busch's Fresh Food Market offers fresh produce, meat, seafood and bakery items along with over 4,000 Michigan products — making them a true neighborhood grocer. Combining the best of today's freshness and style, Busch's is also known for providing personal service based on traditional values. Those values took root in 1975 with the purchase of two stores in Clinton and Saline, by family patriarch Joe Busch and business partner Charlie Mattis. When Joe retired in 1986, sons Doug, John and Tim took over, acquiring and building more stores. Today, the three are co-owners. John is also Busch's Chairman and Doug is Community Development Director. Ushering in a third generation, two of John's children also work in the business. Busch's President and CEO is Gary Pfeil. Headquartered in Ann Arbor, Busch's employs approximately 1,560 associates.
Joining Michigan Grocers Association in 1978, Busch's is a dedicated member and industry supporter. John served on the Michigan Grocers Service Corporation Board for over 15 years, and Busch's culinary team works tirelessly to support MRA's annual Legislative Reception. In addition, Busch's has a deep-rooted tradition of giving back to the communities it serves by supporting charitable organizations and schools with programs such as Cash for Education, which has given over $1.6 million to schools during the past fi ve years. Busch's also assists local food banks with rescue programs and food drives throughout the year. This summer, Busch's completed a very successful All aBout Children (ABC) food drive raising over $262,000 to help families feed their children.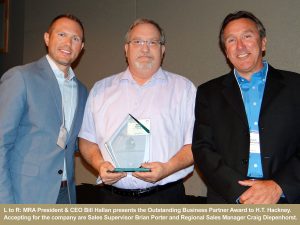 2019 Outstanding Business Partner: H.T. Hackney
Founded in 1891, H.T. Hackney Company is one of the largest wholesale distributors in the United States, serving over 25,000 retail locations from a 22 state-distribution network. Grand Rapids, Michigan, is home to one of the largest distribution centers in the Hackney organization. Headquartered in Tennessee, the company expanded into Michigan in 2003. Today in Michigan, Hackney serves roughly 2,000 customers and employs about 250 people. Nationwide, the company employs about 4,000 people.
Bill Samson has been H.T. Hackney Chairman and CEO since 1983. In Michigan, Regional Vice President Bill Hillman serves as General Manager of the Grand Rapids Division. The company joined Michigan Grocers in 2007, and Hillman previously served on the Michigan Grocers Association Board of Directors. Currently, H.T. Hackney Regional Sales Manager Craig Diepenhorst serves on the Michigan Grocers Division Advisory Board.
Hackney's Grand Rapids Division gives back to Michigan in many ways including hosting a charity golf outing to benefit Van Andel Institute — a research and science education organization; annually providing Thanksgiving dinner with Degage Ministries to help homeless and disadvantaged individuals: and hosting an adopt-a-family Christmas charity as well as a local school career day.
"Both Busch's Fresh Food Market and H.T. Hackney make significant contributions to Michigan's grocery industry," says MRA President & CEO William J. Hallan. "They have earned the respect and admiration of colleagues and customers throughout the state and beyond. These awards are well-deserved recognition."
Michigan Grocers is a division of Michigan Retailers Association, headquartered in Lansing, Michigan. MRA members range from small stores to large national and international chains, with nearly 5,000 member businesses that own and operate more than 15,000 stores and websites across the state. See retailers.com for more information.