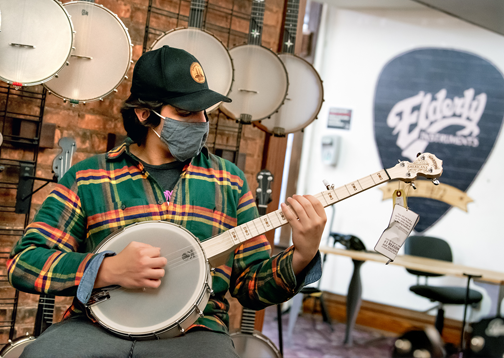 By SHANDRA MARTINEZ
Photos STEVE JESSMORE
A lot of people have been making music during the pandemic. Manufacturers of keyboards and guitars are reporting record sales. So, are music retailers among the bright spots in a struggling industry — like grocery stores?
Not exactly, according to retailers contacted by Michigan Retailer.
Eric Hanson, owner of Hanson Pro Music, reports a 10-15% uptick in monthly sales after he was able to reopen his Port Huron music shop in July, following the statewide shutdown.
"It's not huge, but from what it was over the last few years, that's really helped," Hanson said.
He's selling more low-end electric guitars than he did in the past couple of years. Most have been in-store purchases because he doesn't do a lot of business online.
Challenges
While the pandemic has been rough for brick-and-mortar retailers in general, those in the music trade have had their own set of challenges.
Marshall Music Co., which supplies students with instruments for school band and orchestra, has been hurt by school closures.
Nearly 40% of the company's annual business usually happens in the spring, when beginning music students are recruited for fall programs. Co-owner Dan Marshall estimates the company rented out about half the number of instruments this fall because of school closures in the spring.
As a result of the drop in instrument rentals, the retailer has brought back only about half of its workforce — primarily repair techs and school service reps.
"Outside of the band and orchestra, we're seeing customer traffic coming back. But because of the financial impact, we're operating under reduced hours and reduced staff," Marshall said.
Moving lessons online
Another 20% of the business is selling instruments and accessories, like sheet music, and music lessons. Each store has eight to 32 private studios. Pre-pandemic, Marshall instructors taught more than 2,000 private lessons weekly. Now, only about a quarter of those 30-minute sessions are taking place — and they are online.
"We've rolled out online classes as a response to this challenge. I doubt we'll ever go back to studio teaching," Marshall said.
The retailer is considering making the studios available to private instructors who want to cultivate their own clientele. It is also evaluating the need for storefront space.
"We are reducing square footage and sort of reorienting our business to our core competency, which is band and orchestra instrument rental and servicing the schools throughout Michigan. We call on about 650 music educators every week. The bulk of our business is transacted at music departments throughout the state," Marshall said.
Considering consolidation
The retailer has locations in Traverse City, Grand Rapids, Kalamazoo and Lansing, as well as three locations in the Greater Detroit area.
"There might be some consolidation. We still need to be close to those markets to provide repair service to all our customers," Marshall said, adding the company does a significant portion of accessory sales and rentals online.
He thinks it will be a year before the workforce returns to its pre-pandemic level of 168 full-time equivalent employees. Many are part-time workers who teach classes.
Brighter future
"We do know that the future is certainly going to be brighter than the current environment. We've got our eyes focused on that," Marshall said. "Next year will be gangbusters because some schools will be starting two years — the fifth-graders and the sixth-graders — in the beginning band and orchestra," he said.
The pandemic is unlike anything he has experienced in his 35 years in the business. He joined the company at 30 when his parents, who started the business in 1948, wanted to retire. The next generation won't be family, but will be led by two current executives who grew up in the business. They're both avid musicians.
At 66, Marshall is semi-retired and provides mainly guidance. He and his two sisters own the company, and the transition to the next generation has been sped up by the pandemic.
Overwhelming
That has been the case for Lillian Werbin, the second generation of the family-owned Elderly Instruments.
The internationally known Lansing business was co-founded by her dad, Stan Werbin, in 1972. As the only child who grew up in the business, taking the helm of the family business during the pandemic has been overwhelming at times for Werbin.
The pandemic sped up transition plans because her parents — at ages 72 and 73 — are in the high-risk group for coronavirus.
"Aside from Elderly, my parents are the most important thing in my world. I was looking at the prospect of losing not only them but the business at the same time. I turned 30 in August, so the last couple of months have been unbelievable for me," she said.
Following protocols
The business went dark for two weeks in March after the state shutdown. A small skeleton crew of five initially returned to handle online and international operations. Pre-pandemic, the company's 40-person staff took care of warehouse operations, sales, purchasing, IT and marketing.
When their staff returned to work a couple months later, no more than 20 people at a time worked in Elderly's 36,000-square-foot location, alternating shifts so all 40 could return. Currently, Elderly staff is back to full time and still wearing masks, socially distancing, and doing temperature checks daily.
The hardest part has been adjusting to the change in her parents involvement. Stan Werbin was still going to work six days a week (every open day) leading up to the pandemic. Keeping him away has been difficult.
"I'm adopted, and so we often talk about how lucky we are that we got to do this whole thing together. They truly enjoy each other, and I think the laughing and the music is all it took to keep them going strong," said Werbin, adding that her mom, Sandy, is in remission for stage 4 cancer. "We really looked at this pandemic like we're not taking any chances."
Live-streaming concerts
Elderly stopped doing lessons and in-store concerts and workshops. Concerts moved online to put money into artists' pockets after their gigs were canceled. Elderly set up the concerts to stream live on Facebook and YouTube without taking a cut.
The retailer's biggest innovation has been using UV light to sanitize the instruments to address concerns about the transmission of the disease by touching surfaces. Instruments can't be wiped down with sanitary wipes.
Converting one of the many unused lesson rooms to a UV sanitation room was crucial, so customers could still have an opportunity to hold and play instruments before purchasing them. The transformation involved painting the walls a reflective white and installing a UV light.
"We can hang 10 instruments in there at any given time, and run it all day," said Werbin, adding that there are plans to add a second UV room.
Creative thinking
The company's niche is fretted instruments and everything else that pertains. The name of the store is a nod to selling high-end vintage pieces along with new and used string instruments.
Before Stan owned a music store, he was a student musician. He plays banjo, guitar and ukulele – and toured with Michigan's famed Lost World String Band.
Along with the UV room and online concerts (now called The Elderly Instruments Living Room Sessions), another change has been adding curbside service for in-store purchases and for repairs, which was done as a safety precaution. The convenience has proven popular with customers.
The business is also installing HALO-LED bulbs in its HVAC systems to help with air filtration and to decrease airborne transmission of germs.
"We've decided that this type of situation brought some great changes and some great creative thinking," Werbin said.
Keeping the lights on
As Hanson heads into the holiday season, he's not sure what to expect.
"Retail has gotten so weird in this particular industry," Hanson said.
A decade ago, November and December were his best months. Now, peak months are January, February and March. Hanson suspects that is tied to customers receiving their tax returns.
The store carries a range of instruments, from $120 guitars to higher-end ones priced between $3,000-$4,000.
"Being a small store in a small town is tough. I'm not selling 2,000 guitars a year. I'm selling enough to keep my lights on, my doors open, and pay my bills," said Hansen, 55. "I'm too old to quit and do something else."