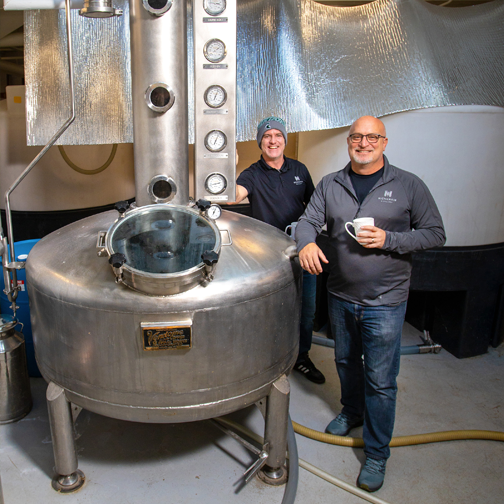 By MEEGAN HOLLAND
Photos STEVE JESSMORE

LANSING – It's a story we've heard over and over again during the pandemic – businesses that have figured out how to pivot to make the most of a dire situation.
It may have meant shifting inventory to meet customers' changing appetites or mounting an e-commerce site. In Scott Ellis' case, it meant creating from scratch, selling and marketing an entirely new product line.
Ellis, a man of many hats, is used to confronting change. In a past lifetime, he was a cop. He then stepped into the role of executive director for the Michigan Licensed Beverage Association, representing 2,000 liquor licensees, mostly bars. While still juggling that, he and partner Mike Bird in 2017 took advantage of Michigan's small distillers license and opened a distillery and craft cocktail bar, with the idea that their bread and butter would be producing and selling ethanol to other distilleries.
That didn't happen. "Everyone has a wonderful business plan and you think everyone will be running to your doors. Our business model was based on selling bulk alcohol to other distilleries," Ellis said. "But people had their recipes, and they already had their sources of outside bulk alcohol. So that was our biggest shock. We ended up relying on our tasting room to help us get by, when we thought that would be just bonus money."
Michigrain's cozy bar across from the cavernous Lansing Brewing Co. in Lansing's burgeoning Stadium District was steadily gaining visibility, and like many other business owners, Ellis expected 2020 to potentially be a record-breaking year. But in early March, through his son's school, he heard concerns about the need for hand sanitizer if COVID came to Michigan.
He talked to his partner, Mike Bird, about making sanitizer so kids could stay in school. Little did they know that two weeks later, all but "essential" businesses in the state would be forced to shut down. With that, Michigrain went all in on sanitizer, "and (nine) months later, we're still doing it."
During the shutdown, 90 percent of their sales was hand sanitizer. As life normalized after the reopening, sanitizer makes up only 10 percent of their sales, thanks to a contract with a school bus company. (Side note: MRA contracted with Michigrain for sanitizer to hand out to its members.)
But their bulk ethanol sales have doubled, as the pandemic took Michigrain back to its original business plan. Ethanol became hard to come by; as a result, distilleries were looking for new sources – especially smaller distilleries, whose ethanol access dried up as their vendors focused on larger customers.
As the business refocused on regaining customer trust to return to the bar and serving up cocktails-to-go, it also innovated in other ways. A regular who works at Zingerman's in Ann Arbor thought of Michigrain when the beloved deli dreamed up a "Reuben Tour." They picked drinking establishments in Grand Rapids, Kalamazoo, Lansing and Toledo to park their food truck. Customers pre-ordered and paid in advance, and on the appointed date and time, pulled up to the truck, had their order handed to them and drove away. Luckily for Michigrain, many also stopped in for a drink or takeout cocktails.
Scott said he walked into Michigrain when Zingerman's visited in July "and we were at our 50 percent capacity – I couldn't remember that happening before. People were waiting for their food to arrive." The partnership resulted in their two best days for sales of drinks or cocktails to go.
When he takes off his distillery hat and dons his association hat, things turn more serious. Michigan Licensed Beverage Association members have been looking to him for leadership and advice in what is a downright panicky time for the industry.
"Our last survey showed that the average bar was down 65 percent in sales," said Ellis. "And if the rules continued for another few months, 60 percent said they could close permanently. We've got to figure out how to live with this and still keep customers and employees safe."
The situation is dire for many of Michigan's 53 distilleries. A survey by the Distilled Spirits Council of the United States and the American Distilling Institute showed that 43 percent of distillery employees were let go or furloughed due to COVID.
The Michigan Legislature has tried to ease the pain by allowing cocktails to go and outdoor drinking districts. But this winter poses a challenge, especially now that the state barred indoor seating for bars and restaurants as of this writing. A minority of customers will be willing to adapt to outdoor seating – not enough for bars to make a go of it. The MLBA is advocating that the state allow bars and restaurants to open their indoor seating again, arguing that few COVID cases have been tied to restaurants and bars.
"Private events, schools and nursing homes are the problem – but we're being shut down," Ellis says. "My sales were down 65 percent before; now they're down 100 percent. We get that numbers are climbing but we need to learn to balance and live with this."
Despite these nerve-racking months, Ellis and Bird are reinvesting in Michigrain, adding beer to their mix and installing 13 new fermenters, which allows them to ferment 14,000 gallons of mash per batch (about every five days).
Like many retailers, restaurants and bars, they know that the ability to change, adapt and even grow is the only way to get through this pandemic.