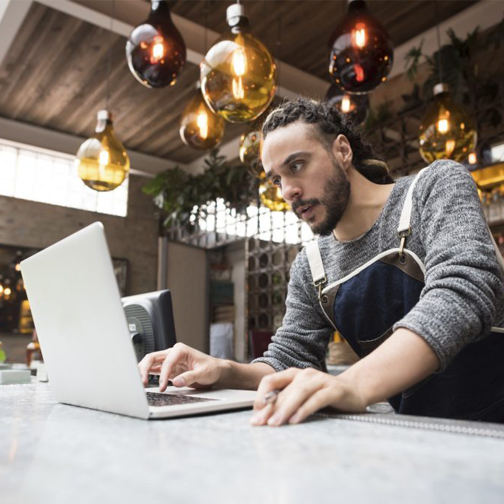 When making website updates remember your customer.
By JENNIFER ROOK
A record number of retail businesses around the country launched websites with an e-commerce component, in response to the 2020 COVID-19 pandemic. As the "pivot" theme continued throughout the year, many small storefronts that in the past relied on foot traffic, saw the need to launch a website that enabled them to sell their wares electronically. According to an article published on Forbes.com, roughly 40% of retailers across the country launched e-commerce platforms for the first time in 2020 out of necessity.
As Michigan retailers continue to recover from the fallout of COVID-19, keeping an e-commerce platform in place will most likely become the norm in 2021 and beyond, as there's plenty of evidence to suggest that consumers like the extra level of convenience.
If you find yourself in this camp, we followed up with Kevin Liuzzo, Design Director that oversees user experience and website development for the award-winning, Lansing-based design agency, Ciesa Blend. Ciesa Blend created and maintains MRA's Retailers.com website. We asked Liuzzo his tips on ensuring your website continues to operate at optimum levels, especially if you are entering year two.
1. Remember why you launched your website in the first place.
"It's very easy to get caught up with shiny new functionalities and 'we-should-be-doing' pressures," said Liuzzo. "Stop and ask yourself, is the website doing what we originally intended? If the answer is yes, stay focused on making sure that the basic functionality is working well before adding new features, especially if you just added an e-commerce platform in the last year."
Per Liuzzo, sometimes adding new plug-ins or functionality can disrupt or slow down load times. And that can negatively impact your customer's shopping experience.
2. Make sure your site works everywhere, on all screens.
Does your site look consistent when you view it on different devices? Most sites have what's called a "responsive design," meaning that they respond to the medium on which they are being viewed.
"Have trusted sources like family and friends view the site on different browsers and platforms such as desktops, mobile devices, and tablets," said Liuzzo. Liuzzo advises conducting tests like this on a monthly basis. "There are services that do this too, if budget permits."
3. Ask yourself: Is your site user-friendly?
This harks back to the first point. Per Liuzzo, it bears repeating.
"Put yourself in your customers' shoes, does your site look clean. Is it easy for them to find information or make a purchase," said Liuzzo. "Does the basic functionality work? Can customers add items to a cart easily? Can your site process credit card transactions without any issue? It doesn't matter how slick your site is, if the user experience is complicated, customers will leave."
This can result in abandoned shopping carts and high bounce rates.
4. Make sure your site has a contact form.
"You need to give your customers a way to communicate with you, especially if your site is not working," said Liuzzo. "Give them a reason to reach out to you. Don't make them send you a message on Facebook or Twitter."
Having a contact form enables you to track common questions and maintain a communication flow with customers.
5. Get familiar with your site's analytics, but don't sweat them.
"This is another area that can suck up a lot of time for business owners," said Liuzzo. "There's plenty of advice out there that pushes the importance of monitoring analytics from the start. But doing so can be confusing because the depth of analytical information available can be overwhelming."
Liuzzo advises business owners to become familiar with statistics but it shouldn't be a priority if you are just getting started.
"You may read stuff like having a high bounce rate, the amount of traffic that comes to your site and leaves immediately is bad, but that isn't necessarily the case. Maybe, you made it so easy for customers that they found what they needed and left. It's easy to misunderstand what the data may be saying, so don't. Stay the course. Analyzing the data will come later."
Focusing on your site's security. According to Liuzzo, if you used a reputable design platform such as Wix or Squarespace to build your site, those platforms regularly maintain a site's security by pushing regular updates, as known as "patches." If not, you should follow up with your website designer to find out how often your site's security is tested.
6.Use high-quality photos.
If you are going to invest in any area of your site, it should be in photography, advises Liuzzo.
"Customers have gotten fairly sophisticated at online shopping very fast," said Liuzzo. "They are used to being able to zoom in on a photo to examine details. Being able to view a finite amount of details, especially on clothing, gives them confidence that they are buying a quality product."
Liuzzo suggests using a photographer that specializes in product shots. If the budget prohibits that, make sure to use adequate lighting when taking product photos. Bad lighting diminishes the quality of photos and negatively impacts the user experience on your website.  Also, photo size. Make sure to use a size that isn't causing your viewers to squint.
"A common mistake we see is the overuse of thumbnail size photos," said Liuzzo. "This makes it really hard for customers to adequately see and zoom in on key details. Make it easy for them."
That leads to the next point.
7. Provide product details.
This doesn't mean writing a dissertation. Per Liuzzo, this means putting yourself in your customers' shoes and providing a level of product detail that sits between a verbal overload and not enough. Liuzzo also suggests reading through all of your product descriptions to ensure there are no typos and your "voice" sounds consistent.
"If you are going to mention features, make sure you answer why these features are a benefit to your customers," said Liuzzo. Is there a suggested length? That all depends, says Liuzzo. Above all else, error on the side of clarity. If you get too caught up in writing prose, you may lose customers because they can't figure out what the product is. Keep it simple.
To learn more about Ciesa Blend, visit ciesablend.com.