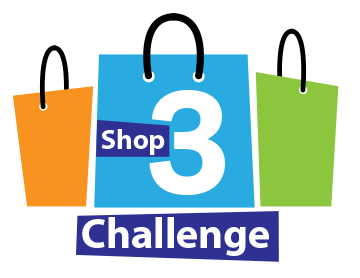 The Michigan Retailers Association (MRA) today reported that credit card sales were up 3.88 percent for Thanksgiving weekend over 2021 sales the same weekend.
To continue that growth, MRA is encouraging Michigan residents to take the Shop 3 Challenge by adding at least three local merchants to their list of shopping destinations and purchasing holiday gifts.
"This holiday season, we are asking shoppers to make an intentional effort to make purchases from at least three local retailers," said William Hallan, President and CEO of Michigan Retailers Association. "Making local purchases has the power to transform a community. When you Buy Nearby, you are investing in the future of Michigan's Main Streets."
A 2022 MRA-commissioned study shows that Michigan shoppers annually spend $30.3 billion online and outside of Michigan. If Michigan residents redirected just 10% of their out-of-state purchases to a Michigan-based store, it would increase employment by more than 16,000 jobs and add $2.2 billion in gross economic output.
"Keeping local businesses afloat is critical to Michigan's economy. Buying nearby gives retailers the chance to keep your downtowns thriving and to even attract new businesses to create roots," said Hallan.
Michigan Retail Index Survey
In the November Michigan Retail Index survey, a gauge of the current and 3-month predicted status of retail sales performance in Michigan, 45% of retailers expect holiday sales to increase through January. Twenty-six percent expect a sales decline, and 29% do not anticipate a change. The survey is done in collaboration with the Federal Reserve Bank of Chicago, Detroit-branch.
Record number of shoppers over Thanksgiving Weekend
The National Retail Federation reports a record 196.7 million consumers shopped during Thanksgiving weekend. The number grew nearly 17 million over last year. Additionally, the NRF expects 2022 holiday shopping (November and December) to increase between 6-8% over 2021. Last year, national holiday sales amassed $889.3 billion.
"Based on the increased sales activity we saw over the past few weeks, we believe that Michiganders can and will do more to help Michigan-based stores to remain open," said Hallan.
Michigan Retailers Association represents more than 5,000 member businesses and their 15,000 stores and websites. MRA has been a trusted business resource for 80 years and provides cost-saving membership services, such as expert credit card processing, business and personal insurances, legislative advocacy, college scholarships and discounts on shipping, to all types of businesses. It created the Buy Nearby campaign in 2013 to benefit local retailers, their communities and Michigan's economy.