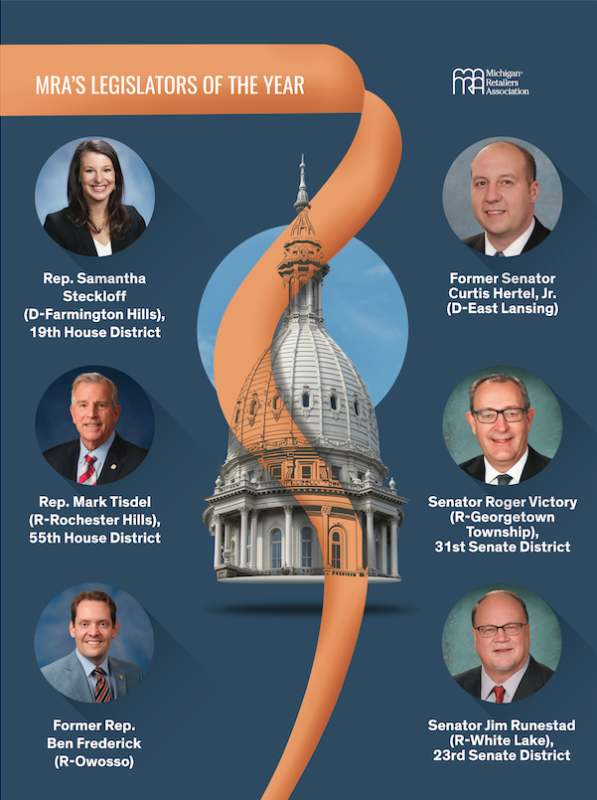 Michigan Retailers Association (MRA) today announced it is recognizing six legislators for their work on advancing Organized Retail Crime (ORC) related legislation as its Legislators of the Year for 2022.
Each legislator played a key role in introducing and pushing to advance legislation that will help protect businesses, employees and customers from the hazards of ORC.
State Representatives Ben Frederick (former) (R-Owosso), Samantha Steckloff (D-Farmington Hills), Mark Tisdel (R-Rochester Hills), as well as State Senators Curtis Hertel (former) (D-East Lansing), Jim Runestad (R-White Lake), Roger Victory (R-Hudsonville) worked tirelessly on legislation that increased penalties for selling known stolen goods and increased transparency into marketplaces for law enforcement.
All three of MRA's ORC initiatives were signed into law in July 2022. This three-pronged approach includes the INFORM Act, adding ORC as a racketeering offense, and a $3.5M budget line item to create an ORC unit under the Attorney General.
"We are proud to honor these six legislators for their tireless efforts in fighting against Organized Retail Crime and their dedication to protecting Michigan's retail industry," said William J. Hallan, President and CEO of the Michigan Retailers Association. "Their commitment to advancing legislation that benefits businesses, employees, and customers serves as a testament to their leadership and ability to bring positive change to our state."