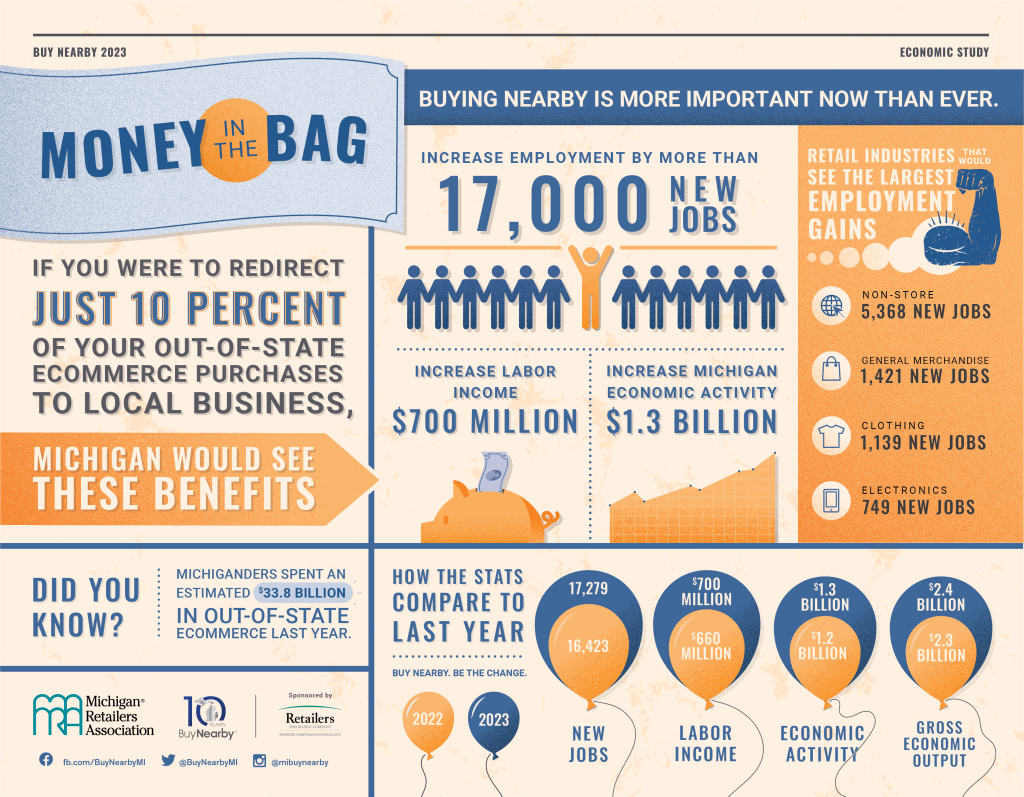 By shifting only 10% of their spending to local Michigan retailers, consumers have the power to drive a $1.3 billion surge in our state's economy. Recent research by the Michigan Retailers Association (MRA) and Public Sector Consultants (PSC) reveals this potential win for Michigan in the annual Buy Nearby economic study.
Analyzing data from 2022 and 2023 provided by the U.S. Census and Bureau of Labor Statistics, the study further demonstrates that this 10% uptick in Michigan-based sales could concurrently foster the creation of 17,279 jobs and increase labor income by approximately $700 million.
"Investing in local businesses not only drives economic growth but also fuels job creation and enhances community prosperity," said William J. Hallan, President and CEO of the Michigan Retailers Association. "Let's seize the opportunity to strengthen our home state by supporting Michigan-based retailers. Together, we can make a significant impact that resonates far beyond dollars and cents."
The Buy Nearby Campaign
The Buy Nearby campaign was established in 2013 and is celebrating its 10th Anniversary. The Buy Nearby program has come a long way since 2013, but the mission has not changed: keep Michigan's money in Michigan.
When you Keep Your Money in Michigan©, you're supporting the vital stores in your downtowns that employ family and friends, donate to local fundraisers and soup kitchens, and sponsor area little league and soccer teams.
Buy Nearby Weekend
Retailers across the state will celebrate Buy Nearby Weekend, an annual shop-local event, from Oct. 6-8. Shoppers are encouraged to head into their local downtowns and support the businesses by making purchases. Some retailers may have special events or sales to coincide with the annual event.
MRA has partnered with Great Lakes, Michigan Jobs to sponsor a grant that can be used to promote shopping in Northern Michigan downtowns. The winner of the grant will be announced ahead of Buy Nearby Weekend.
As part of the annual Buy Nearby weekend, MRA is also proud to sponsor a coloring contest featuring Buy Nearby Guy – the campaign's loveable mascot.
Survey Methodology
PSC produced this Buy Nearby analysis by estimating the economic benefits to Michigan resulting from consumers switching one in ten of their purchases from remote sellers, to retail stores located in Michigan. It also provides data on the indirect and induced (non-retail sector) jobs and economic activity related to retail industry spending patterns and local spending on goods and services by retail industry employees in Michigan. PSC utilized national-level data to generate Michigan estimates.