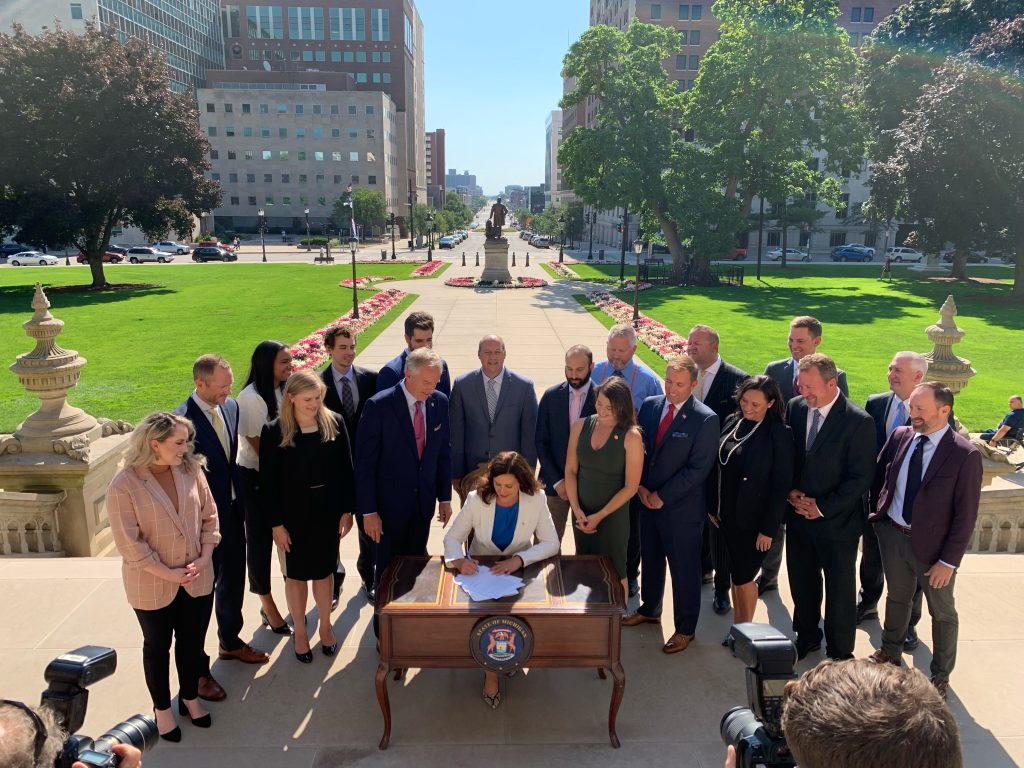 As of July 21, all three of MRA's Organized Retail Crime (ORC) initiatives have been signed into law. This three-pronged approach includes the INFORM Act, adding ORC as a racketeering offense, and a $3.5M budget line item to create an ORC unit under the Attorney General. (See MRA President and CEO William J. Hallan's column for more detail.)
It wouldn't have been possible to check all three of these boxes this year without help from the legislators who championed these bills and those who supported our efforts. Below, you'll hear directly from our bill sponsors about why they felt it was important to work with MRA and support retail's efforts to curb ORC activity in Michigan.
"Shoppers deserve protection from criminals — nefarious actors who use the convenience and anonymity of the internet to cheat buyers or even sell stolen items. Reasonable transparency requirements will deter criminals who try to hide behind a virtual mask." – Representative Mark Tisdel, (R-Rochester Hills) sponsor of HB 5487, part of the INFORM Act.
"Passing the INFORM Act here in Michigan was one of my biggest priorities in my first term as a legislator. This law will make third-party reseller websites more legitimate, fair, and safe to use for all Michiganders while at the same time protecting our retailers and small businesses from increasing threats of organized retail crime. I am so proud that Michigan once again will take its leadership position at the forefront of innovative policymaking." –  Representative Samantha Steckloff (D-Farmington Hills), sponsor of HB 5486, part of the INFORM Act.
"Shoplifting has blown up into a multi-billion industry across America. We've all seen video after video showing perpetrators bursting into businesses with hammers, bags, and other accessories to commit robberies in a highly organized manner — putting innocent customers and store employees in unnecessary danger. SB 691 seeks to hold accountable those at the top of the criminal ring who benefit from coercing youth and vulnerable individuals to commit organized retail crimes on their behalf." –  Senator Jim Runestad (R-White Lake), sponsor of SB 691, which adds ORC to the state's racketeering statute.
MRA applauds the good work these lawmakers, their colleagues, and Gov. Whitmer did to stop ORC in Michigan, protecting consumers, retailers, and retail workers.
Judge rules original $12 minimum wage and paid sick leave laws be reinstated
On July 19, Michigan Court of Claims Judge Douglas Shapiro ruled that the legislature's "adopt and amend" strategy on the 2018 minimum wage and paid sick leave ballot proposals was unconstitutional. The decision found that the subsequent revised laws passed in December 2018 were invalid and the original ballot proposals that were adopted in September 2018 must stand.
MRA recommends members wait for guidance from the state's Department of Labor and Economic Opportunity before adjusting their policies. As this publication went to print, a request for a stay (pause) on the decision had been filed and an appeal to the Court of Appeals was in progress. This issue will continue to play out at the court level for some time. For now, nothing has changed from an implementation or enforcement standpoint. MRA continues to carefully monitor the situation and will keep members advised to any changes. Watch your email closely.
If the laws are reinstated, we fear that small businesses who just survived COVID shutdowns and are now battling workforce challenges, high inflation, and supply chain issues may not survive the extremely onerous requirements. We've also made our request for clarity and adequate implementation periods for employers if the laws are changed back to the much more aggressive, original proposals.
Elections have consequences, this is one more reason to pay attention and vote carefully this year. MRA has made recommendations of retail-friendly candidates in many legislative races. Find our Friends of Retail list on our website.